Katy Perry in the video for "Dark Horse," which includes depictions of "black magic."
Katy Perry and rapper Juicy J have damaged the reputation of several gospel rappers by stealing their work and associating it with anti-Christian witchcraft, paganism, black magic and Illuminati imagery, according to a federal copyright lawsuit filed this week in St. Louis.
The suit claims that in 20 08 St. Louis-based Christian rappers Marcus Gray (a.k.a. Flame) and Chike Ojukwu released the song "Joyful Noise" with two other Christian hip-hop musicians -- Lecrae Moore of Atlanta and Emanuel Lambert of Pennsylvania.
That song went on to earn a nomination for a 2008 Gospel Music Association Dove Award and get nearly 3 million views on YouTube. But that number pales in comparison to the the 440 million YouTube views Perry and Juicy J's "Dark Horse" has tallied in just the past four months.
Michael Kahn, one of the attorneys representing the plaintiffs, tells Daily RFT that similarities between the two songs came to the attention of his clients when people began contacting them to mention how Perry's song seemed to resemble "Joyful Noise."
And while the two songs may not be as similar as, say, Vanilla Ice's infamous sampling of David Bowie's "Under Pressure," Kahn says there's a key difference in this case. Continue on for the legal merits of the case and a copy of the lawsuit.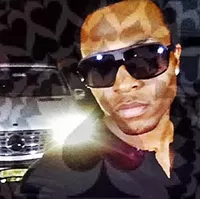 Facebook
Marcus Gray, a.k.a. Flame
"The plaintiffs do not claim that Ms. Perry and others took a sample of their recording of 'Joyful Noise,'" says Kahn. "Instead, it is a music-composition case where the plaintiffs claim that the defendants have made a copy -- or, technically, a 'derivative work' -- based on the music composition of their song."
It will likely take expert testimony to guide the jury through such nuances. That is, if the matter ever gets to trial.
Kahn, a St. Louis copyright attorney, made national news a few years ago when he sued to stop the release of the film Hangover 2 after a Missouri tattoo artist claimed that the movie's producers, Warner Bros., used his copyrighted Mike Tyson tattoo without permission. That case settled out of court.
Prior to becoming a pop diva, Perry was a gospel singer performing under her given name, Katy Hudson. Her camp has yet to respond to the allegations brought in the suit.
In the meantime, the lawsuit further contends that Flame and the other Christian hip-hop musicians who created "Joyful Noise" continue to be irreparably harmed by "Dark Noise," and particularly its video that cartoonishly plays on Egyptian mythology. (Or, according to the lawsuit, "anti-Christian witchcraft.")
So offensive is the video, according to the lawsuit, that some 60,000 people have signed an online petition demanding its removal.
View a full copy of the lawsuit below.
H/T Post-Dispatch
Editor's note: This article originally misstated the name of attorney Michael Kahn and contained erroneous information about a prior lawsuit he was involved in.
Copyright Lawsuit Katy Perry Dark Horse by chad_garrison5721