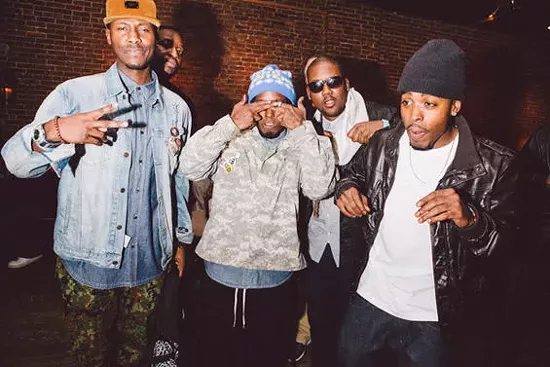 A scene from SLUM Fest 2013.
There's no shortage of fests and fun this weekend. Choose from the Whiskey War Festival, the Saint Louis Underground Music Festival and PrideFest downtown or in Tower Grove. Read on for details of each, and consider catching another show or two. Ellen the Felon throws a birthday party at the Engine Room, several talented local artists assemble to put on a tribute to Native Tongues and much more.
Friday (June 27):
Frank Hurricane w/ Zebu, Fred Friction, Tim Garrigan, Zak M @ Los Punk 8 p.m. | $5 Says Zak M, who booked the show: "I know I'm not the only one in this town who finds marathon shows painful. But I'm probably not the only one who also finds pain exciting." This quintuple bill features an evening of songwriters from in and out of town. Grab a beer, pull up a chair. More info on the performers here. (MS)
Native Lights w/ Tone Rodent @ Melt 9 p.m. | $5 Native Lights hails from Tulsa and plays shoegaze-drenched rock. Hear them here. Tone Rodent provides support with its mean psychedelia. (MS)
Tribute to Native Tongues w/ Jia Davis, Brett Gretzky, Mathias & the Pirates with Superhero Killer, Doorway, 12 to 6 Movement, Big Brother Thunder & the Master Blasters, Vinny Bee, DJ Mahf @ The Gramophone 9 p.m. | $7/$10 Think of this as a warm-up for SLUM Fest. Between the two events you will have seen a huge slice of St. Louis' finest hip-hop acts. (DH)
Dog Fashion Disco w/ Psychostick, The Bunny the Bear @ Fubar 6:30 p.m. | $15 Experimental metal, back from the dead! In case you missed it, DFD is fully reunited as of October. (DH)
Also on Friday, check out Bruce Robison and Kelly Willis at Off Broadway and 18andCounting with Home Body and more at Foam. Just click the links for more info.
Video by Lo-Fi St. Louis
Saturday (June 28):
Ellen the Felon Birthday Show w/ Tiger Rider, Whiskey Ginger, Matt Harnish's Pink Guitar, The Defeated County @ The Engine Room 8 p.m. | $5 Ellen celebrates her golden birthday with an evening of music with some of her favorite musical friends as well as a drag show by Hypatia de DeBeavoir. Dress code: "Gold attire and no pants." (MS)
Dark Star Orchestra w/ Brothers Lazaroff featuring Elizabeth McQueen, Thelonius Kryptonite @ Old Rock House 6:45 p.m. | $25 DORK Star Orchestra! Gah, I've been dying to make that joke. But seriously, this band has performed the tunes of the Dead over 2,200 times now -- safe to say they've gotten pretty good at it. (DH)
Fat History Month w/ The Three-Brained Robot, Beauty Pageant, What We Won't See @ BANK Projects 8:30 p.m. | donations This show features two distinctly different traveling acts: Fat History Month from Boston, Massachusetts and the Three-Brained Robot from Greensboro, North Carolina. The former plays contemplative solo songs while the latter delves into raunchy experimental territory. Click the links to hear some sounds. (MS)
PrideFest 2014 w/ MKTO, Betty Who, Alex Newell, Fortune Feimster, Manila Luzon, Cazwell, God Des & She, Sampson McCormick, Ariana & the Rose, Kim Massie, Eric Himan Band @ Soldiers Memorial Plaza 12 p.m. | free PrideFest takes up two stages with two full days of entertainment. Get the full schedule via the Pride St. Louis website. For more ways to celebrate the great news this weekend, don't forget to check out Tower Grove Pride, as well. (MS)
St. Louis Underground Music Festival w/ Woodz, Pic One, Jskillz, Ox Pimpin, Sol Asar, Dough Staxxx Dollaz!, Allen Gates, Woo Child, Kay Gee, MME, Ciej, Chris Grindz, Sticky Badaboonchi, H.A.R.D. Asylum, KD Assassin & Jah Orah, Jucille, Netwurk, Mo Lyric & Jae Dawg, Victor Vick, Roundtable Click, Darris Robins, Skiddalz, Ryan Wordsmith, T-Dubb-O, Watts the Future, Kingz, 3KNGZ, Riley B, Urbanize Music, Seymour Awesome, El Arab, Jonezy, Bo Dean, Profit, Aztec Dinero & DJ Ceez, Cain 1.2.1., Me N Minez, The Domino Effect, Savage Sun, Mathias & the Pirates, Kenny Knox, Scriptz N Screwz, This'l, Doorway, Koldkase, Royal Davis, Farout, Family Affair, Rockwell Knuckles, Loop Rat, S.A.M., Jamal 1Der, Trife Life, Lst Mbrs, Tef Poe, Indiana Rome, Legend Camp, Nato Caliph, Teen Swag & Dynasty Hip Hop, Lyfestile, Grim Guiliani, Bren Suarez, Tek Thug, Hazmat @ Plush 1 p.m. | $10 St. Louis hip-hop's main event. The lineup for this show is massive. See for yourself here. (DH)
The Trophy Mules @ Mangia Italiano 11 p.m. | free An 11 p.m. show, for free -- cap off your evening with some soul-filled alt-country tunes. (DH)
For a couple more options to choose from, consider the Whiskey War Festival or Travi$ Scott at the Ready Room.
Ed Schrader's Music Beat also comes to town, capping off the weekend on Sunday. Check them out at Apop Records.
Note: Though we wish we could, we can't feature every great show happening in town in just one measly post. Peruse the St. Louis concert calendar for more ideas anytime. Let everyone know what else you're looking forward to seeing this weekend in the comments below, and submit show info online to be considered for inclusion on these lists.
RFT MUSIC'S GREATEST HITS
Remembering STLPunk.com -- How to View the Site Today and Find Your Old Profile Page "Where Did My Dick Go?" The Gathering of the Juggalos' Best Overheard Quotations The Ten Best Dive Bars in St. Louis The 15 Most Ridiculous Band Promo Photos Ever
---