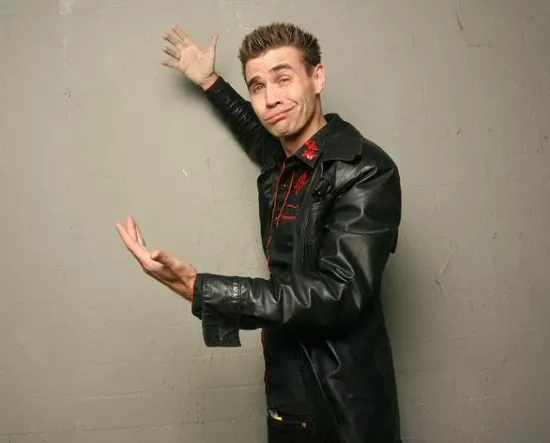 Chris Neff: If I could rearrange the alphabet I'd stick my dick in your mouth.
Smooth talking the opposite sex is a mysterious art form deserving of a master class. Still, any idiot knows that cheesy pick-up lines are never the way to go. We've all heard them, laughed at them, and if one of them actually worked for you, well...more power to your genitals.
The general rule when it comes to the "pick-up line" is to actually treat it as an icebreaker that will make the other person smile which, if you're lucky, will lead to conversation. And if you are really, really lucky, it'll lead to you sealing the deal.
We've heard some pretty cheesetastic pick-up lines ourselves over the years such as, "Girl, I'd eat you like a Denny's Grand Slam. For breakfast, lunch, and dinner." (FYI-it did NOT work) so we decided to compile a list filled with "do not even try" lines just for you. We went straight to the some of the funniest standups we know for some of the corniest lines they have ever heard (or in some cases, even said themselves).
Brandon "Gooch" Hahn: Did my brain just put its dick in your mouth because you just blew my mind!
Brad Williams: You remind me of a bottle of Snapple because you're made from the best stuff on earth.
Virginia Collins: Oh you like 2 Chainz? I'm his manager.
Colin Quinn: Hey miss. Sit on my face and I'll guess your weight.
Mark Gonzales: You're like my iPhone, I want to rub my cock all over it.
Suli McCullough: "Are you religious? Because seeing you is a come to Jesus moment!" Also there is always the classic, "You must be a fan of martial arts because Jean-Claude Van Dammmmmn you're fine!"
Keith Robinson: What I used to when I was driving was, when I was stopped at a light and I'd see a good looking lady, I'd beep and when they'd roll their window down I'd say, "I'm little lost. Do you happen to have directions to your heart?"
Mariya Alexander: Damn boy, are you my parents approval? Because I'm starving for you.
Jen Murphy: Can you make like baby Jessica and fall into my hole?
Chris Neff: If I could rearrange the alphabet I'd stick my dick in your mouth.
Shaun Latham: I just drop a sugar packet and then say, "Hey. You dropped your name tag." Then I pick up the sugar packet and give it to her.
Rich Vos: Do you know what I can do to you before I smash you in the head with a shovel?
Grant Cotter: If we went on a date I'd eat mothballs before I picked you up because I know you'd be giving me butterflies in my stomach.
Sharon Barragan: You busy? You wanna get busy?
Continue to page two for more.
Matt Fulchiron: Is your father a thief? No? Then who stole the stars from the sky and put them in your eyes?
Matt Iseman: Damn girl, I wish I were you so I could make love to me.
Alycia Cooper: You must have hurt your back (then you give a crazy look) when you fell from heaven.
Shawn Halpin: I lost my virginity...can I have yours?
Lahna Turner: I'm a little out of shape but there's still pleasure to be had from my body.
Cory and Chad (The Smash Brothers): Hey you want a shot of Fireball? We should totally fuck after this.
Chris Millhouse: Relax, I'm not trying to hit on you. I'm trying to fuck you.
Alright folks. If we have learned nothing here, please soak in the fact that even some of the funniest people around have the most grotesque pick-up lines EVER. Maybe you have heard some of them before and maybe you haven't but the point is, the lines (not the comics) are beyond puke worthy. Think about that the next time you try hitting on someone, and just be yourself. Or don't. Whatever. Either way, good luck using any of these lines and not getting slapped. We're just here to help.
RFT MUSIC'S GREATEST HITS
The 15 Most Ridiculous Band Promo Photos Ever This Incredible Make-A-Wish Teenager Went to the Gathering of the Juggalos, Got a Lap Dance (NSFW) Crotching Whiskey at the Justin Bieber Concert and Getting Thrown Out: A Review The Top Ten Ways to Piss Off Your Bartender at a Music Venue
---