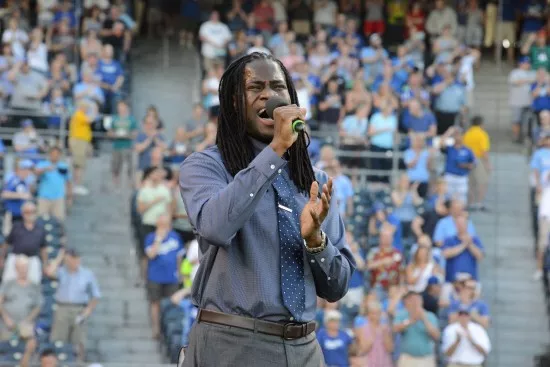 Courtesy of Maurice Roper
Maurice Roper belts out "The Star-Spangled Banner" during a Kansas City Royals game.
If Pitch Perfect has shown us anything, it's that a cappella can open up doors for talented singers. A recent Saint Louis University graduate experienced that firsthand this weekend when he performed "The Star-Spangled Banner" at a Kansas City Royals game.
On June 20, Maurice Roper realized the dream of a lifetime by singing the national anthem before the Royals took on the Seattle Mariners. During the sold-out game, 38,475 baseball fans in Kauffman Stadium cheered for the 2013 SLU grad -- something his years in SLU's all-male a cappella group didn't quite prepare him for.
"We've all seen those performances where someone messes up the words to the national anthem, and I didn't want to be that guy," Roper tells RFT Music. "In fact, that was the biggest advice people gave me when they found out I was performing: 'Just make sure you don't mess up the words.'"
Roper certainly didn't fudge the song. Check out the video below:
Roper's induction into Royals history was a little atypical. After watching Roper, a bank examiner at a regulatory agency in Kansas City, perform R. Kelly's "I Believe I Can Fly" during a karaoke outing, an impressed coworker suggested that he get in touch with his wife, who worked at Kauffman Stadium. Before Roper knew it, he was invited to choose which day he'd like to perform before the Royals and their fans.
"Of course at the time I didn't realize I chose one of the biggest sold-out games thus far in the season, with the Royals coming off of their ten-game winning streak," Roper says. "You can only imagine the pressure that I felt."
Performing before nearly 40,000 people comes with special things to note -- things that simply don't happen on a university stage. Roper says he had to pay close attention to the delay between singing the notes and hearing himself through the monitors, and he watched himself on the huge video screen to make sure he was expressing the song thoughtfully and properly. It certainly seems that he did enough to impress the guys in the big leagues...
Continue to page two.
"On my way off the field, a couple of Royals players said that I did a phenomenal job, so I knew that I should feel proud about my performance," he says.
Roper credits his four years with Saint Louis University's a cappella group the Bare Naked Statues with helping him to take musical risks like the Royals performance and to understand the audience's investment in a song.
"BNS taught me that although a performance may not be perfect to me, it can still be a special moment for someone else," Roper says. "It's so easy to get bogged down in the mechanics of hitting the right notes, getting the timing right and nailing the song from a technical side, that feeling and expressing the song gets lost. BNS helped me understand that letting loose is okay."
Roper plans to continue pursuing music outside of his day job, but he confesses that his experience at Kauffman Stadium may never be topped.
"I don't know how many people can say that they've performed in an MLB stadium in front of a crowd of over 40,000, so I feel extremely blessed that I was given the opportunity and that my talent is being noticed," Roper says. "The feeling that I get when someone tells me that I gave them goosebumps is indescribable."
RFT MUSIC'S GREATEST HITS
The 15 Most Ridiculous Band Promo Photos Ever This Incredible Make-A-Wish Teenager Went to the Gathering of the Juggalos, Got a Lap Dance (NSFW) Crotching Whiskey at the Justin Bieber Concert and Getting Thrown Out: A Review The Top Ten Ways to Piss Off Your Bartender at a Music Venue
---