[Editor's Note: Following the 2013 RFT Standup Throwdown, judges Jeremy Essig and Chris Ward went drinking for the first time together. Hungover on a plane to San Francisco the next day, Essig created a game show that combined their common interests in music, video games, and comic books, and Loser. - A Live Action Shame Show was born. The crew will return to St. Louis Monday, June 23, for their one-year anniversary show at Heavy Anchor...that is, if they survive their first ever seven-day, seven-city tour with technical director Evan Rowe "DJ DVDA" Rowe and tour manager Kelsey McClure. The Loser crew is sending tour-diary dispatches from the road.]
Bloomington - Pittsburgh - Morgantown, WV - Washington D.C.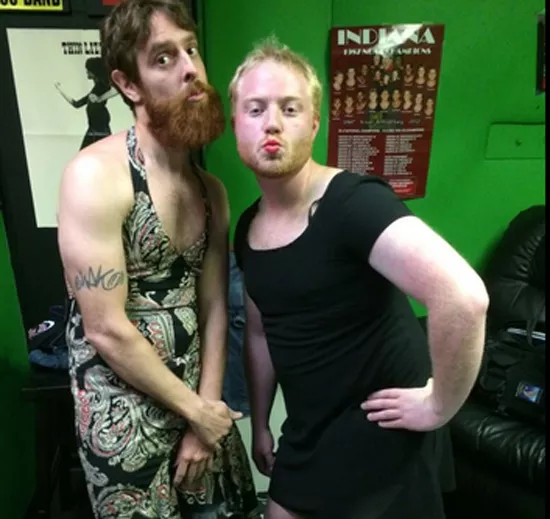 Tuesday 9:30 p.m. - Local comics cross dress for the benefit of Loser! Totally immersing themselves in inter-gender sitcom theater (our fourth round), Bloomington comedians David Britton and Josh Cocks donned dresses and lipstick for the occasion. All four of us (yes, we didn't lose Chris for once!) retired to the apartment of the questionably attired Cocks, where we may or may not have supplied his underage roommate with alcohol. Don't judge us, someone did it for you once!
Wednesday 2:40 p.m. - We probably should have asked for a sponsorship from Steak and Shake. Passing through Jeremy's hometown of Zanesville, Ohio, his parents offered to buy our broke asses lunch. Though they offered to pick up the check at any of Zanesville's four restaurants, our time constraints required us to return to the place of Jeremy's sign conquering two nights previous. Evan continued his streak of dietary excellence -- accompanying a pizza burger and fries with his second birthday cake shake of the tour. See what happens when you require everyone to have health care?
Wednesday 9:10 p.m. - The Arcade Theater has it all. But it doesn't have a microwave. So at intermission, Chris had to run a block or so to 7-11 to use their microwave and run back in time for the show to start again and...well, here is video of how that went.
Thursday 12:27 a.m. - It wasn't planned, but hey, we're in West Virginia! With no lodging prospects in Pittsburgh, we took our good friend Sally Brooks up on her offer to stay at her place in Morgantown. Not only were Sally and her husband gracious enough to put us up each in our own room, but we were also greeted with pizza and beer. One day, two meals, both free.
Thursday 10:30 a.m. - After walking into a gas station/Subway, Chris is immediately stopped by a Senior Sandwich Artist who notices Chris' "Arcade Theater Comedy" shirt and introduces himself as a "used to be stand up" comedian named David "Two Spoons" Moore. "I opened for Rodney Carrington, Ellen Degeneres, Carrot Top...I played the spoons and harmonica in my act. I also did evangelical comedy up and down the east coast. But then, I had the brain surgery..." He tried out some old material on us. But alas, he sighed to us, there are no comedy clubs in Morgantown. There is only a falling-down strip club named the Blue Parrot with quarter drafts.
Thursday 3:25 p.m. - We roll in with just enough time to go to the White House and make a statement. First, a birthday greeting to RFT Standup Showdown winner Jon Venegoni. And then, some real American political protesting. It was a joke sign, but Jeremy and Chris are immediately yelled at by White House security and we get the hell out of there.
Thursday 6:30 p.m. - After attempting to drive and find parking for a large cargo van in DC, it becomes immediately clear why the angriest, most pissed off hardcore bands come from this city.
Thursday 7:17 p.m. - Hello from the Bier Baron Tavern! Due to a stand-up show being booked before our ours, we had only a half-hour to load in and check all of our tech before the first show started. As this is being typed, the gentleman onstage has been arguing with a woman in the crowd for the last twenty minutes. Strangely, the woman keeps asking to be thrown out for heckling, while the comic begs her to stay, a bizarro version of the usual comic/heckler relationship.
Continue to page two.
Thursday 12:12 p .m. - The show goes amazing, but is definitely the drunkest, youngest crowd we've ever encountered. Halfway through the show the crowd just grabs Robot Elvis and drags him offstage. Chris almost gets attacked for his basket of pizza rolls. And a Road House joke does not go over well. At all. "We're Millennials! Move on!" yells one guy. We don't want to live in a world where no one knows about Road House, and will continue to preach the Swayze gospel. So fuck that guy.
Jeremy then leaves with a strange woman, and we hope he isn't murdered in his sleep. We'll pick him up tomorrow.
Friday - 9:00 a.m. - "We have your money. Come to Chinatown." We actually wish this story was more badass, but we just had to pick up the rest of our money from the DC show club promoter the night before. But, out of context, it's pretty badass.
Friday - 9:06 a.m. - Leaving DC, we stop at a fireworks stand next to a gas station and hear a sentence we have never actually heard at a fireworks stand before: "Good Morning!"
Friday - 5:10 p.m. - Driving a giant cargo van in New York is as exactly as shitty as you might imagine. And we don't have a horn. And it's hot. And we still don't have AC. And everyone sucks.
Friday - 6:30 p.m. - The bartender at Spike Hill in Brooklyn was kind of enough to direct Kelsey to the kitchen but wasn't particularly interested in asking the cooks to stop what they're doing and microwave us pizza rolls for the third round of our game show. He showed her to the door and without explanation returned to work. "Yo necessito pizza rolls frito por favor," got the job done but how she wound up doing dishes while the Totino's "baked," we're still not sure.
Friday - 11 p.m. - Jeremy's apartment doesn't have air-conditioning so we stayed in the neighborhood where most of The Sopranos was filmed in New Jersey, with Dylan Clark, the lead singer of the kick-ass band the Milwaukees. On the way, Chris becomes the unlikely voice of reason and stops Kelsey and Jeremy from setting off the fireworks we bought in DC in Times Square. Jeremy still thinks we missed an awesome opportunity to get arrested.
Saturday - 12:15 p.m. - Longest drive of the tour: New York to Columbus, Ohio. Luckily we have the book "Dreaming the Chase" to pass the time. This is an erotic fiction book about laundry.
We arrive in Columbus just in time for Kelsey to meet Jeremy's friend Ben's son, a fellow ginger. They play with toys and contemplate not having souls.
Saturday - 2 p.m. - You can't buy beer at the gas station in Pennsylvania. You have to go to a "beer distributor," even though that's the gas station's job in every sane part of the world. "I am told we can buy six packs of beer at this Applebees," Chris loudly asks the front of house hostess. Chris has $14 and change on an Applebees gift card that he has had in his wallet for a few years. Finally, it has found its purpose.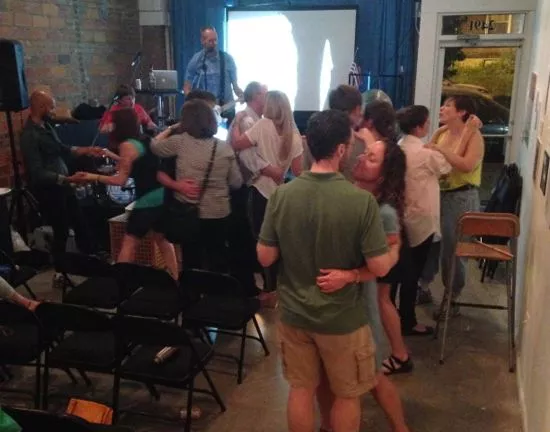 Saturday - 10:35 p.m. - The Columbus show was full of technical issues to the point that we couldn't close the show in the normal manner. Instead, Jeremy and Chris broke out a version of Big Star's "Thirteen" while Jeremy's parents slow danced.
Sunday - 9 a.m. - Chris wakes up on a porch. He doesn't remember how. At some point, extra children show up at the house we are staying at, which means it is a perfect time for us to leave. Nashville, five hours, or so we've heard.
Sunday - 5:23 p.m. - Nineteen miles out of Nashville, traffic has come to a complete standstill. Jeremy, Chris and Evan take the opportunity to skateboard down interstate 65. We all made it back into the van before a state trooper appeared in the other direction.
Monday - 12:16 a.m. - (Computer stolen by Malia Chamness, who offered us a place to stay this evening) They've surrounded us and inundated us with their ritualistic literature. We can't tell where they are from based on their obscure accents that change from word to word, sentence to sentence. SEND HELP...but not right away, because we still have beer.
Monday - 1:42 a.m. - It turns out Malia is a dietician, and she's been working with Evan over the last hour. If we could stay in Nashville, there's a small chance our new friendship might yield a healthier Evan. Alas, we must return to St. Louis tomorrow. If you've come this far, perhaps you're willing to go a little further: we will be celebrating our homecoming and One Year Birthday Monday night at the Heavy Anchor around 8 p.m. We are so excited we can barely sit still or hold a thought in our heads. We hope we can see our friends and shake their hands. We hope the Heavy Anchor is as blue as it has been in our dreams. We hope. That was a Shawshank Redemption joke.
Will Evan make it home without eating garbage? Will these poor girls hosting us get any sleep?