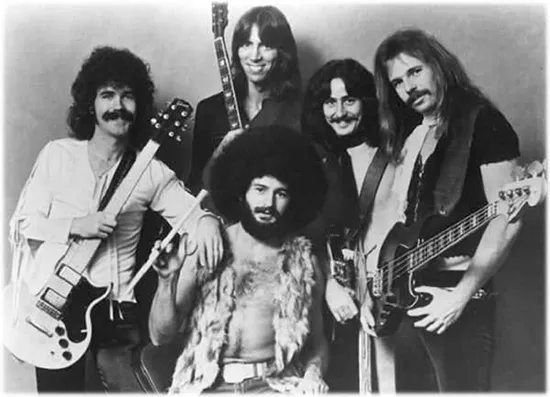 It's Boston. All old-timey and whatnot.
Catch some classics this weekend including Boston at Verizon Wireless Amphitheater and the O'Jays at Fox Theatre. Alternatively, check out contemporaries this Saturday at Scottrade Center during Super Jam or choose from a variety of other great shows all weekend long including Andrew Jackson Jihad and Chris Robinson Brotherhood. Read on for these recommendations and more.
Friday (June 20):
Boston w/ The Doobie Brothers @ Verizon Wireless Amphitheater 7:30 p.m. | $49.95 It's summer now, baby. Outdoor rock at Verizon Amphitheater at its finest. More than a number of feelings will be had, to be sure. Worth it for the show or the people watching alone. (DH)
Cuddles w/ Dad Jr., Con Trails, Babe Lords @ Livery Company 9 p.m. | $5 This rock'n'roll show brings in snotty punk-rockers Cuddles from Columbia. (MS)
Deafheaven w/ Pallbearer, Wreck and Reference @ The Firebird 8:30 p.m. | $15 Black metal + shoegaze = Hype machine in full effect for this band's unique sound. This tour has been selling out all across the country; don't sleep. (DH)
The Foreign Exchange w/ Nappy DJ Needles, Corey Black @ Plush 9 p.m. | $20/$25 Singer-songwriter Phonte and producer Nicolay make up the Foreign Exchange, a duo that mashes up soul with jazz and hip-hop with electronica. This show serves as a benefit for the Kranzberg Arts Center. (MS)
The O'Jays w/ Chaka Khan @ Fox Theatre 8 p.m. | $45-$125 The O'Jays. Still super smooth. (MS)
Also on Friday, check out Scarlet Tanager's Record Release at Off Broadway and Prairie Rehab at the Heavy Anchor. Click the links for more info.
Saturday (June 21):
Super Jam 2014 w/ K Michelle, Juicy J, August Alsina, K Camp, Bando Jones, Rico Love, YG, Juvenile, Tinashe, Keem, Tiffany Foxx, Laude, Lil St. Louis, JGE, Tef Poe, Pretty Tony @ Scottrade Center 7 p.m. | $29.50-$125 Yeah, Kendrick canceled, but there's still Juicy J, and that ain't nothing. Get 'em crunk! (DH)
For more options on Saturday, consider seeing Fister at the Firebird or Bruiser Queen at Tower Grove Farmers' Market's Harvest Sessions.
Sunday (June 22):
The Firebird 8 p.m. | $13-$15 Andrew Jackson Jihad hails from Phoenix, Arizona and plays upbeat folk-punk. Hear a track of of its latest album here. (MS)
Faun and a Pan Flute w/ Ghosts I Have Been, Stonechat @ BANK Projects 9 p.m. | free Faun and a Pan Flute has so many members that it barely fits onto a stage. The instrumentation includes standard guitar, drums and bass plus saxophone, cello and xylophone just to name a few of the interesting noisemakers that make up its set-up. Check out its unique brand of post-rock soundscapes here. (MS)
Two Knights w/ Grammar, Jr. Clooney, Laika @ Lemp Arts Center 8 p.m. | $5 The following lyrics sum up Count Your Lucky Stars' duo Two Knights impassioned yells pretty well: "There are so many better people worse off than me, but I'm stuck focusing on things that will never matter. Fuck the bullshit. Help your friends." (MS)
Chris Robinson Brotherhood @ The Pageant 8 p.m. | $20/$22.50 Here's a cover of CRB covering the Black Crowes earlier this June while on tour. Expect more of the same here. (DH)
Nitty Scott also comes to town on Sunday with a performance at the Ready Room.
Note: Though we wish we could, we can't feature every great show happening in town in just one measly post. Peruse the St. Louis concert calendar for more ideas anytime. Let everyone know what else you're looking forward to seeing this weekend in the comments below, and submit show info online to be considered for inclusion on these lists.
RFT MUSIC'S GREATEST HITS
Remembering STLPunk.com -- How to View the Site Today and Find Your Old Profile Page "Where Did My Dick Go?" The Gathering of the Juggalos' Best Overheard Quotations The Ten Best Dive Bars in St. Louis The 15 Most Ridiculous Band Promo Photos Ever
---