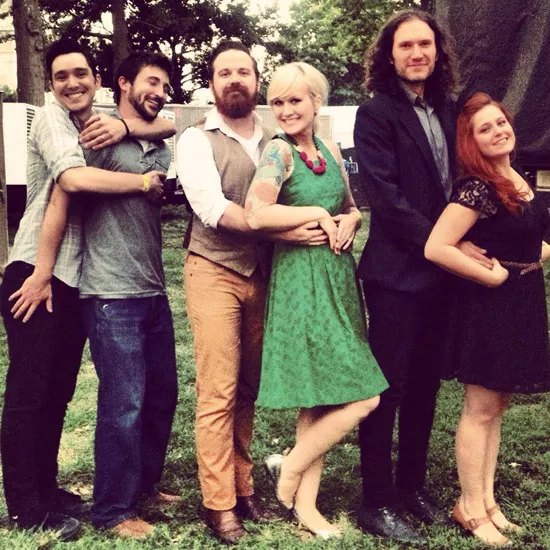 Today is a big day for Scarlet Tanager. The indie pop group performs tonight at Off Broadway, both celebrating the release of its latest album, Let's Love, and sending two of its members (Josh and Jordan Shepherd, guitarist and keyboardist) off to begin the long journey that is parenthood. "Bittersweet" seems an appropriate descriptor, both for the event itself and for the group's latest work.
Over on Iwenttoashow.com you can hear a track from Let's Love as part of the site's "Song of the Day" feature, the driving "How the West Was Won." The band also recently recorded some acoustic versions of its new tunes in what its members have dubbed the "Living Room Sessions." Watch the first of those videos, the hauntingly beautiful "Burn Burn Burn," below:
For this week's print edition, Christian Schaeffer reviewed Let's Love in his Homespun column. And so, a "to do" list: Listen to the new song, watch the new video, read the review (below) and then head to the show for the sendoff -- it is sure to be a good one.
On its first album, 2011's American Songbird, Scarlet Tanager sang lullabies of young love and eternal summers with a cheery joie de vivre. On its second LP, those sing-along songs take a more adult approach.

The closest thing that singer and guitarist Susan Logsdon gets to a lullaby comes in "Daddy Was," but as she sings "hush, baby, don't cry," a dark, bristling Delta rumble squalls behind her with overdriven organ chords and Jack White-indebted slide guitar lines. That's about as heavy as the six-piece gets on Let's Love -- there are still plenty of hand-claps and ebullient group vocals here -- but it signals a recognition of the thornier patches of getting older. Logsdon called her first batch of songs a record of "leaving home, falling in love and moving on." This album deals more with the hard work of relationships alongside the heart flutters; the title is as much of a challenge as it is a come-on.

Scarlet Tanager was recently nominated for the Riverfront Times Music Awards as one of 2014's Best Indie Pop bands, and there's little on this record to challenge that claim. Across these thirteen songs, the band dips a toe in a few indie-rock slipstreams -- country-Western pastiche ("How the West was Won"), aggressive, synthy rock ("Hand Grenades") and lots of bright, spangly pop songs elsewhere.

Logsdon shows a flair for telling details and moments of emotional resonance in her songwriting, which is why it's a shame that too many choruses on these songs rely on a choir of "whoa-oh!" vocals in lieu of real words. It's a post-Arcade Fire trick that is good for a quick rush of emotion, but it gets dulled over the course of the album. For a band built on communal, joyful noise, Scarlet Tanager is perhaps more arresting when the energy is reined in and the subtle graces of harmony and concise arrangement shine.

"We Watched Them" works off of quick guitar flicks, glockenspiel pings and a just-funky-enough drum shuffle, but it quickly burrows its way into something warm and true. The same can be said for the relatively spare ballad "Place That I Come From" and the gentle churn of "Hiding in the Reeds," which gives Logsdon space to showcase her expansive vocals. It's those moments of singular beauty and expression that stand out against the clang and clatter of Scarlet Tanager's kitchen-sink pop.
Scarlet Tanager Record Release 8 p.m. Friday, June 20. Off Broadway, 3509 Lemp Avenue. $7. 314-773-3363.
RFT MUSIC'S GREATEST HITS
The 15 Most Ridiculous Band Promo Photos Ever This Incredible Make-A-Wish Teenager Went to the Gathering of the Juggalos, Got a Lap Dance (NSFW) Crotching Whiskey at the Justin Bieber Concert and Getting Thrown Out: A Review The Top Ten Ways to Piss Off Your Bartender at a Music Venue
---