Louie1037.com
Maybe these women have music coming out of their asses?
Rick Astley is a freaking tease.
All this week 103.7 FM, a Clear Channel radio station in St. Louis' metro region, has been playing Astley's "Never Gonna Give You Up" nonstop in a stunt to drive interest in the launch of the station's new format. And, honestly, it seemed to have worked. We saw St. Louisans commenting all over Facebook and Twitter about the craziness of the Rickroll, and our original report on the topic became one of RFT Music's most-shared stories of the week.
But it was all a lie.
See also: 103.7 FM Rickrolls St. Louis En Route to a New Radio Station
While Astley's 1987 tune seemed to promise jolly fun with dancing and long coats, the new 103.7 FM offers none of that. What the station -- now called "Louie" -- does present to St. Louis is cock rock and a neon "No women allowed, unless you're in a bikini" sign. But we have a feeling that Clear Channel doesn't see a problem with that, so let's take a hard look at Louie and talk about how St. Louis is getting screwed.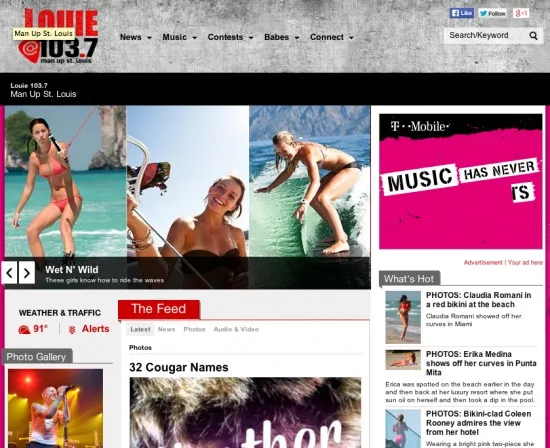 louie1037.com
It's the CNN of radio websites.
Only real schlongs allowed
Women in St. Louis have special vaginas that discourage listening to rock music. That's the only plausible reason we can come up with for the way 103.7 FM ignores women in all forms. Well, not in all forms, but we'll get to that in a minute.
Not only are women apparently too delicate for guitar-driven music, they have nothing to do with music in the first place. In the first on-air Louie promo spot, Metallica, Linkin Park, Nickelback, Ozzy Osbourne and more greeted listeners, but out of the 31 musicians previewed, none were women, leading us to believe that 103.7 FM -- like many of the rock stations St. Louis already has -- doesn't think lady rockers exist. Lita Ford? Nope. Chrissie Hynde? Fuck her. L7? Trash. Women obviously don't create music, and they certainly don't rock the hell out while listening to it.
God, that hurts even to joke about.
Look, sometimes targeting a certain gender demographic makes sense. Crystal Light caters to weight-conscious women seeking hydration, and Bud Light covets dudes who want to party but are afraid of craft beer -- those aren't surprising. But the product 103.7 FM is selling is music, an art form listened to and created by men, women and everybody in between. Gendering music makes as much sense as gendering Bic pens.
But as we get to know Louie more, we don't expect 103.7 FM to play female artists beyond the rare Heart song. This station obviously wants to be the Axe body spray of St. Louis radio -- bursting with superficial testosterone and glorifying the bro way. Need proof? Here's how Louie introduced itself on Twitter. (Note: Twitter tells us that @Louie1037 now has been suspended, which is why you don't see the full embedded tweet below.)
Want more? Check out the station's website, where Louie's tagline, "Man up, St. Louis," is in the masthead, and "Babes" gets its own priority section. When we peeked in on June 19, the front-page story slider featured items such as "Who's Hotter: Miss USA vs. Miss America," "Name That Booty" (guess which celebrity owns the pictured ass) and "Wet N' Wild" (women in bikinis). Plus there was a whole sidebar of the latest T&A news. Obviously, people won't be using louie1037.com as their music-news source. We thought the morning misogynists on 105.7 FM KPNT were bad, but we predict that dudes at 103.7 FM will top those guys and get raging boners while doing it.
Oh, and then there's this little nugget that radio-industry website All Access posted from Stephen Stewart, Clear Channel's regional programming director for St. Louis:
"Louie 103.7 will be a real man's station - for guys who like beer, BBQ and really good rock music."
A "real man's station," huh? OK, so 103.7 FM is not for straight women, gay men, men who don't drink beer, people in various places on the Kinsey scale, children or those who disagree that Nickelback is "really good rock music." Got it.
"We're excited to bring a rock station to St. Louis that we know will really resonate with our listeners."
"Resonate." Right. Thanks, Stephen. We're sure that St. Louis residents can't wait to check out Louie some more -- that is, the ones who like their babes to be seen and not heard.
Check out more of 103.7 FM's crimes against St. Louis on page two.
The song remains the same.
Louie promises a huge spectrum of music. In the on-air promo mentioned above, musicians from AC/DC, Metallica, Alice in Chains, Foo Fighters, Guns n' Roses, Linkin Park, Nickelback and more greeted listeners, squeezing as much coolness into "Hi, this is ____ from ____" as they could.
From this it seems that 103.7 FM listeners can look forward to rock, rock and -- oh, yeah -- rock. Really? Are St. Louisans that hard up to hear "You Shook Me All Night Long" on yet another station? 94.7 FM KSHE, 96.3 FM KIHT, 105.7 FM KPNT and 106.5 FM WARH all play Metallica's version of "Turn the Page," and 102.5 FM KEZK and 103.3 FM KLOU aren't far from such jorts-rock with their Journey and Billy Joel obsessions. Do we really need another channel that features almost nothing but loud white dudes holding guitars?
See also: Six St. Louis Radio Stations That Are Better Than Channel Surfing
St. Louis is in a radio hellhole on the FM frequency, and it's been this way for ages. Sure, we've got gems like 88.1 FM KDHX and 95.5 FM WFUN that spin independent artists, long-lost jams or deep cuts, but elsewhere across the dial we're missing niche formats that other cities enjoy. If you're looking for classic rock, douche rock, current pop, generic hits or something that pretends to be modern alternative, St. Louis radio is up your alley. But if you're craving '70s punk, new wave, classic hip-hop, '80s pop or golden '90s alternative, you'd better buck up for SiriusXM. Clear Channel and Louie missed a fantastic opportunity to bring something different to a city that has been craving more variety for a long time.
Funny side note: Louie's promo featured "Scott Weiland from Stone Temple Pilots." Um, that's out of date, dude.
Spokesman stupidity
At 1 p.m. on June 19 -- the station's designated magical hour to reveal its plans for world domination -- 103.7 FM spun "Never Gonna Give You Up" for the final time, cutting to a creepy robot voice straight out of Def Leppard's "Love Bites" that told listeners "Rick Astley has come to an end. 2.5 million St. Louis residents have been Rickrolled." The station then played the full theme to HBO's Game of Thrones, did a stupid bit about men being happy when Anheuser-Busch came to town and had some bro with a non-St. Louis accent introducing himself as a dude who's "gonna party like this every day." Listen here.
This is the jerk whose voice we'll hear during call signs and interstitials? A Homer Simpson knockoff who can burp the alphabet and laugh uncontrollably at "Pull my finger?" Wow. And people say St. Louis can't have nice things. Pshaw.
Rickroll Rickrolloveranddie
Rick Astley is one of the kings of the one-hit-wonder '80s. OK, he had a couple of other songs, but "Never Gonna Give You Up" is a good representation of the way many of us remember radio singles from the Reagan era: bright, poppy, lots of synth, oozing with cheese. So when 103.7 FM decided to play this song ad nauseam as its tease for the new format, it made listeners expect more of the same once the station officially debuted. Perhaps St. Louis would hear other lost '80s songs from Erasure, Lionel Richie or Lisa Lisa and the Cult Jam?
Sorry, St. Louis. As the station played its first song -- "Louie, Louie" by Black Flag -- the Gateway City yelled a collective "Huh?" Yes, we understand the name thing, and yes, we like Black Flag. But the tune isn't exactly what listeners would expect to hear after "Never Gonna Give You Up," which probably helped them get to first base during their eighth-grade dance a zillion years ago. This move feels less like a Rickroll and more like a dickLOL. We're pretty certain that Louie also is a fan of giving wedgies, wearing mirrors on shoes and completing a dare for the price of a cheap beer.
Look, we at RFT Music aren't prudes. We enjoy looking at the human form, rocking out to Whitesnake and giggling at fart jokes as much as anyone. The thing that really pisses us off is that St. Louis already has outlets for this stuff -- especially via traditional radio. Clear Channel and 103.7 FM had a golden opportunity to fill a void on the local radio landscape with creative programming and intelligent humor. Instead, they gave us a frat party -- and not a very inventive one, at that.
RFT MUSIC'S GREATEST HITS
The 15 Most Ridiculous Band Promo Photos Ever This Incredible Make-A-Wish Teenager Went to the Gathering of the Juggalos, Got a Lap Dance (NSFW) Crotching Whiskey at the Justin Bieber Concert and Getting Thrown Out: A Review The Top Ten Ways to Piss Off Your Bartender at a Music Venue
---