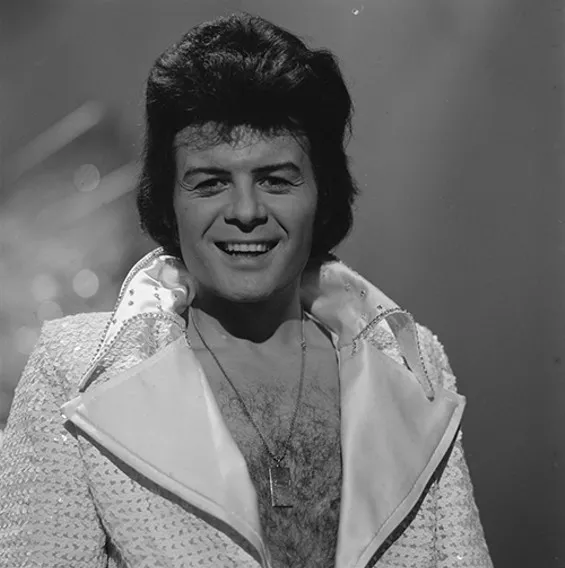 Gary Glitter on Top of the Pops in 1974.
[UPDATE 2/5/15: Gary Glitter​ has been found guilty today of a series of child sex offenses on three young girls, aged between 8 and 13. He is now facing life in prison.]
The music, film, TV, and sports industries are in bed with a convicted child molester: Gary Glitter.
You know Gary Glitter, even if you don't think you do. He's famous for "Rock and Roll Part 2," which is played during sports events from coast to coast. (Ring a bell? "Da da da - Hey!" The video is below.)
NME reported that Glitter earned £300,000 (about $450,000) in 2012 alone, largely from U.S. music royalties.
You may not know what a creep Gary Glitter is. Let us enlighten you.
Glitter, whose real name is Paul Gadd, is a British singer-songwriter best known for his '70s-era performances in campy glitter suits and silver platform boots. In Britain, he had 26 Top 100 singles between 1972 and 1995, including 1973's "Do You Wanna Touch Me." (Creepy.)
In 1997, Glitter brought his computer into a repair shop. The technicians found the hard drive jam-packed with 4000 images of children, many between ages two and six, being molested. Glitter pleaded guilty to 54 counts of making indecent photographs of children under sixteen available on the Internet. He spent four months in a British prison and was placed on a lifetime sex offender's list.
When he finished his sentence, Glitter fled to Southeast Asia. Deported from Cambodia for suspected sex tourism, he went to Vietnam, where he was convicted of molesting a pair of girls, age 11 and 12, at his beach home. The molestation reportedly included kissing and fondling both girls, ejaculating on one's stomach and having the other urinate in his mouth. Glitter was imprisoned for three years, but managed to duck child rape charges, which in Vietnam can mean death by firing squad. He's in more trouble as of late, as well.
Glitter's story is well-known in Britain, less so here. The NFL did stop playing "Rock and Roll Part 2" in 2006 (and reaffirmed the ban before the 2012 Super Bowl), but it's still heard at many pro and college baseball, basketball, and hockey stadiums. (Though some teams have dropped it.)
Yet U.S. companies continue to make Glitter rich. In 2008, Hewlett Packard used Joan Jett's iconic cover of "Do You Wanna Touch Me?" to launch a line of touchscreen computers. (Above.) The company dropped the campaign when it was made aware of the story, but Glitter still earned an estimated $100,000.
Continue to page two.
In a March 2011 episode of Glee, a sex educator played by Gwyneth Paltrow led the Glee Club in a raunchy version of "Do You Wanna Touch Me." The focus of the episode (irony alert) was safe sex.
But Glitter's biggest recent payday came in 2012, when the Oscar-winning film Silver Linings Playbook used "Rock and Roll Part 2" in a widely-aired television trailer.
Both Democratic and Republican campaigns have used "Rock and Roll Part 2." In 2000 George W. Bush's campaign played it at rallies, before being told Glitter's story; they vowed not to use it again, but then did so in his 2004 re-election campaign. The Democrats played it at their 2012 convention.
What's the solution here? It's hard to say, but it seems that those in charge of programming don't associate Glitter's songs with Glitter's acts.
But ignorance should no longer be allowed to cut it. Spread the word; perhaps next time you're at a baseball game and "Rock and Roll Part 2" comes on, you can explain it to those next to you while you're remaining in your seat.
RFT MUSIC'S GREATEST HITS
The 15 Most Ridiculous Band Promo Photos Ever This Incredible Make-A-Wish Teenager Went to the Gathering of the Juggalos, Got a Lap Dance (NSFW) Crotching Whiskey at the Justin Bieber Concert and Getting Thrown Out: A Review The Top Ten Ways to Piss Off Your Bartender at a Music Venue
---