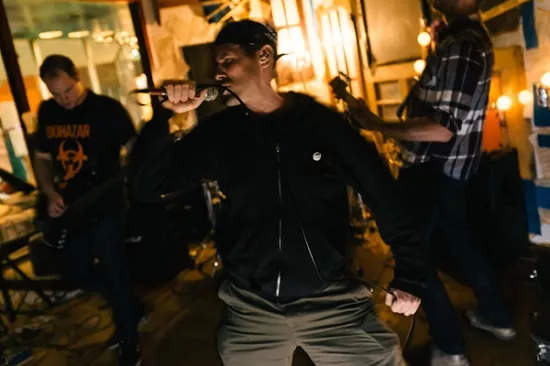 St. Louis' long-running hardcore favorite Cardiac Arrest will be releasing its first new material in seven years (and first ever full-length) on Saturday, July 19. Those familiar with frontman Rob Ruzicka -- a longtime booker of punk and hardcore in St. Louis -- know to expect the unexpected, and Ruzicka has delivered.
Forget a record release show. How about a record release pub crawl?
Here are the details according to Ruzicka, in all of their convoluted glory:
Four bands, four venues, one bus: NO PUNK TIME!! None of these bands have ever played STL before. We will be at each venue for roughly one hour.

Big Zit (Indiana) kick it off at the Livery at 8 p.m.

Bootskrieg (members of Cardiac Arrest and No Class) + Surprise guest first show at Fubar Lounge at 9:15 p.m.

The Repos (Chicago) at Atomic Cowboy at 10:30pm

Cardiac Arrest at Lemmons at 11:45 to ???

After party at Lemmons with DJ Lil Danzig

Tickets for all four shows available at Apop records for $15

Tickets for the bus: $20

Otherwise, each show is $5 at the door.
The LP is called In the Mouth of Madness. In the U.S., it will be a split release between Lumpy Records and Static Circuit Records; in Europe, Even Worse Records and Way Back When Records will put it out. We spoke with Ruzicka about the new project, as well as the ambitious punk rock pub crawl plans.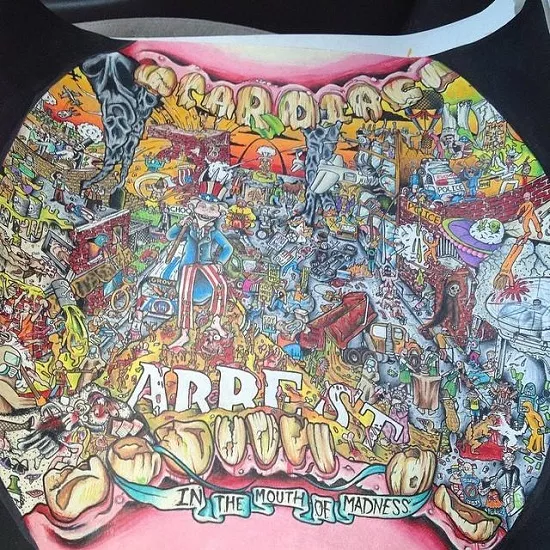 Cover art for the upcoming LP by Jeremy Baker.
Daniel Hill: What inspired the idea of a punk rock pub crawl for your release?
Rob Ruzicka: The pub crawl idea was just one of the many dumb ideas I have that only I find funny. I figured since this band is a colossally complicated headache most of the time that it would only be fitting to have a colossally complicated headache of a show.
Tell me about the bands that will be performing.
Besides the obvious, none of the bands performing have ever played St. Louis before, and possibly never will again!
The Repos are manic hardcore from Chicago, drawing influence anywhere from Infest to Septic Death. I've been talking to them about coming to St. Louis for the better part of a decade now, and for some reason we could just never coordinate anything. Please note, one of the members loves Imo's pizza.
Big Zit hails from Northwest Indiana. I heard their demo earlier this year and it made my ears do a double take. They get a lot of Bad Brains comparisons due to their singer doing a damn good HR impression, but also they have some catchy tunes, too.
Bootskrieg is a band comprised of members of Cardiac Arrest and No Class from Kansas City. Neal and I have been joking about doing a band together for awhile, and decided it would be awesome for it to be an Oi! band. Expect a big surprise at this stop in the night.
Continue to page two for more.
It has been nearly seven years since the last Cardiac Arrest release. Why so long?
Cardiac Arrest went on autopilot for many reasons. It gets exhausting being responsible for all aspects of the band. I was getting burnt out, some band members moved away, everyone's schedules got tighter, I was dating someone who wasn't really into the whole band thing -- basically, life got in the way. Oh, and laziness. Laziness got in the way. Honestly, if it wasn't for James Whitlock and Static Circuit studio, this definitely wouldn't have happened. But here we are, in 2014, releasing songs mostly written six years ago, recorded two years ago and mixed a year ago. Truly our Chinese Democracy.
The album art for this LP is outstanding. How did it come about?
The album art came courtesy of Jeremy Baker. He deserves as much praise as you can give him. I came to him with the concept -- a veritable laundry list of demands -- and not only did he put up with my incessant micromanaging, he produced artwork that literally left me speechless. I'm a pretty renowned eater, and a sucker for really busy artwork, so I knew it had to involve things being shoveled into a mouth. And since Cardiac Arrest began as an attempt to get St. Louis on the hardcore map, it definitely needed to include a nod to our fair city and it's many, many problems. It will probably leave people asking me, "What's wrong with you?" more so than they already do.
Anything on this record going to finally dethrone "Old New"? That song seems to be a perennial audience favorite.
For the life of me I will never understand what people see in that song! It's alright, I guess. There are definitely a couple tunes on the new record that might make people forget that song for sure.
Last words?
We should have another record coming out in the fall in time for our Euro tour so be on the lookout. And as always, screw Flanders.
RFT MUSIC'S GREATEST HITS
The 15 Most Ridiculous Band Promo Photos Ever This Incredible Make-A-Wish Teenager Went to the Gathering of the Juggalos, Got a Lap Dance (NSFW) Crotching Whiskey at the Justin Bieber Concert and Getting Thrown Out: A Review The Top Ten Ways to Piss Off Your Bartender at a Music Venue
---