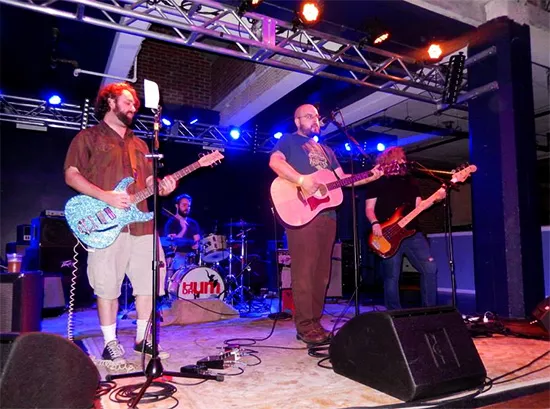 Stephen Houldsworth
Glenn Burleigh Benefit Show - Thursday, June 19 @ The Heavy Anchor.
This week, St. Louis receives visits from artists including Ms. Lauryn Hill, Foxy Shazam, Nitty Scott and more. On a local front, bands churn out some tunes to lend a helping hand to local musician Glenn Burleigh, Scarlet Tanager releases a new album and Harvest Sessions features rockers Bruiser Queen. For more info on these shows and more to check out throughout the week, read on.
Soulard Blues Band Monday, June 16, 9 p.m. @ Broadway Oyster Bar - $6 By Roy Kasten From the 2014 RFT Music Awards: One day, dear reader, the Soulard Blues Band will be no more. It's just a fact. And one day you'll wonder why, despite all the opportunities every other day of the week, you never saw this St. Louis institution in its prime -- and no, the band's prime ain't over. If somehow you've never danced your ass off when Art Dwyer lays down a bass line as smooth as crushed velvet, or when Marty Abdullah swings his phrasing on "Kansas City Blues" or "Dust My Broom," or when Tom Maloney plays a solo that would make his mentor (the late, great Benny Smith) smile, well you really should. Don't take this band for granted. Pay your respects soon; they've been earned.
Foxy Shazam Tuesday, June 17, 8 p.m. w/ Larry and His Flask @ The Firebird - $15-$18 By Annie Zaleski From this archived show preview: Let's face it, folks: Rock bands are boring nowadays. No one wants to go out on a limb -- musically, live or in the press -- for fear of an ever-dwindling music-buying population turning its back on the band. Lucky for us, God has given the world Foxy Shazam. Guided by frontman Eric Nally -- who's a cross between Freddie Mercury and Andy Kaufman -- the Cincinnati, Ohio, band doesn't just walk the line between pop art and performance art; the quintet stomps a mudhole all over it. With piano-guided songs sounding like Meat Loaf for a new generation backing him, Nally contorts himself all over the stage, pausing only to tell bizarre stories about his life (many of which are made up, some of which -- scarily -- are true) or eat a handful of lit cigarettes. Part circus freak show, part standup comedy act, Foxy Shazam is exactly what rock & roll needs.
Ms. Lauryn Hill Wednesday, June 18, 9 p.m. @ The Pageant - $58-$68 By Tara Mahadevan If you are part of the small percentage of people who haven't heard The Miseducation of Lauryn Hill, then you might want to get your life in order. Though Ms. Hill has had a pretty rocky career, TMOLH will always remain a hugely influential album in hip-hop and R&B, receiving countless nominations and awards at the Grammys, the American Music Awards and the NAACP Image Awards. Her body of work doesn't even need further explanation -- just know that if you attend Ms. Hill's show, you will most definitely be in the presence of greatness.
Glenn Burleigh Benefit Show Thursday, June 19, 9 p.m. w/ Pretty Little Empire, Langen Neubacher, The Union Electric, The Potomac Accord @ The Heavy Anchor - $5 By Allison Babka One of the greatest aspects about the St. Louis music scene is the graciousness and support that artists show toward one another. It's genuine and powerful, and it certainly will be on display during this event for one of the community's own. The short story: Glenn Burleigh of the Defeated County and other local bands injured his leg in an accident, and Pretty Little Empire, the Union Electric, the Potomac Accord and Langen Neubacher are putting' on the ritz to help pay the bills. Just $5 nets you some good karma and plenty of awesome tunes.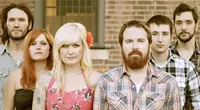 Scarlet Tanager Record Release Friday, June 20, 8 p.m. w/ Letter to Memphis, The Lovejoys @ Off Broadway - $7 By Michael Dauphin From the 2014 RFT Music Awards: The self-proclaimed "Most Adorable Indie-Pop Band in St. Louis" has already toyed with taking itself to the next level (i.e. MTV series song placement, viral YouTube videos), but 2014 may turn out to be its biggest year yet. With the impending release of its second full length, Let's Love to be released on June 20, fans may as well cancel their Paxil and Zoloft prescriptions and let the band's artfully crafted, feel-good pop tunes do the work. But as strong as its songs are, it's the band's joyous live show that truly sets it apart. When you go to a concert and the folks on stage are having just as much fun as everyone else in the room, if not more, you know you're at the right show.
Prairie Rehab Friday, June 20, 9 p.m. w/ WolfCryer, High Castle @ The Heavy Anchor - $5 By Christian Schaeffer From this 2013 album review: Lyrically, [Lacie] Mangels' song cycle would seem to be the stuff of side-length prog-rock overtures: Visions appear, serpents tempt, paramours are scorned, empires fall, holiness and hedonism clash swords. But in Mangels' hands (and with the warm support of her bandmates) Prairie Rehab is able to tell an old story in new ways. The stand-alone songs are a little less cumbersome, and the new flourishes on the band's sophomore release retain the twangy spirit at Prairie Rehab's core.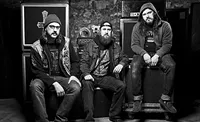 Fister Saturday, June 21, 8 p.m. w/ Black Fast, Boddicker, The Gorge, Valley @ The Firebird - $8 By Rick Giordano From the 2014 RFT Music Awards: Phil Anselmo wears this band's T-shirt. What else do you really need to know? Tour dates with Pallbearer, a split EP with Portland's Norska and a spot on NYC's first-rate Martyrdoom Festival this July are only part of Fister's impressive resume. The band's sound is an intricate mix of doom, doom and vomit-drenched doom, wherein Godzilla drums, chainsaw guitars and speaker-melting bass tones are all used more like weapons than instruments. It's the perfect soundtrack to something like a plane crashing into the Andes -- and if you can't handle it, you'd probably be the first one to be eaten.
Harvest Sessions Saturday, June 21, 10 a.m. w/ Bruiser Queen @ Tower Grove Farmers' Market By Bob McMahon From the 2014 RFT Music Awards: Even for a band accustomed to hard work, Bruiser Queen is having an insane year. Somehow, the garage-pop duo released an acoustic EP, a seven-inch split and finished an upcoming full-length, despite a nonstop concert itinerary. But it's best to stay busy when you've hit your stride. The kicky and catchy songwriting approach its members employ is still as simple as their guitar and drums setup, which works because Morgan Nusbaum and Jason Potter know their way around a killer hook. New songs feature '60s girl-group influences and a greater variety of tempos, but they are still powered by Nusbaum's rich voice. With a coo that's equally arresting as her bellow, Nusbaum's pipes are Bruiser Queen's not-so-secret weapon, pushing its songs into the stratosphere.
Nitty Scott Sunday, June 22, 8 p.m. w/ Alex Wiley, Kevin Abstract, Mvstermind, Cory Miller, Duke Rellington @ The Ready Room - $15 By Tara Mahadevan Born in Michigan, Nitty Scott moved to Brooklyn to pursue a career as an emcee when she was only seventeen. She caught her big break in 2010 when her freestyle over the Kanye West song "Monster" went viral. Since then she's dropped two mixtapes and one EP -- she released her latest offering The Art of Chill under her own label, which features appearances by Ab-Soul and production by Chuck Strangers. With a style akin to MC Lyte, Lauryn Hill and Ladybug Mecca, Nitty Scott is indie, grassroots hip-hop at its finest.
Note: Though we wish we could, we can't feature every great show happening in town in just one measly post. Look for plenty more recommendations this Friday in our weekend shows post, and peruse the St. Louis concert calendar for more ideas any time. Let everyone know what else you're looking forward to seeing this week in the comments below, and submit show info online any time to be considered for inclusion on these lists.
RFT MUSIC'S GREATEST HITS
Remembering STLPunk.com -- How to View the Site Today and Find Your Old Profile Page "Where Did My Dick Go?" The Gathering of the Juggalos' Best Overheard Quotations The Ten Best Dive Bars in St. Louis The 15 Most Ridiculous Band Promo Photos Ever
---