Monster Mash-inducing Flyer
Are you sick of being responsible? Does it annoy you to have to follow rules or be pro-social? Do you like basements? Well, if you are a goofy, degenerate weirdo who doesn't quite fit in anywhere else, you might consider our city's hardcore/punk shows.Your underlying anger problems can be brought out to their fullest potential (in a positive way). These are my recommendations for great local and national bands that don't play five-minute (marathon!) songs or remind you about drink specials. General rule of thumb: If you have five bucks and can show up by 9 p.m., then it's go time in the pit. One, two, fuck you!
[Disclosure: The author of this article is in bands, some of which will be playing some the following shows. But the author of this article is in five local punk bands, so that is kind of an inevitability. It does not influence the choosing of these shows.]
Breakmouth Annie, the Haddonfields, Horror Section, the Cuban Missiles @ the Schlafly Tap Room June 13 9 p.m. / Free
Hey weirdo, sad or mad about something? Broke as a joke? Well this is one hell of a local FREE pop-punk showcase to drive your pain away. These veterans are coming together to play some of the catchiest punk rock songs in the Missouri/Illinois area. Breakmouth Annie will probably have its brand new split" with the Winchester -- first new recording since its 2012 demo.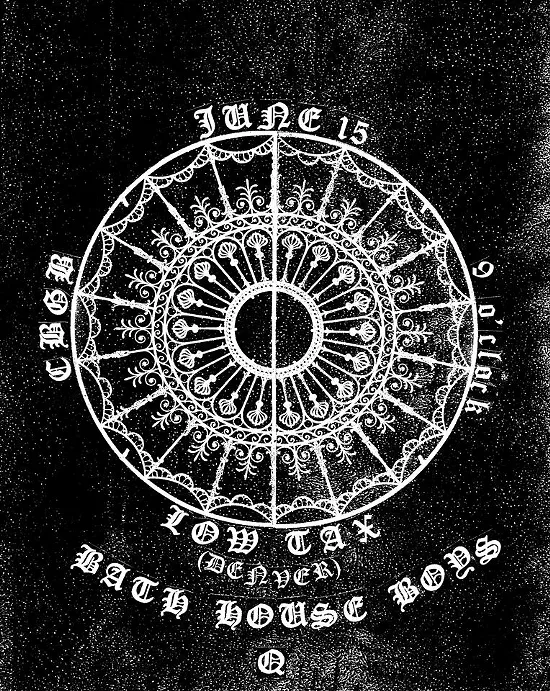 Flyer by BHB's Brandon Arscott
Low Tax, Bath House Boys, Q @ CBGB June 15 9 p.m. / $5
Is there any better way to spend the end of a frivolous, disappointing weekend than knocking your friends or complete strangers around in the shotgun side of a long-standing local dive? Bath House Boys got Denver's Low Tax, with a sound akin to the Void/the Faith split LP getting in a fight in a blender, to get horrible with the paranoid scum of the city. If you obsessively listen to anything from pummeling d-beat to fast hardcore with ugly stomp parts, then this show's lineup will escalate and build until you become a windmill of knockout punches.
Killer Comic Book Panel-style Flyer
The Coltranes, Pregnancy Test, Animal Teeth, Dad Jr. @ Ask A Punk June 21 9 p.m. / $5
The Coltranes is an intensely weird group somewhat similar to Cold Sweat or early '90s bay area hardcore, with some LSD-laced Alternative Tentacles fare thrown in for good measure. The vocals range from murderous screaming to doped up moaning. It is one of the more interesting takes on writing music that inspires people to lose impulse control at the drop of a hat. If your wildest dream is see how many creepy art punks can gang up on you at once, this is the show for you (if you can figure out where the hell it is).
RFT MUSIC'S GREATEST HITS
The 15 Most Ridiculous Band Promo Photos Ever This Incredible Make-A-Wish Teenager Went to the Gathering of the Juggalos, Got a Lap Dance (NSFW) Crotching Whiskey at the Justin Bieber Concert and Getting Thrown Out: A Review The Top Ten Ways to Piss Off Your Bartender at a Music Venue
---