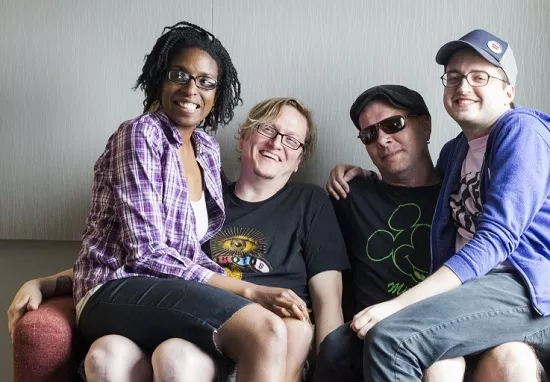 Bassist Brian Fleschute and drummer Harold Covey are unsung heroes of St. Louis music. The duo is best known for founding the Pat Sajak Assassins, a local group that features a rotating cast of contributing musicians. And that band might best be thought of as five separate bands -- one to correspond with each new approach it has taken over the years.
"We've had so many different players, we're sort of like chameleons," Covey says. "We latch onto this person who's doing their thing and just go with it. It's a back and forth. When they start contributing, I think it changes what we do." In keeping, Pat Sajak Assassins has as many albums as it does lineup changes -- five in total, including Motherboard, which is set for release this Friday at the Heavy Anchor.
In the broadest sense, PSA is a rock band, but its tendency to stray from straight-ahead rhythm, along with an almost total absence of recurring pieces, places the band in experimental territory. But Fleschute and Covey don't discount the use of melody or even pop structure. In this way, the group works as a gateway to a stranger realm of music while still remaining accessible.
"I would ask new bandmates, 'What's your influences?' and I would write based on that," Fleschute says of the band's amicable approach.
"I think we'd gotten more accessible. The contributors change and the output changes," Covey adds.
Covey and Fleschute formed the first iteration of PSA in 2001 when both players were working with other bands. Early output pulled elements from free-jazz and no-wave, appropriating horn skronk to serve tightly wound songs. Its first album, Soundtracks for Superheroes, was led by songwriter and guitarist Joseph Freeman and dropped in late 2006.
PSA kept good company through the mid-aughts, opening for bands such as Battles, Don Caballero, 90 Day Men and Metric. Inspiration from these and other math-rock contemporaries led to a more complex sound. For its second album, LUNCH?!?, PSA also feels soundtrack-esque thanks to Freeman's work as a multi-instrumentalist, stretching the group's sound considerably.
Musician Matt Derouin played a major role in the band as both second guitar on LUNCH?!? and principle songwriter later on. His work helped bridge the gap between the band's dense ideas and a more song-oriented approach. PSA's third record, Approved by NASA, featured a new focus on vocals and made the band more accessible all around.
"We've never been interested in a narrative at all. We just like the concept of a voice as an instrument," Covey says.
With the addition of current keyboardist Christopher Eilers, the group has morphed once again, moving back to its old prog leanings while retaining vocals on a few key songs. Its fourth effort, Thigh Master, is a short but quality record that brings a refinement of past ideas.
Continue to page two.
The current roster also includes local artist Syrhea Conaway, who might be best known for her work as one-woman band Syna So Pro. In PSA, she commands the set by manipulating her own voice in real time, lending a surreal aesthetic to keyboard-driven songs. In fact, the band has now eschewed guitars altogether, replacing them with Conaway and Eilers on dueling synthesizers, bringing heavy inspiration from retro gaming. Their funnel of keyboards feels like listening to an Atari on acid, and Conaway complements that sound by bringing out vocal bursts from the chest, electing to use sounds and tones rather than words to convey a human feeling -- a welcome addition to the band's robotic style.
"I've grown so accustomed to the way we sound now, I can't imagine a guitar in the mix," Covey says. "The video-game sound is purely an accident, but that's going to happen with nothing but keyboards."
Despite the constant shifts in personnel, PSA retains two key elements. Fleschute's punchy bass brings a punk edge, warbling under melody with menacing tone. Covey plays a hybrid drum kit, mixing standard shells with synthetic percussion. Thanks to this core, there's a sense of continuity throughout the albums, but their contributions might be underrated thanks to the strong choices of bandmates both past and present.
Grab the group's fifth (and latest) album, Motherboard, on Friday, June 13, at the Heavy Anchor. And stay tuned -- PSA is set to break its self-imposed tradition in the near future, with a second album featuring the current lineup on the horizon.
RFT MUSIC'S GREATEST HITS
The 15 Most Ridiculous Band Promo Photos Ever This Incredible Make-A-Wish Teenager Went to the Gathering of the Juggalos, Got a Lap Dance (NSFW) Crotching Whiskey at the Justin Bieber Concert and Getting Thrown Out: A Review The Top Ten Ways to Piss Off Your Bartender at a Music Venue
---