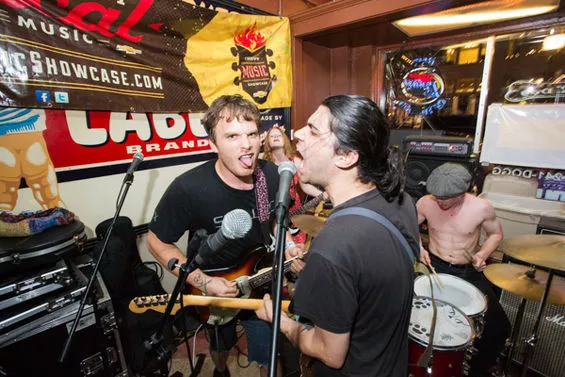 A scene from last year's RFT Music Showcase -- Little Big Bangs.
Hey there, weekend. The RFT Music Showcase is happening (and then we'll leave you all alone about it for at least another year). Check out the guide to the bands playing the showcase this year -- all 90-or-so of them -- or you can just swing by a newsstand and snatch up a print edition. If the thought of rubbing shoulders with hundreds of music fans allover the Grove confuses and scares you, consider another great event this weekend instead. Twangfest continues at Off Broadway, the Mad Magician hosts a couple of STLPUNK reunion shows and more. Read on for our recommendations.
Friday (June 6):
Rod Stewart w/ Carlos Santana @ Scottrade Center 7:30 p.m. | $36.50-$126.50 If you can sit through Carlos Goddamn Santana, you will be rewarded with a performance by one of the best-selling music artists of all time. What a cruel twist of fate this tour is. Go anyway. (DH)
STLPUNK Throwback Reunion Shows w/ Sophomore, Westcott, Ava Wait, Shall We Dance, Building Rome, The Chrome Nuns (6/6); Rushmore Academy, Nothing Still Centerpointe, 13 Lokei, Dayton (6/7) @ The Mad Magician 7 p.m. | $6 Notably lacking a "Hardcore Hour," but fans of nostalgia and seminal social media sites will have a fine time here. (DH)
Tidal Volume EP Release w/ Roh-Bee and the Gentlemen, C'est La Vie, Red Letter Days @ The Firebird 7 p.m. | $10 Local band Tidal Volume plays alternative indie-pop (think Plain White T's and Jukebox the Ghost) and will release its new EP, Icing, at this show. Hear it now on Bandcamp to get a taste. (MS)
Twangfest 18 w/ Centro-matic, Someone Still Loves You Boris Yeltsin, Tristen, Beth Bombara @ Off Broadway 7 p.m. | $15/$18 KDHX's annual Twangfest soldiers on this weekend with another great line-up. Check out the picks from the kick-off show here. On Saturday night, the Dream Syndicate headlines. More info on both these shows available on the Twangfest website. (MS)
Also on Friday, consider swinging by Old Rock House to catch New Mastersounds, or head over to the Kranzberg Arts Center to check out the subject of this week's music feature, Kevin Harris' As Unstable As.
Saturday (June 7):
The Memories w/ Gigantic, Animal Teeth, Tubby Tom, Kenshiro's @ Melt 8:30 p.m. | $6 This stacked bill features two out-of-towners: dreamy pop group The Memories from Portland and garage-rockers Gigantic from Springfield, Missouri. Click the links to sample some tracks. (MS)
Styx w/ Don Felder, Foreigner @ Verizon Wireless Ampitheater 7 p.m. | $24-$624 Styx's relationship with original singer Dennis DeYoung remains as strained as ever, with the band recently omitting his name altogether from the "history" section of its website, despite including other past members' names. Regardless, his replacement Lawrence Gowan has been doing a serviceable job for the last fifteen years. Expect a spectacle. (DH)
Vetter Kids w/ Con Trails @ CBGB 9 p.m. | $5 Vetter Kids come to town from San Antonio and sound like the '90s, done today. If pop-infused grunge-rock sounds like your stuff, check it out. (MS)
For more options, Magic City plays a free show at the Schlafly Tap Room on Saturday. And, of course, the RFT Music Showcase takes over the Grove with a day full of around 90 bands.
Sunday (June 8):
Anthony David @ Lola 7 p.m. & 9 p.m. | $15-$20 American R&B singer-songwriter Anthony David is best known for his 2008 hit "Words" with frequent collaborater India.Arie, for whom he has also penned songs. (DH)
Tony! Toni! Toné! w/ Nikko Smith @ Ballpark Village 4 p.m. | $5/$7 This band. See? You remember them now. Also appearing at Ballpark Village this weekend: Reel Big Fish. (DH)
Props for Prez w/ Rich McDonough, Tony Campanella, Soulard Blues Band, Jeremiah Johnson Band, Funky Butt Brass Band, Big George Brock, Felix Reyes, Dave Herrero, Patrick Recob, Elmo Bailey, Big Mike Aguirre @ BB's Jazz, Blues & Soups 12 p.m. | $15 This is a benefit for local blues musician Preston Hubbard (ex-Fabulous Thunderbirds), who recently had some health issues. Kim Wilson, the vocalist and frontman for Fabulous Thunderbirds, will make an appearance in addition to a great day-long line-up of local blues. (MS)
For another good cause to support this weekend, check out the Third Annual Even Chance Pit Bull Benefit featuring five local bands and more at the Crack Fox.
Note: Though we wish we could, we can't feature every great show happening in town in just one measly post. Peruse the St. Louis concert calendar for more ideas anytime. Let everyone know what else you're looking forward to seeing this weekend in the comments below, and submit show info online to be considered for inclusion on these lists.
RFT MUSIC'S GREATEST HITS
Remembering STLPunk.com -- How to View the Site Today and Find Your Old Profile Page "Where Did My Dick Go?" The Gathering of the Juggalos' Best Overheard Quotations The Ten Best Dive Bars in St. Louis The 15 Most Ridiculous Band Promo Photos Ever
---