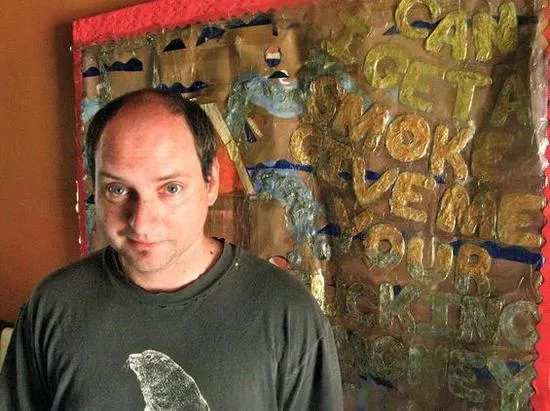 Kevin Harris, curator of this Friday's multi-sensory event As Unstable As.
Deliberately shrill and mostly dense, "noise" has become a blanket term for bands that explore and experiment around the beaten path. The genre, like others, isn't without its share of hangups, but that's why we're here. Every month, we supply a short list of sure bets in St. Louis, ranging from needlessly complex to minimalist drone. Connect the weird to your ears.
The long, relentless winter left me pining for summer nights in St. Louis. Not that the humid heat is any better than the biting cold (that's all a matter of preference after all), but there's something about being trapped in venues with loud bands while the air is thick enough to drink. If the music is equally as exhausting as the weather, the whole experience tends to coalesce.
There's no shortage of gigs in June for fans of noise and the experimental ilk. From legendary free jazz players to post-rock icons, St. Louis is a destination for incredible acts all month long. Read on and take your pick from the many flavors featured below.
---
Wednesday, June 4 at Lemp Arts Center Peter Brotzmann, William Parker, Hamid Drake Dave Stone & friends 8 p.m. | V.I.P. seating $21, standing room tickets $15 | all ages Buy tickets here
Brotzmann has appeared at Lemp Arts Center a number of times in recent years, but this line up, featuring bassist William Parker and drummer Hamid Drake, might be the quintessential experience for fans of free-jazz, both old and new. The venue is particularly cozy, so seating is limited. The stage-less room also means that you'll be eye level with three recognized legends in experimental music.
Brotzmann's saxophone commands a dynamic rhythm section from Parker and Drake, who bring a level of urgency and quick wit to the realm of contemporary jazz. What you're getting here is jazz turned on its head and spun into circles - a dizzying array of familiar sounds breaching unfamiliar ground.
Courtesy of Lemp Arts Center
---
Thursday, June 5 at Lemp Arts Center Matthew Reis (of Developer, Teeth Collection) Kingston Family Singers K R Schlüter (of Lonely Procession) 8 pm | $5 | all ages
The video above is nearly four years old, but it depicts sound artist Matthew Reis delivering a carefully crafted piece of harsh noise. This show is not especially designed for newcomers to experimental music, but that might be all the more reason to check out a musician who champions subtle sound over shocking volume. Reis is stopping by on his way back from a family emergency in California, so the heads at Lemp Arts Center have organized this event as a fundraiser for one of their favorite touring performers.
The local line-up features two like-minded artists, making for a show that rewards patience and careful listening. Make no bones about it, this show is especially niche and will likely be under-attended due to its very nature - that's all the more reason to jump in and give it a shot.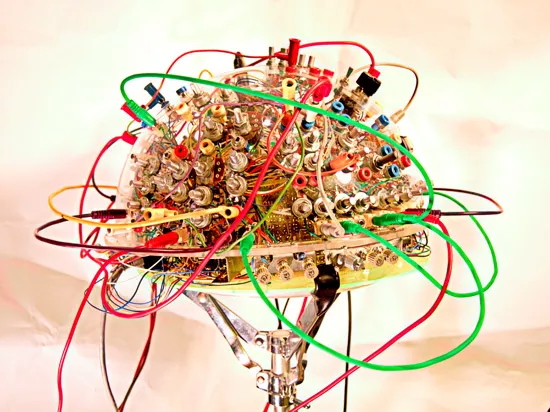 Chad Eivins
Dr. Mabuse's homemade contraption: The Dome.
Friday, June 6 at Kranzberg Arts Center As Unstable As - A survey of contemporary electronic and performances art in St. Louis featuring: Kevin Harris, Chad Eivins, Dr. Mabuse and many more area artists 7 pm | $7 for students, $10 general admission | all ages
Building movement through objects, natural forces and the human body is displayed throughout As Unstable As with a deep sense of contemporary and improvisational art. If anything, the event this Friday at Kranzberg Arts Center showcases the growing scene of subversive artists based in St. Louis.
The name As Unstable As comes from local artist and curator Kevin Harris' tendency to manipulate conditions within his own aural and visual work. By injecting instability into a live video feed, Harris creates a situation where his performance relies on surrounding elements like light and space in addition to his own controls.
The gallery section of AUA reflects a communal effort toward video and live performance art. Along with Harris and Eivins, expect visuals by way of Michael Meihaus, Wonder Koch, Brett William, Marianne Laury, Leanna Kaiser, Zachary Zimmerman and Cole Lu. With 7 artists and 11 pieces, this space requires a complex approach to installation and arrangement.
Rick Wilson, Lara Dempsey and William Gass will perform as Perverted, a trio of psychological sound purveyors set to present a multi-facted cabaret show in the Kranzberg's studio room.
Dr. Mabuse, artistic co-director of HEARding Cats, an experimental music collective based in St. Louis, will join Harris to end the night with a special performance involving "the dome," his own homemade sound synthesizer.
---
Saturday, June 14 at Plush Saint Louis Apop Records' Tenth Anniversary Party Humanbeast (RI) Twodeadsluts Onegoodfuck (MA) Sofia Reta (MD) Black James (Album Release) Self Help 8 pm | $8 | all ages
An unsuspecting listener might throw on Humanbeast and sway a bit to the bouncy beats attached to warbling keys and vocals. Everything seems in order until the band implodes, bursting with a vicious vocal howl and an equally as jarring shift in textural noise. The band skewers expectations for dance music and makes its own rules in regards to pop. The whole affair feels dark, like it belongs in an upscale bar in hell - the only solace for heretics.
Twodeadsluts Onegoodfuck dares you to like its brand of industrial noise. If you've heard the term "power electronics," this act delivers on a primer on the genre. Although Twodeadsluts Onegoodfuck comes from Boston, St. Louis' own Apop Records released their LP in 2012. Speaking of Apop, this show is actually a party celebrating the record shop's 10 years in existence (8 years in its Cherokee street storefront).
Tuesday, June 24 at The Ready Room SWANS Xiu Xiu 8 pm | $25 | 18+
Apparently I'm not the only one who thinks experimental music and harsh weather go together. I heard a rumor about SWANS, the legendary post-rock duo led by songwriter Michael Gira: Before performing, SWANS requires the venue to crank the building's heat, regardless of the room's temperature. That way, the hypnotic nature of the band's droning songs becomes all the more mesmerizing. Either that, or this tricks showgoers into buying more cold beer. Decide for yourself this month when SWANS hits the Ready Room with Xiu Xiu.
Think I left something out? Piss off! No, actually, you're probably right. I usually keep this column focused three or four key shows. Share what you know in the comments below. For the future, drop me a line any time at joseph.hess@riverfronttimes.com
Joseph Hess is the editorial coordinator for the Riverfront Times. When he's not, you know, coordinating, he is the DJ of the experimental rock show Wrong Division over at KDHX (88.1 FM). Visit his personal blog here for more on this city's DIY and experimental music. Or stalk him on Twitter.
RFT MUSIC'S GREATEST HITS
The 15 Most Ridiculous Band Promo Photos Ever "Where Did My Dick Go?" The Gathering of the Juggalos' Best Overheard Quotations I Pissed Off Megadeth This Week, My (Former) Favorite Band The Top Ten Ways to Piss Off Your Bartender at a Music Venue
---