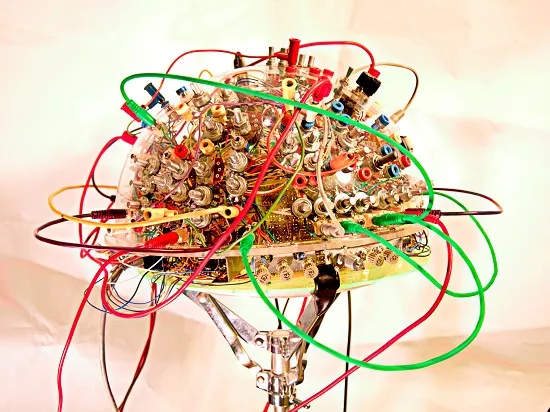 Chad Eivins
Behold "The Dome."
"The truth is, movement is very simple. Humans can construct movement with electricity and objects, use their bodies, or rely on nature to move particles," says local experimental artist Kevin Harris of his upcoming event As Unstable As -- A Survey of Contemporary Electronic and Performance Art in St. Louis. "I wanted to organize a show that explored the idea of movement. There is obviously a long tradition and history of kinetic art within the art world, but I wanted to approach the curatorial decisions from the perspective of classical mechanics and physics, rather than this art-world tradition."
Harris' work in the past year at the Contemporary Art Museum St. Louis has been a precursor to the project. While curating the Audible Interruptions series, he organized installations and performances, pulling in a diverse pool of art for the public's eyes and ears. And in years prior, Harris single-handedly operated Floating Laboratories, a combined show space and workshop where he and fellow artists frequently performed.
Harris might be best known in St. Louis for his electronic music. He uses analog synthesizers to create textural auras, both in solo and collaborative formats, while using video projections with live feedback to create enthralling visuals.
Josh Levi
Kevin Harris in his former studio space, Floating Laboratories.
The name As Unstable As comes from Harris' tendency to constantly manipulate the raw materials within his work. By injecting instability into a live video feed, Harris creates a performance that relies on surrounding elements like light and space in addition to his own controls.
Harris explains that the space at the Kranzberg helped him form the event. "Before any art was selected, I was offered the opportunity to organize a show that would use all three areas and create continuity between them. Because the three areas -- the gallery, studio and theater -- are so specific in their function, it was obvious from the beginning that the work needed to be very specific to these environments."
Harris will not be the only artist behind the experience this weekend. Frequent collaborator and local videographer Chad Eivins will join him. Their blend of light manipulation will merge with a quadrophonic (that's right, four speakers) sound presentation to challenge the basic tenants of media perception.
"This was a perfect opportunity to explore the very diverse subject of movement, because each space facilitates art that represents the different methods by which movement can be achieved," Harris elaborates. "Each room is acting as a unique artistic ecosystem, being connected to one another by the concept of motion."
Continue to page two.
The gallery section of AUA reflects a communal effort toward video and live performance art. Along with Harris and Eivins, expect visuals by way of Michael Meihaus, Wonder Koch, Brett Williams, Marianne Laury, Leanna Kaiser, Zachary Zimmerman and Cole Lu. In addition, Rick Wilson, Lara Dempsey and William Gass will perform as Perverted, a trio of psychological sound purveyors who will present what Harris loosely describes as a "cabaret." Finally, Dr. Mabuse, artistic co-director of HEARding Cats -- an experimental music collective based in St. Louis -- will join Eivins and Harris to end the night with a special performance involving "The Dome," Mabuse's own homemade sound synthesizer. By using infared sensors to carefully track hand movements and an array of special controls to alter the current, the Dome produces sound by way of Mabuse's innovative circuit design. Meanwhile, Eivins and Harris will focus on a dual video presentation to accompany Mabuse's noise-addled wizardry.
"It has been very enjoyable arranging and refining this configuration. Some of the pieces generate light, others need illumination and some can't have too much light cast upon them. Trying to plan and consider how each piece will relate to the others has been challenging but fun."
As Unstable As - A Survey of Contemporary Electronic and Performance Art in St. Louis 7 p.m. Friday, June 6 at the Kranzberg Arts Center. 501 North Grand Boulevard. $7 to $10. 314-289-1523.
RFT MUSIC'S GREATEST HITS
The 15 Most Ridiculous Band Promo Photos Ever This Incredible Make-A-Wish Teenager Went to the Gathering of the Juggalos, Got a Lap Dance (NSFW) Crotching Whiskey at the Justin Bieber Concert and Getting Thrown Out: A Review The Top Ten Ways to Piss Off Your Bartender at a Music Venue
---