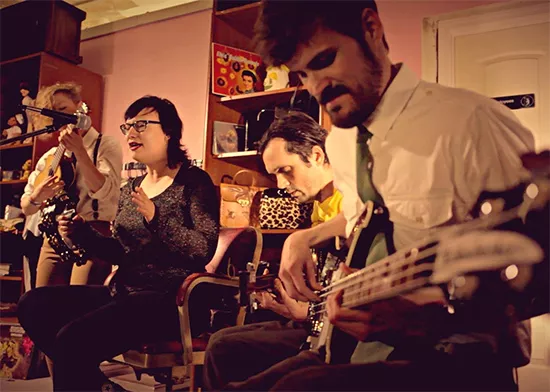 Lo-Fi St. Louis teased a preview a day leading up to the release of sixteen live music videos it shot on Cherokee Street. See the screening of each production tonight.
This weekend sees new local releases from the Tennis Lesson, Other People, Patrick Scott Project and Static Life. Lo-Fi Cherokee also throws a huge party to debut sixteen brand new live music videos of local performers. Besides that, catch some touring acts including Ex-Cult and Ray Creature. Read on for this weekend's show recommendations.
Friday (May 30):
Alarm Will Sound @ The Sheldon 7:30 p.m. | $10-$20 Alarm Will Sound continues to change people's definition of what an orchestra should be by tackling contemporary music in a thoughtful and enthralling way. (DH)
Lo-Fi Cherokee 2014 Video Release Party @ Bomb Door 8 p.m. | free Earlier this spring, Bill Streeter's Hydraulic Pictures shot sixteen videos of sixteen different bands, performing at a variety of venues on Cherokee Street, all in one day. This show marks the great unveiling of the finished product. Come see your favorite local bands as never before, in expertly crafted fashion by a truly talented group of visual artists. (DH)
Other People CD Release w/ The Defeated County, Prune, Lights Out Loser @ The Heavy Anchor 9 p.m. | $5 The first album from a relatively new band which already shows promise. Check out some tracks here -- "Brazen Ways" and "Harvest Time" are the standouts, in my humble opinion. (DH)
Patrick Scott Project CD Release @ Vintage Vinyl 7 p.m. | free Patrick Scott plays acoustic-guitar pop. This free in-store performance marks the debut of his self-titled CD. (MS)
Ray Creature w/ Bad Psychic, Willis, What We Won't See @ Foam 7 p.m. | $5 Fans of synth-pop ought to experience the gloom and doom of these two Bloomington, Indiana electronic acts: Ray Creature and Bad Psychic.
For more options this Friday, click the following links to learn more about Chicago Afrobeat Project and Brad Paisley's stops in St. Louis tonight.
Saturday (May 31):
Ex-Cult w/ Cardiac Arrest, Dad Jr. @ Melt 9:30 p.m. | $7 Memphis garage-punks Ex-Cult tour on its recently-released LP, Midnight Passenger. Get a taste of it on Soundcloud. (MS)
Cherokee Bottoms Music Festival w/ Jordyn Kylie, Benny Fowler, Ashley Batiste, Adam Donald, Ellen the Felon, Willis, Animal Teeth, Zoned Out, 32 Piece Vintage Party Set, Dan Roth, The Leads, The Less Heads Knocking, Brianna Douglas, 3 of 5, Syna So Pro, Solo Zunder, Fred Friction, Barely Free Partial Prisoners, Snooty and the Ratfinks, Maybe Dynamite, Tiger Rider @ Livery Company 6 a.m. | $5 You didn't read that wrong. This local music fest starts at 6 in the morning -- and lasts until 12:30 a.m. That's more than twenty acts and eighteen hours of live tunes for only five bucks. (MS)
Static Life CD Release w/ Yankee Rain, Red Letter Days, Lunar Levitation @ Cicero's 5:30 p.m. | $5/$7 Recently featured on Fox 2 New's "Band in a Box." Pick up the new album at this show. (DH)
MC Keem @ The Gramophone 10:30 p.m. | $10 You may know MC Keem as one of St. Louis' best rappers. But if you don't, here's your chance to get acquainted. (DH)
The Funs Tour Kick-Off w/ TV MA, Demonlover, Kisser, Hylidae @ CBGB 9 p.m. Local fuzz-rock duo the Funs hit the road again. If you don't know them yet, get a primer by checking out this Bandcamp. (MS)
Also on Saturday, consider the Lawrence Arms at the Firebird and the Tennis Lesson's CD Release at Schlafly Tap Room.
School of Rock presents: A Tribute to Black Sabbath and Pink Floyd at Plush on Sunday, as well.
Note: Though we wish we could, we can't feature every great show happening in town in just one measly post. Peruse the St. Louis concert calendar for more ideas anytime. Let everyone know what else you're looking forward to seeing this weekend in the comments below, and submit show info online to be considered for inclusion on these lists.
RFT MUSIC'S GREATEST HITS
Remembering STLPunk.com -- How to View the Site Today and Find Your Old Profile Page "Where Did My Dick Go?" The Gathering of the Juggalos' Best Overheard Quotations The Ten Best Dive Bars in St. Louis The 15 Most Ridiculous Band Promo Photos Ever
---