The 2014 Riverfront Times Music Showcase will be held this year on June 7 in the Grove! Think of it as St. Louis music's own official holiday and consider this the season. Throughout May we at RFT Music will be making our cases for all 140 bands and artists nominated for an RFT Music Award this year, so that you will be able to make a fully informed decision with regards to your vote. Read on and get yourself acquainted, and we'll see you at the showcase!
See also: Vote Now For the 2014 RFT Music Awards
---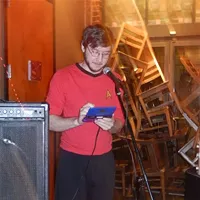 3 of 5
Andrew Garces is a geek. This isn't a slam, just a fact made inescapable when he performs songs about Mass Effect creatures while clad in a Star Trek uniform. This nerdy niche shapes Garces' work as 3 of 5 both lyrically and musically, as his tunes are programmed in Rhythm Core Alpha, an application for his 3DS. So Garces' four-on-the-floor bass drum hits, bubbly sixteenth-note synth runs and bouncy counter melodies come in the form of the bleeps and buzzes associated with video game music. Thankfully, there's a depth behind all the nerd posturing, for the sci-fi trappings are often a vehicle for universal themes like friendship and accepting oneself. Or as Garces sings, "But inside all this circuitry there beats an honest heart." -Bob McMahon
---
Adult Fur
As the force behind Adult Fur, Ryan McNeely treads a thin line between "artist" and "producer." McNeely has released tracks that touch on synth-pop, hip-hop and psychedelia -- his grooves and manipulations sink in no matter the genre. But of late, McNeely has been more interested in turning the spotlight on his talented friends, many of whom work within the amorphous FarFetched Collective. The last Adult Fur release, the remix collection RÁN, featured contributions from Tef Poe, Née's Kristin Dennis and Black James. McNeely is able to get the best out of his friends by simultaneously stepping out of the limelight and becoming omnipresent in his production. -Christian Schaeffer
---
Black James
Burn your banjos and cram your clarinets: The Black James of 2014 is not the witchy woman you first saw singing murder ballads. Jennifer McDaniel seems to be in a continual state of evolution, and even her official releases refuse to stay in one place. 2012's im A mirAcle was a collage of knotty, glitchy, dubby beats mixed in with twisted Americana. These days, McDaniel is most often found behind a sampler as she corrals footwork-inspired beats and her own entrancing vocals. So don't go to a Black James show expecting the same thing you saw last time, but if you're especially lucky, she'll bring her dancers/hula-hoopers with her. -Christian Schaeffer
---
it!
The electronic dance duo it! works hard to earn the exclamation point in its title. Joel Kern (guitar, drums and vocals) and Andrew Bohler (drums and vocals) make party music for a generation that takes the through-being-cool message of LCD Soundsystem as a birthright and treats dancefloor hedonism as a religion. You won't find deep meaning or particularly ambitious production on the handful of digital singles that it! has deployed in the past few years (though last year's "Satell(it!)e" gets in on some millennial paranoia). Instead, it! would rather you just dance and drink and screw -- because there's nothing else to do. -Christian Schaeffer
---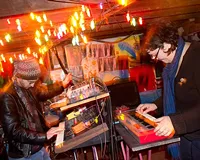 Wax Fruit
Wax Fruit's body of keyboards pushes fire through speakers in strict timing while sultry femme vocals build underneath. The duo carefully slithers around synth-pop, sounding somewhat menacing, albeit danceable. This might be the b-side of a long-lost '70s sci-fi film soundtrack -- a song only heard in the background at some post-apocalyptic night club. Wax Fruit's live show feels equally lo-fi, with a penchant for intentional hiss and hum which is fitting, because both heads behind the band come from a background in harsh noise. Songs here end with abrupt howls and, sometimes, tonal chaos, shredding any semblance of careful wave. Recommended for the goth who is too lazy for make-up but hip enough for black vinyl gloves. --Joseph Hess
---
Previously: - Experimental - Metal - Electronic (Eclectic) - Cover/Tribute Band - Emo/Post-Hardcore - DJ - Noise - Hard Rock - Folk - Hip-Hop (Solo) - Soul/Funk - Indie Rock - Psych - Americana - Country - Pop - New Band - Indie-Pop - Singer/Songwriter - R&B - Jazz - Hip-Hop (Group) - Garage Rock - Blues