"I don't think we could've come up with a better name," says Pü Fest curator Pat Boland. "We tried. We tried really hard."
"It rhymes with the first syllable of Louis, which is our city," adds festival co-organizer Mike Herr. "It's funny. You know LouFest. And now there's Pü Fest."
Local concertgoers now have a new event to consider during the weekend of September 6 and 7, the same as LouFest, and the premise isn't exactly coincidental. Boland and Herr partnered with local show promoter Luc Michalski to put together the first Pü Fest, an underground music festival featuring around twenty touring and ten local acts that subscribe to the likes of noisy punk, experimental and psychedelic tenets.
"It's not really an anti-LouFest thing. It's something totally different," insists Boland. "What they do is cool, and a lot of people like that and want to go, but that's really nothing to do with us, and we're nothing to do with them. While the choice of weekend is intentional, it's not meant to be a spiteful jab at LouFest. There are things going on here that are just as important as anything that goes on over there."
Mabel Suen
Pü Fest curators Mike Herr, Luc Michalski and Pat Boland.
All three partners play actively in bands themselves -- Boland in the Conformists, Herr in Kisser and Michalski as the so-called "manager of local bad-boy rocker Black Panties" -- and they've put their heads together to pull in some of their favorite acts from collective performance and booking experiences.
The idea for the live musical festival, like any other, seems simple enough: showcasing what the team deems underrated bands at an affordable price and offering onlookers a glimpse at the underbelly of the music scene.
"I wanted to show off St. Louis to the rest of the country. I think there are a lot of bands here that are incredible that do not get much love. And there are a lot of people here who want to see good bands and get skipped over," explains Michalski. "It's just something that represents what St. Louis is doing and what its musicians are interested in, which is bizarre and far from pigeonholed."
Continue to page two.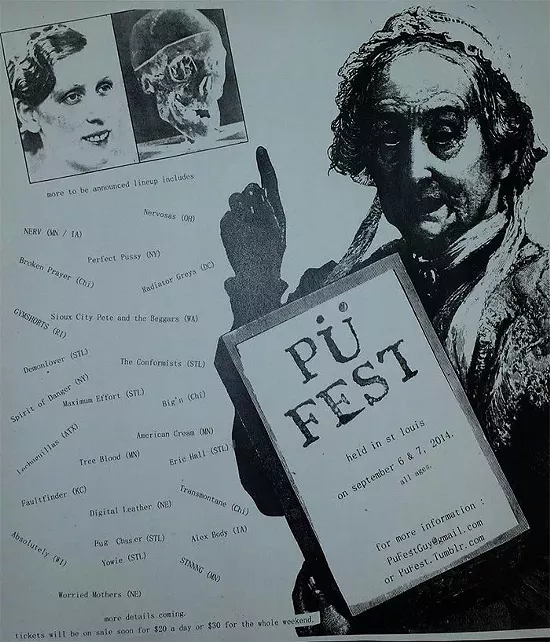 Courtesy of Luc Michalski
While LouFest loudly and proudly announced headlining acts including Outkast and Arctic Monkeys over the past few weeks, Pü Fest concurrently confirmed its list of performers via social media. The list of acts features musicians from Washington State to Washington, D.C., including Perfect Pussy and Nervosas, names St. Louis showgoers might recognize from events in recent months.
The event also pulls in the projects of prolific St. Louis ex-pats, including Radiator Greys (Josh Levi), Spirit of Danger (Mario Viele of the Pubes and Sex Robots), Faultfinder (Don Beasley of Nerve Parade and Corbeta Corbata) and Broken Prayer (Mark Plant of Times Beach).
Additional performers include Seattle's blues-punks Sioux City Pete and the Beggars, experimental rockers the STNNNG from Minneapolis, hardcore act NERV from Iowa and Chicago noise-rockers Big'n. Meanwhile, local acts include Bug Chaser, Demonlover, Eric Hall and Yowie.
"I think the real ethos of this festival is that it's almost going to be the St. Louis art scene as a microcosm in one weekend," says Boland. "That's the main goal."
"There will be no profit turned on our end. It will only go toward making it better next year. No one's making any money except bands and local businesses," adds Herr. "That said, people should not be weirded out if I walk up to them on the street and ask them to volunteer for this."
Pü Fest will take place September 6 and 7 under one roof at a yet-to-be-disclosed all-ages space in south city. A kickoff show will be held on September 5. Tickets are available at Apop Records and cost $20 for a one-day pass and $30 for a weekend pass. Look for a Kickstarter to donate and pick up incentives. Keep an eye on the street for posters by different local artists, and mark your calendar for July 3 and July 25, when special Pü Fest fundraiser shows will be held at Schlafly Tap Room.
Click through to see the complete Pü Fest line-up.
Drew Reynolds
Perfect Pussy, performing at the fest.
Pü Fest 2014:
Absolutely Alex Body American Cream, the original Big'n Broken Prayer Bug Chaser The Conformists Demonlover Digital Leather The Dreebs Eric Hall Faultfinder GYMSHORTS Kisser Lechuguillas Maximum Effort NERV Nervosas Perfect Pussy Radiator Greys Sioux City Pete and the Beggars Spirit of Danger STNNNG Transmontane Trauma Harness Tree Blood Worried Mothers Yowie
Big'n
NERV
Perfect Pussy
Spirit of Danger
STNNNG
For more info, check out the Pü Fest Tumblr or e-mail PuFest Guy@gmail.com.
RFT MUSIC'S GREATEST HITS
The 15 Most Ridiculous Band Promo Photos Ever This Incredible Make-A-Wish Teenager Went to the Gathering of the Juggalos, Got a Lap Dance (NSFW) Crotching Whiskey at the Justin Bieber Concert and Getting Thrown Out: A Review The Top Ten Ways to Piss Off Your Bartender at a Music Venue
---