[image-9]
This week, local rockers the Tennis Lesson release a CD, School of Rock-Ballwin presents a free student showcase and plenty of touring acts stop into town. Read about Chicago Afrobeat Project, Kishi Bashi, Shai Hulud and more in this week's show recommendations, and as always, stay tuned till Friday for more picks for the weekend.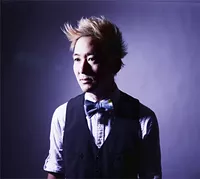 Kishi Bashi Tuesday, May 27, 8 p.m w/ Busman's Holiday, Née @ The Ready Room - $15-$17 By Christian Schaeffer It wasn't too many years ago that violinist K. Ishibashi was doing time with his Athens, Georgia city mates Of Montreal, adding layers of loops to that band's psychedelic circus. Now, as a solo performer going by the handle Kishi Bashi, the singer/instrumentalist has released his second album of kaleidoscopic pop. Lighght (pronounced "light") kicks off with his signature violin runs, looped and manipulated into a flurry of notes, but as the disc progresses, Kishi Bashi corrals squishy synths for dance-pop bangers alongside effervescent etudes.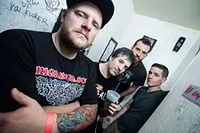 Shau Hulud Wednesday, May 28, 8 p.m. w/ One Year Later, Better Days, Lamentors @ Fubar - $12-$14 By Rick Giordano Shai Hulud's roots are in hardcore, but the band has more in common musically with a progressive-metal band like Cynic or even Propagandhi than the likes of Agnostic Front. Instead of a chest-puffing tough-guy routine, listeners will find intricate guitar melodies alongside colorful chords and scales, with the occasional chugging slam selection thrown in to let the audience know that in addition to being extremely heartfelt, this band is also still really fucking pissed.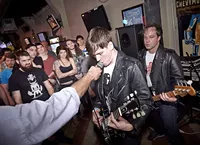 Black Panties Thursday, May 29, 7 p.m. w/ Destruction Unit, Institute, Breakout, Pool Party, Nos Bos @ Plush - $7 By Joseph Hess From this 2013 profile: Meet Black Panties, the snot-nosed rock & roll brat of south city. Luc Michalski, an otherwise mild-mannered fella, dons a leather jacket and transforms into a foul-mouthed, politically incorrect caricature of adolescent angst. To put it simple, he spits what some are truly thinking, but are too afraid to say. For better and worse, Black Panties draws from Michalski's throat, coughing up real trashy and guttural punk rock from the chest.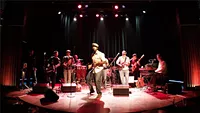 Chicago Afrobeat Project Friday, May 30, 9 p.m. @ 2720 Cherokee - $10-$13 By Tara Mahadevan As its name suggests, the Chicago Afrobeat Project's sound embraces afrobeat -- a combination of rock, jazz, funk and African genres -- marking the group as one of the first American bands to embrace the art. CAP spawned out of Chicago's underground art scene in 2002, and though it has only released four albums in that time, the eight-person band tours constantly and plays over 100 live performances a year.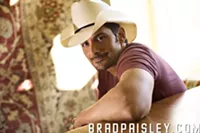 Brad Paisley Friday, May 30, 7 p.m. w/ Dee Jay Silver, Randy Houser, Leah Turner, Charlie Worsham @ Verizon Wireless Ampitheater - $30-$190 By Shae Moseley From this archived show preview: Brad Paisley is the classic "triple threat" recording artist (singer, songwriter and lead guitarist) that has become rare in Nashville over the past ten years. It's this connection to country music's latter-day saints that earned Paisley membership in the Grand Ole Opry early in his career and plenty of support from the country music's old guard (Dolly Parton, Willie Nelson and Alan Jackson are fans). But Paisley's success has hinged on his ability to include clever pop-culture references in his songs, which makes his tried-and-true country-music formula sound fresh to a whole new generation of fans.
The Lawrence Arms Saturday, May 31, 8 p.m. w/ The Copyrights, Sam Russo @ The Firebird - $17 By Michael Dauphin From this archived show preview: Along with contemporaries like Alkaline Trio and Rise Against, the Lawrence Arms spent the early 2000s helping put Midwest punk rock back on the map. And when its three members weren't crisscrossing the globe, the heavy drinking, rambling boys of pleasure always made it a point to stop by the old Creepy Crawl to bang through their patented Midwestern beer-belly despair rock. The trio has been in hibernation over the last few years, but true to its roots, it's doing a brief Midwest tour and playing its first St. Louis show in six years. For the uninitiated, picture your favorite Jawbreaker albums played at 78 rpm, but with more dick and fart jokes.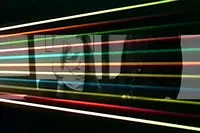 The Tennis Lesson CD Release Saturday, May 31, 9 p.m. w/ The Vanguard Party, CaveofswordS @ Schlafly Tap Room - free By Joseph Hess From this 2013 profile: Guitarist and vocalist Mark Cange describes his group as conventional rock and pop. That might be true from a broad perspective, but the band manages to shoehorn subtlties that carry each song beyond the pop spectrum. The vocals embedded are familiar indie-rock ilk, but the approach to rhythm feels closer to progressive rock. Drummer Jeremy Brantlinger brings sharp percussion with proper restraint, lending a distinctive feel to the band's somber set.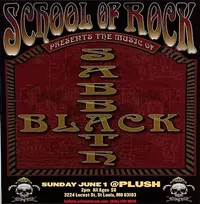 School of Rock presents: A Tribute to Black Sabbath and Pink Floyd Sunday, June 1, 2 p.m. @ Plush - free By Mabel Suen From this 2013 write-up: What makes School of Rock different from other programs in the area? SOR's core program primarily aims to educate students aged 7 to 18 with a weekly lesson and weekly group rehearsal for a large-scale production -- in this case, a tribute to Pink Floyd's The Wall featuring all 26 of its songs and a British Invasion tribute featuring tunes of the Kinks, the Rolling Stones and more. Theoretically, a student can enroll at any time and get incorporated or "casted" into individual songs' roles such as leading instruments, back-up vocals and auxiliary percussion depending on his/her comfort and skill level at the discretion of instructors.
Note: Though we wish we could, we can't feature every great show happening in town in just one measly post. Look for plenty more recommendations this Friday in our weekend shows post, and peruse the St. Louis concert calendar for more ideas any time. Let everyone know what else you're looking forward to seeing this week in the comments below, and submit show info online any time to be considered for inclusion on these lists.
RFT MUSIC'S GREATEST HITS
Remembering STLPunk.com -- How to View the Site Today and Find Your Old Profile Page "Where Did My Dick Go?" The Gathering of the Juggalos' Best Overheard Quotations The Ten Best Dive Bars in St. Louis The 15 Most Ridiculous Band Promo Photos Ever
---