The 2014 Riverfront Times Music Showcase will be held this year on June 7 in the Grove! Think of it as St. Louis music's own official holiday and consider this the season. Throughout May we at RFT Music will be making our cases for all 140 bands and artists nominated for an RFT Music Award this year, so that you will be able to make a fully informed decision with regards to your vote. Read on and get yourself acquainted, and we'll see you at the showcase!
See also: Vote Now For the 2014 RFT Music Awards
---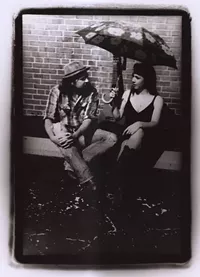 Cree Rider Family Band
Consider Cree Rider this city's pre-eminent practitioner of modular folk. Rider works well in any setting he chooses -- as a solo act, accompanied by his fiancée Cheryl Wheeler, as a member of the trio ARR!, or fully formed with his Family Band. It's to Rider's credit that his voice, gentle and rooted, is convincing and compelling regardless of who plays alongside him. Both on album and in concert, Rider and Wheeler are joined by some of St. Louis' most apt and empathetic players, including Dave Grelle, Bryan Ranney, Andy Coco and Jordan Heimberger. But on last year's One Night Stand, Rider takes center stage, singing story-songs with wit and empathy. -Christian Schaeffer
---
Jack Grelle
As long as St. Louis has had punk music, it's had musicians like Jack Grelle who have crossed the lines between punk and roots cultures and figured out how to make something new out of where they're coming from. Finding a home on the Big Muddy Records label, Grelle gives an outsider's edge to country music that fits right in with that label's Midwestern punk-blues ethos. He's a clever, natural storyteller, with a voice that recalls gravelly John Prine, and with the Johnson Family Band behind him, he's getting better and better at the essence of hillbilly music -- to make you dance, drink and leave your cares outside the honky-tonk door. -Roy Kasten
---
Painting by Dana Richard Smith.
Old Capital Square Dance Club
There's more than a little bit of cheekiness to the moniker Old Capital Square Dance Club, a name that conjures the sonic version of a browned wild West photo souvenir from Six Flags rather than a good ol' American rock band with traces of Tom Petty and the Stones. The group, spearheaded by singers/songwriters Jesse McClary and Zach Anderson, has recently justified the "Club" portion of Old Capital Square Dance Club by morphing into a collective of sorts -- notably adding multi-instrumental virtuoso-in-the-making Zagk Gibbons, whose first name is not a typo. OCSDC shows range from acoustic songwriting showcases to seven-piece band jams. The fact that the band's songs work in such a variety of formats reinforces the strength and depth of McClary and Anderson's melodies and wordplay. -Ryan Wasoba
---
Old Salt Union
It's hard not to be impressed with Old Salt Union's rise as one of the most successful of the young newgrassers in Greater St. Louis. Its members started out as kids, and they're still kids at heart, but they take their acoustic music seriously while still having a hell of a lot of fun. Along with playing every banjo-friendly festival this side of Telluride, OSU will be joining the LouFest 2014 lineup, The band also just got back from Nashville, where it finished recording its second album, funded by a $16K Kickstarter campaign. In other words, Old Crow Medicine show should keep one eye on the road and one eye in its rear-view mirror. Serious competition from Belleville, Illinois, is on the way. -Roy Kasten
---
The Trophy Mules
Corey Saathoff first made a name in St. Louis as part of alt-country band Jerkwater Junction and as leader of jangle-rockers Brain Regiment, but he's really hit his stride as a songwriter fronting the Trophy Mules, a flexible country-rock outfit featuring mandolin and guitar picker Larry Rosenhoffer and pedal-steel ace Scott Swartz. Saathoff doesn't write predictable alt-country fare -- if there are booze and broken hearts in his songs, they're part of his stories. His style is impressionistic in the best sense, as evocative of the songs of R.E.M. as those of Jay Farrar. -Roy Kasten
---
Previously: - Pop - New Band - Indie-Pop - Singer/Songwriter - R&B - Jazz - Hip-Hop (Group) - Garage Rock - Blues