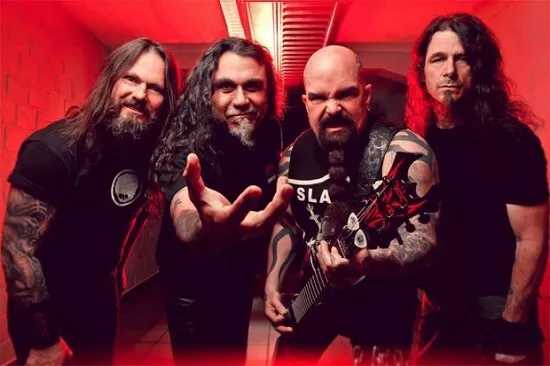 Press Photo
Kerry "Burger" King and the Slayers, performing at the Pageant on May 15.
Looking for a good place to see flashy and exciting music played at high volume, have your mind blown by dark and powerful sounds, or just stomp around like a drunken goon with your shirt off? Then a heavy-metal concert just might be the place for you. Each month I'll be offering my top picks of the upcoming metal shows in town that shouldn't be missed. And I'll try really hard not to wish death on whatever falseness may be approaching.
Slayer with Suicidal Tendencies and Exodus at the Pageant May 15 7:30 p.m. / $32.50 to $35
Well, here's a controversial one. Omitting a Slayer show from a "best metal shows of the month" list seems wrong, but then again so does calling a Hanneman and Lombardo-less band Slayer. But hey, I wrote about a goddamn Pantera cover band once, so why not a Slayer one?
Slayer was that super awesome band that put out four or five of the best metal albums ever created before the guy who wrote all the good songs died and they kicked the founding drummer out for asking about his paycheck. Then the band's singer became a Catholic and the remaining wah-wah pedal player, who legally changed his name from Kerry King to Tribal Tony in the early 2000s, turned the band into a merchandising outfit and starred in a Jagermeister commercial wearing sunglasses indoors.
Go for Exodus, stay for Suicidal and then throw hot dogs at Kerry King and see how many he catches in his mouth. RIP Jeff.
Press Photo
Pig Destroyer
Pig Destroyer with Fulgora and some shit local band at Fubar May 16 7 p.m. / $17 to $20
(Full disclosure: My band is also playing this show. Don't watch us.)
It's hard to say the phrase "extreme metal" without the words "Pig Destroyer" following closely behind. Since forming in 1997, the band has released five full-length albums, toured very little and played St. Louis...never. In 2011 St. Louis-area native Adam Jarvis joined the band on drums before recording 2012's Book Burner, and recruited his also St. Louis-based cousin John Jarvis last year as the band's first-ever bassist. After more than fifteen years without a visit, we should all bow our heads with a thank-you prayer to the Jarvis family crest for making a St. Louis Pig Destroyer show finally a reality.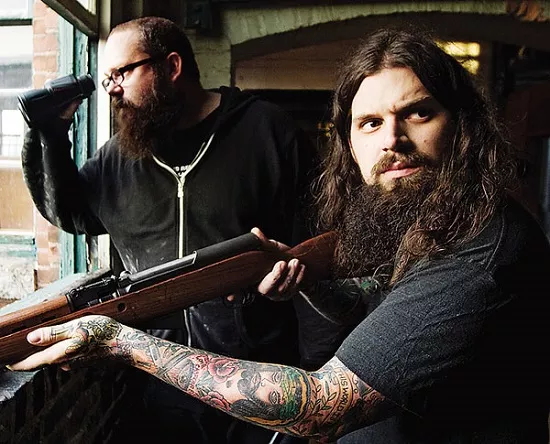 Press Photo
The Body
The Body with Fister and Dear Satan at Apop Records May 21 9 p.m. / $7
If there is ever a tornado, earthquake or other natural disaster during one of the Body's shows, I don't think anyone in attendance will even notice. It's loud, it's ugly, it's goddamn terrifying. It's music so nasty it somehow seems to omit a stench. (Or maybe that's the PBR- and piss-soaked dude next to you.) Do not take any weird drugs before seeing this duo from Rhode Island -- you're gonna have a bad time. Opening is local lighthearted optimists Fister, along with a rare appearance by Dear Satan, whose power-electronics sound like the Apple store equivalent of going postal and killing fucking everybody.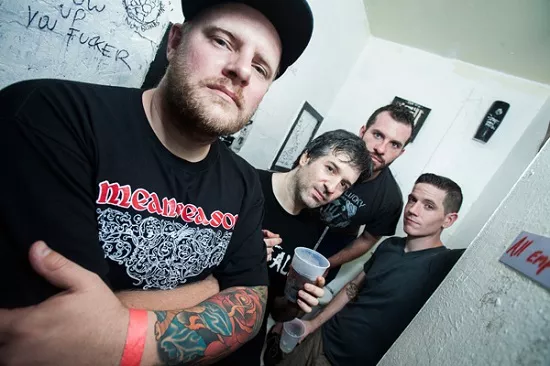 Press Photo
Shai Hulud
Shai Hulud with One Year Later and Better Days at Fubar May 28 8 p.m. / $12 to $14
Shai Hulud's roots are in hardcore, but the band has more in common musically with a progressive-metal band like Cynic or even Propagandhi than the likes of Agnostic Front. Instead of a chest-puffing tough-guy routine, listeners will find intricate guitar melodies with colorful chords and scales, with the occasional chugging slam selection to let the audience know that in addition to being extremely heartfelt, this band is also still really fucking pissed. Throughout its near twenty years, Shai Hulud has had many lineup changes, but guitarist Matt Fox and bassist Matt Fletcher have kept the band as alive and dedicated as the beyond-sincere lyrics to one of its songs.
RFT MUSIC'S GREATEST HITS
The 15 Most Ridiculous Band Promo Photos Ever This Incredible Make-A-Wish Teenager Went to the Gathering of the Juggalos, Got a Lap Dance (NSFW) Crotching Whiskey at the Justin Bieber Concert and Getting Thrown Out: A Review The Top Ten Ways to Piss Off Your Bartender at a Music Venue
---