Mabel Suen
David Burnett, artist and member of Beauty Pageant.
Deliberately shrill and mostly dense, "noise" has become a blanket term for bands that explore and experiment around the beaten path. The genre, like others, isn't without its share of hangups, but that's why we're here. Every month, we supply a short list of sure bets in St. Louis, ranging from needlessly complex to minimalist drone. Connect the weird to your ears.
Chicago artist Muyassar Kurdi bends natural tones into meditative songs. Her subtle use of strings comes stacked atop wandering howls, making for a soft, warbling sound with discernible depth. Kurdi often works within a duo or trio, but her distinct style as the Humminbird glows through. While each piece is played with a visceral punch, the sum of the parts feels amorphous rather than solid or strict. While the Humminbird is still young (birthed in 2012), Kurdi's approach to songwriting feels mature beyond her years. Catch her along with local openers Ghosts I Have Been and Beauty Pageant on May 11 at the Revisionist Inn.
Sunday, May 11, at the Revisionist Inn The Humminbird (IL) Beauty Pageant Ghosts I Have Been 7 p.m. | $5 suggested donation
In general, Beauty Pageant provides an antithesis to music. While the Humminbird tinkers with palatable sound to achieve its own experimental ends, Beauty Pageant is a knock-down, drag-out attack on your ears. Expect pulsing synth under scattershot percussion and the unnatural merger of dissonant guitar and feminine howls.
Friday, May 16, at Apop Records BRUXISM No. 3 Concert Series Regicide Bureau Skull's Mind (Ghost Ice & Raglani Duo) Kingston Family Singers DJ: Michaella 9 p.m. | $5 | free handmade zine with entry
Thomas Sutter has operated under the alias Regicide Bureau for nearly 30 years, releasing more than 300 recordings -- generally free of cost. While the video above gives a sample of Sutter's sound, don't expect the live show to compare. Online evidence of any past work is scarce, making this gig a rare chance to see one of St. Louis' most prolific outsiders in music.
Kingston Family Singers collaborates with modular madman Kevin Harris for an audio/visual set of warped sight and sound. The Singers is actually a solo act, unless you count Maxwell Ullyses Kingston, an otherwise innocent stuffed animal. Maybe Chad Hickman, the brain behind the band, knows more than we do.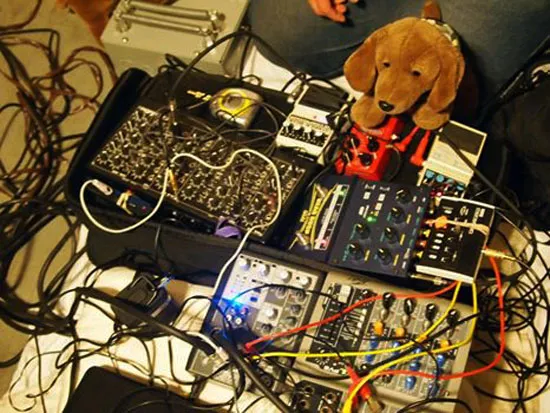 Chad Hickman
Maxwell Ullyses Kingston, the stuffed star of Kingston Family Singers.
The BRUXISM concert series is a collaboration between Apop Records and Nathan Cook (usually known by his stage name, NNN Cook). The music offered is certainly niche, but Cook's careful planning caters to many palates. What results is a perfect entry point for newcomers to noise and experimental music.
Tuesday, May 20, at William A. Kerr Foundation New Music Circle Presents: Ingrid Laubrock & Tom Rainey Duo (NY) Tyler Damon, Chris Trull, Kevin Harris Trio NNN Cook 6:30 p.m. | $10-20
This concert caps a stunning 2013-'14 season for New Music Circle. This past year NMC has brought the International Contemporary Ensemble, Joshua Abrams' Natural Information Society, Olivia Block, Cooper-Moore, William Parker and Marty Ehrlich among many, many others to St. Louis. This evening of free-jazz and improvisation gives a great selection of exciting artists from near and far. Headlining the event will be saxophonist Ingrid Laubrock with drummer Tom Rainey.
The Laubrock/Rainey Duo (featured in the video above) performs a spastic merger of horn and percussion, weaving in and out of jazz realms with relative space. Rainey is a powerhouse behind the kit, providing subtle touches between fierce, busy patterns. Laubrock matches his range with full-bodied tone, often stabbing with sharp notes from underneath a blanketed sound.
Indiana native and percussionist Tyler Damon joins local players Chris Trull (of Yowie) and Kevin Harris for a sprawling trio of strings, skins and modular synth. NNN Cook is set to open with an electro-acoustic presentation featuring use of playback sounds.
NMC will host a special workshop, Q&A and performance the night before on Monday, May 19, at Blank Space. Catch Ingrid Laubrock and Tom Rainey as they collaborate with local artists Alex Cunningham (violin), Mabel Suen (guitar/saxophone, also an RFT Music contributor) and Dave Stone (saxophone). The free event begins at 7 p.m.
Think I left something out? Piss off! No, actually, you're probably right. I usually cap this column at three or four shows. Share what you know in the comments below. For the future, drop me a line any time at joseph.hess@riverfronttimes.com
Joseph Hess is the editorial coordinator for the Riverfront Times. When he's not, you know, coordinating, he is the DJ of the experimental rock show Wrong Division over at KDHX (88.1 FM). Visit his personal blog here for more on this city's DIY and experimental music. Or stalk him on Twitter.
RFT MUSIC'S GREATEST HITS
The 15 Most Ridiculous Band Promo Photos Ever "Where Did My Dick Go?" The Gathering of the Juggalos' Best Overheard Quotations I Pissed Off Megadeth This Week, My (Former) Favorite Band The Top Ten Ways to Piss Off Your Bartender at a Music Venue
---