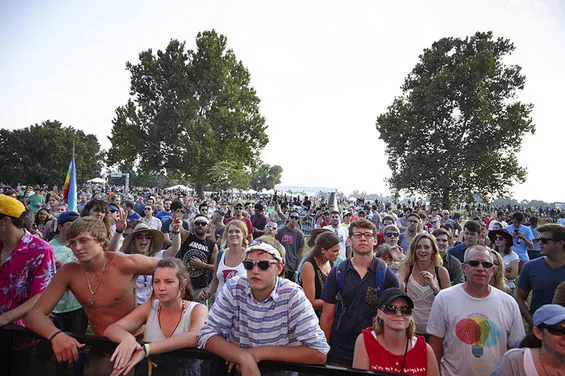 Steve Truesdell
The crowd at last year's LouFest.
LouFest early-bird passes are officially on sale now. The tickets are $75 for a two-day pass, as opposed to the $95 you can expect to pay after the lineup is announced.
And that will occur at the stroke of midnight on May 13. LouFest's organizers remain cagey about who is slated to play, but they encourage the curious to follow their Facebook, Instagram and Twitter pages for "clues on how to unlock the lineup."
Last year a lineup-guessing game was presented in the style of Wheel of Fortune, but that one proved a bit too easy to figure out -- it seems doubtful organizers will go that route again. We will continue to provide updates as we get them, and we will also continue to keep our fingers crossed for Outkast.
RFT MUSIC'S GREATEST HITS
This Incredible Make-A-Wish Teenager Went to the Gathering of the Juggalos, Got a Lap Dance (NSFW) Crotching Whiskey at the Justin Bieber Concert and Getting Thrown Out: A Review The 15 Most Ridiculous Band Promo Photos Ever The Top Ten Ways to Piss Off Your Bartender at a Music Venue