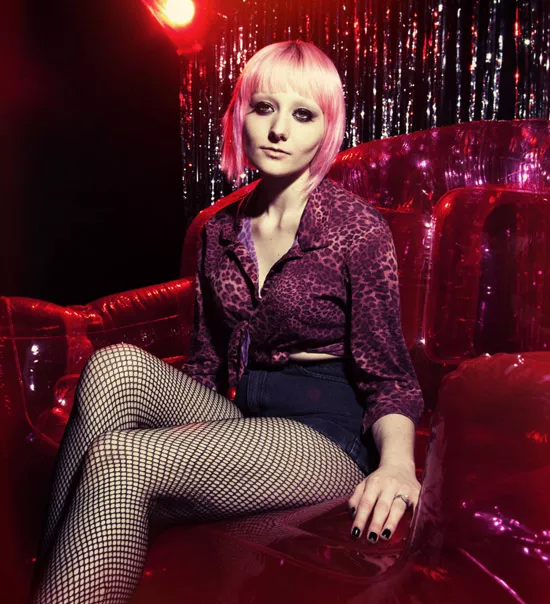 Jessica Lea Mayfield has often said that some of her favorite music is '90s alternative rock -- Stone Temple Pilots, Foo Fighters -- and that Dave Grohl, especially, was an inspiration as she began her career in music as a teenager. If you listened closely to the Kent, Ohio, native's first two albums, you could perhaps detect the influence, but with her third album, Make My Head Sing... (released this spring on the ATO label), she makes it clear that she really wasn't kidding about that.
Stripped down to a power trio -- just Mayfield on guitars, her husband, Jesse Newport, on bass, and Matt Martin on drums -- the album finds Mayfield laying bare a churning, crushing, riff-heavy sound that gets darker and louder from track to track, while her voice, still sensual and meditative, rises through the noise with some of her most brutally honest lyrics. The artistic transformation is dramatic -- and stunningly successful.
Roy Kasten reached Mayfield by phone as she was heading from the East Coast to North Carolina and toward St. Louis for a show Tuesday, May 6, at the Firebird.
Roy Kasten: Can you tell me a bit about the harder direction of Make My Head Sing.... Did you make a conscious decision that you were going to cut a power-trio record?
Jessica Lea Mayfield: I don't know if it was so much a decision as just what happened. I didn't mull over it. I started writing the record and quickly figured out that I wanted to make this record as simple as possible. And I knew I wanted to be a big part of it. It just came naturally.
Turning up the guitars wasn't because you were tired of singing over noisy crowds?
You could look at it that way. That's a good point. But the crowds have been really polite. This tour has been interesting. In between songs people have been really quiet. Maybe they're not getting drunk enough.
You produced the new album with your husband Jesse. This is the first one you've done without Dan Auerbach [of the Black Keys], and your brother David Mayfield played guitar on the last album.
Richie Kirkpatrick played guitar, and my brother also played guitar. Richie has always gotten the short end of the stick on that. Pitchfork thought Dan Auerbach played guitar on the last album, because we used his studio, and then they corrected it to say it was my brother, but it was Richie and my brother.
We'll correct the record on that. Was it important for you to try this on your own, rather than working with Dan again?
I've been doing this for a really long time, and I've always really liked recording. My brother is a Grammy-nominated record producer, and I was always his guinea pig as a kid. My brother thought he invented recording. He'd put two boomboxes together and have me sing. He pretty much thought he invented multi-tracking. We were home-schooled, and our biggest hobby was recording. Meeting Jesse, he's really fucking super smart. He knows what I'm into and what I like, so I knew once I met Jesse that I wasn't going to make another record unless it was me and him. We've been referring to it as our "record baby" because it took nine months to record. It's a really intimate, personal thing for me.
Continue to page two.
Were there things you learned about working in the studio that you didn't know before because you weren't producing?
There were some things I wanted on the last two records. They were thrown together, made really quickly, and that was part of the aesthetic. But I wanted to take my time with this album, to nurture it a little longer.
You're known for exploring the dark side of relationships, and that's the case here. The song "I Wanna Love You," which is about an experience with a stalker, pretty much puts "Every Breath You Take" to shame. Were you concerned about encouraging more of that behavior?
That was a big concern. As soon as I finished writing that song I thought, "I can never play this, ever." I was really disturbed by the things I was receiving in the mail. Those things dominated my thoughts in a negative, frightening way. In that song I was getting into the head of someone who was completely out of touch with reality. But I'm a really open person. I don't feel like I should hide things, so I decided I should play it. If I feel I shouldn't sing something, then that means I should sing it. I need to get these thoughts out there. I hope the dude understands how frightening it is and will leave me alone. I don't want to have to shoot anybody.
Let's hope it doesn't come to that.
I'm an excellent shot.
There may be a sequel to that song.
Unforgiven and Unforgiven II. "I Wanna Love You" and "I'm Gonna Shoot You."
One of my favorite songs on the album is "Unknown Big Secret." It's brutally honest, and the guitar parts on it, as with a lot of the guitar on the record, it just seems to be pouring something out, with a sense of release, of catharsis.
You're right with the guitar parts. That's where I started with this record. I would get excited with the sounds and I would express myself that way first, after being inspired by the sounds. There's definitely something about expressing myself that way, just having fun with the guitar. I have to amuse myself and have fun with what I'm creating.
Was making this record about becoming who you want to be or was it a product of having already done that? You're married and have a good relationship now, and you're a veteran when it comes to making records.
I turned 24 last August, so this has been the year where I've lost all the young-person frustrations. I still have frustrations, but I had all the teenage insecurities, the young-adult stuff. I was flying by the seat of my pants, totally lost with what I was doing. At least now I know what I'm doing, that there's no reason to be embarrassed or whatever. All those clichéd things people say are true: Just be yourself, fuck everybody else, make yourself happy so you can make other people happy. And then go fuck around. Duh!
I may have to put that on T-shirt.
You have my permission! Wear it to the show.
---