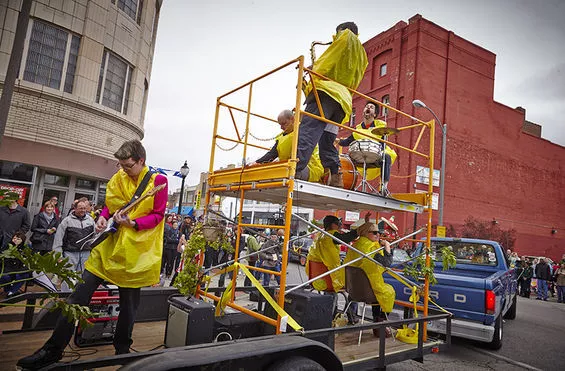 A scene from last year's Cherokee Street Cinco de Mayo parade.
This weekend's a fun one. Celebrate a couple of great holidays in style: Cherokee Street hosts its eighth annual Cinco de Mayo event complete with three stages of music, and Free Comic Book Day takes over comic shops all over town with special entertainment and more. The next few days also see a couple of new local releases: Leezy B and Steve Shaw. Read on to learn about these shows and more in this edition of weekend concert recommendations.
Friday (May 2):
Leezy B CD Release @ Fubar 8 p.m. | $10 Leezy B's output thus far has proven promising -- check out his Soundcloud page, and if you like it, head to the show and pick up a CD! (DH)
Nathaniel Rateliff @ Blueberry Hill 9 p.m. | $10-$12 In my research on Mr. Rateliff I learned that he is from Denver, so I hit up former RFT music editor Kiernan Maletsky (now the music editor at our sister paper in Denver) and asked what he thought. His review was gushing, and he wasn't wrong. But don't take our word for it, listen for yourself. (DH)
Steve Shaw CD Release w/ Wack-A-Doo @ Off Broadway 7:30 p.m. | $10-$13 Local singer-songwriter Steve Shaw has been at it for nearly twenty years and releases a new CD called Honeysuckle Jump. Hear what it's all about here. (MS)
Twelve Foot Ninja w/ Nothing More, Virucide, As Earth Shatters @ The Firebird 7:30 p.m. | $13 Twelve Foot Ninja is on the rise. The five-piece group recently edged out the likes of Deafheaven, Scar the Martyr and Crosses for "Best New Talent" at the Revolver Golden God Awards. (DH)
Also on Friday, check out Tone Rodent with Demonlover and Willis at Melt.
Video by Shawn Klein
Saturday (May 3):
Cinco de Mayo w/ Javier Mendoza, Valentia Musical, Los VIP Band, La Frase M3, Los Deseperados del Norte, Imagen Musical, King Omowale, John Craigie, The Driftaways, Mikey Wehling Latin Psychedelia DJ Set, Screamin' Vatos, Ellen the Felon, Cumbia Machin, Black James, Loose Screwz, Sonorama, Palace, Middle Class Fashion, Tef Poe @ Cherokee Street 9 p.m. | free In its eighth year, the Cherokee Street Cinco de Mayo fest promises live music across three stages, Lucha Libre wrestling matches, margaritas in the streets, a mechanical bull operated by Stag Nite's Johnny Vegas and much more. (MS)
Free Comic Book Day w/ Vanilla Beans, Little Big Bangs, Dr. Dan the Pancake Man & the Psychedelic Psychonauts, Stonechat, Superfun Yeah Yeah Rocketship @ Star Clipper 12 p.m. | free Seriously, this lineup is stacked with some of the best music St. Louis has to offer right now. AND free pancakes. AND free comic books! What's not to like? (DH)
Turquoise Jeep w/ Dream Fox @ The Firebird 8:30 p.m. | $12-$15 Lemme. Smang. It. (DH)
Whitey Morgan & the 78's w/ Les Gruff and the Billy Goat @ Off Broadway 9 p.m. | $12-$15 Get some good 'ol American honky-tonk county in at this show. ICYMI, here's a profile we did earlier this week on local Americana-based openers Les Gruff and the Billy Goat. (MS)
A couple other recommended options include Celebration Day: A Tribute to Led Zeppelin at the Pageant and Harry Connick Jr. at Peabody Opera House.
Sunday (May 4):
The Dodos w/ Pretty Little Empire @ Off Broadway 9 p.m. | $15 San Francisco's the Dodos make extremely pleasant, guitar-driven indie-rock -- the kind that would be great driving around with in the car with the windows down on a sunny day (but not in an overly cheesy kinda way). It's actually pretty rockin' a lot of the time. Check out this hi-def live performance video to get a taste. (MS)
Uh Huh Her w/ DJ Kim Anh @ The Firebird 9 p.m. | $18/$20 Three words: indie electro pop. Oh and this video co-stars a unicorn. Makes sense. (MS)
For another great show on Sunday night, consider heading to the Billiken Club to catch Dustin Wong.
Note: Though we wish we could, we can't feature every great show happening in town in just one measly post. Peruse the St. Louis concert calendar for more ideas any time. Let everyone know what else you're looking forward to seeing this weekend in the comments below, and submit show info online any time to be considered for inclusion on these lists.
RFT MUSIC'S GREATEST HITS
Remembering STLPunk.com -- How to View the Site Today and Find Your Old Profile Page "Where Did My Dick Go?" The Gathering of the Juggalos' Best Overheard Quotations The Ten Best Dive Bars in St. Louis The 15 Most Ridiculous Band Promo Photos Ever
---