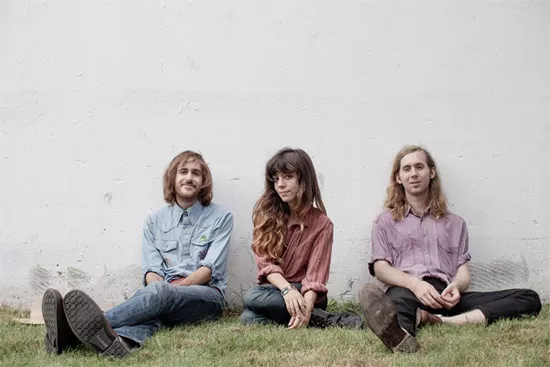 What use is all this critical shorthand for psychedelic rock -- itself a shorthand that should be amputated -- when the music, at its best, should send listeners off into contemplation as well as spin them off dancing? "Hazy," "trippy," "gauzy," "spacey," "dreamy," "Hippie," "folkie" -- kill all the bleeding adjectives, please, once and forever. The psychedelic genre has endured, not because it opens mystical portals to the intergalactic unification of all bullshit. It endures because it can be ecstatic, it can rock, and it can be really, really beautiful.
Quilt's second album, Held in Splendor -- released this year on the Mexican Summer label -- makes that psychedelic hat trick. The music is purely pleasurable, purely evocative, both for the heart and the mind. The Boston-based band's influences seem to be impeccable and clear enough -- Love, the Byrds, Nick Drake maybe -- and the songs open up to both easy access and elude summary completely. There's power and delicacy in the way Shane Butler and Anna Fox Rochinski's guitars come together, and the arrangements sound both improvised on the spot and well-crafted into hooks. But the harmonies are something else entirely; they lend genuinely mysterious air to the melodies. You might even call it numinous.
For the last month, Quilt has been crisscrossing the European continent, and while guitarist, singer and co-songwriter Shane Butler wasn't available by phone, he did take some time to correspond by email. Read the results below and go see the band as it opens for Woods at Off Broadway on Tuesday, May 6.
Roy Kasten: Quilt formed out of the Boston folk and noise scene and at the School of the Museum of Fine Arts. For someone (like me) who knows little about those musical communities, how would you describe them? What are/were they like?
Shane Butler: The first show I ever went to in Boston was when I was seventeen years old and living between New York City and Pennsylvania. I went up to Boston to visit a friend and check out a college, and in the process he brought me to a show. It was in Chinatown; which in Boston at night gets quite quiet in certain areas. As we approached the building where the show was I could hear what sounded like a distant chanting and an echoing vibration coming from the fifth floor of the building. He opened up the front door, which looked like the entrance to a restaurant and proceeded to bring me upstairs. As we ascended each floor the sound became more and more distorted, as opposed to revealing more clarity. At the top of the climb, on the fifth floor, there was a giant green mask with bright lighted eyes staring down at me and a group of smiling and non-smiling faces. I walked inside the room and there was a very eclectic group of people watching a few young men laying face first on the floor with microphones in their mouths run through a plethora of effects pedals. One of the members had an amp that was also pointed at the floor and not pushing sound towards the audience but producing vibrations on the ground for the audience to feel. I was drawn in. The scene in Boston can't really be nailed down into one or two descriptors but -- lots of houses, lots of lofts, lots of basements and lots of weirdos make music with whatever they can find; some are rock bands and some are sonic drunks looking for a fix with a tape-recorder. You'll see for yourself if you look into the bands who passed through those grounds.
The difference between your first album and your new album is palpable. It's not as if you sound like a new band - many of the same influences and sensibilities are present - but it's pretty dramatic all the same. As much as I like the first album, it sounds like a band playing a certain style of music - call it psych-folk or whatever - rather than expressing the music, letting the songs and the sound be, and embodying a sound and a mood. Does that make sense? And can you speak to that?
I guess you're just hearing us at different times in our artistic learning and expression. When we recorded our first record -- a lot of it was very improvisational -- in the recording as well as in the writing. We wrote a lot of the songs and words in the studio. We did the same thing with the new record at times, but also, we have gained a new knowledge of songwriting and playing as well as having a wider range of gear to work with. We just write what feels natural to us at the time; no real aim in mind.
Was there an experience or musical discovery that shaped the direction of Held in Splendor?
Life.
Either in terms of the new album, or maybe just in general terms, what would be a musical inspiration that people might not be aware of?
Well, a lot. We listen to a lot of music and are influenced by a lot of bands that don't get mentioned or brought up in journalism about our band for sure. Bands like Sonic Youth, La Monte Young and Joy Division play just as much a part in my musical vocabulary as bands like Love, The Velvet Underground, or The Beatles -- some may just be more concealed at times. I listen to a lot of hymnal music of all different cultures and traditional music, a lot of experimental / electronic stuff, and well, everything... I like digging and receiving sounds. I'm not really looking for one type of thing, and don't think any of us are. It all seeps in and comes out in one way or another.
Continue to page two.
The loosely defined "Eastern" elements in your sound aren't just a matter of listening to George Harrison cuts on Beatles records. The band has deeper connection to those traditions. Can you talk about your affinity for those sounds and themes?
I have always loved Kirtan, Bhajans, Hymnals, and traditional instruments from many cultures / countries. Whether it be Celtic, Indian, Indonesian, Appalachian, or some divinely drunk man on the street singing his own form of urban traditionalism. I spend a lot of time with religious / traditional music of all cultures -- a lot of approaches, scales, instruments, and lyrics used in "traditional" musics continually offer me a pleasant spring of inspiration to drink of.
Harmonies are still a big part of what Quilt does, both on records and live. How do you think your singing together has changed over time?
It has changed and will continue to change. I personally have been spending a lot of time looking at group singing from all different places recently; both in rock music and outside of that tradition. I love shape-note / Baptist hymnal music from the Southern United States -- some of the harmonies used in those songs are insane. And some folk songs from Indonesia have been really inspiring recently in terms of harmonies / group singing. I guess we just keep singing together, learning more about singing, and then making new songs splicing what we learn and what we soak in and what we will be. There's no real answer to this. We sing together, and then we sing apart, and then together again. It was different on the first record, it was different on Held in Splendor, it will be different on the next record -- but there are a lot of similarities as well. It's really nice being in a band that all sings together -- it brings us together emotionally and sonically in a different way than if we weren't to do that.
The core trio of Quilt all write songs. How do you make that work? Have you ever strongly disagreed about the direction of a song or about a song itself? If so, how do you resolve those tensions?
It's always a different process. We aren't a very "tense" group of people. Sometimes there are more compromises and considerations than at other times; but with every song it's always a different process. It's really great having three talented songwriters -- I think it adds quite a lot to our compositions. Sometimes one person will write the core of a song and lyrics and we'll flesh it out, sometimes we'll improvise all together and write all the lyrics together to create a song, sometimes we'll talk about something and then try it out, sometimes a song just appears to one of us and we show it without any adjustments needing to be made.
You do a fair amount of looping with your guitar parts. Can you talk about the challenges of doing that? And maybe the unexpected advantages?
Well, at this point I mostly use loops as drones / textures underneath rhythmic guitar parts that I will play live. I am really into the work of Terry Riley, La Monte Young, Tirath Singh Nirmala and a lot of other drone-based experimental composers...I like to create panning textures underneath guitar based songs when possible. It's challenging in a fun way; because it gives me a whole other level to work with when thinking about both our recorded songs and then creating those textures live.
How hard is it for you to capture some of the spirit of the album in the live show? Or is it harder going the other way around?
I really like our albums, and I really like our live shows. I think they are different in their own ways; yet the songs always remain intact. We write our songs these days so we will be able to play them all live; and when we play them live we get to improvise on them and flesh them out in ways we never thought possible when recording the album. I think a lot about that whole de Kooning idea of the painting really never being "finished." When the song is put into a recorded format it becomes "that recording" of the song -- but the song, even after being recorded continues to grow through every playing of it and through every listen. Spirit is there in both things.
What band do love that you think other people should love but maybe don't know? And why?
Soft Healer -- they are an incredible band from Austin, Texas, now living partly in Ithaca, New York and everyone should know about them. Why? Because they rip.
You've been on tour in Europe for over a month. How would you describe the difference between "old world" and "new world" audiences?
Well, sometimes in Europe one encore is not enough, and they keep chanting for more -- so then we need to make up songs on the spot or play the same songs we already played again. That hasn't happened in America...yet.
---