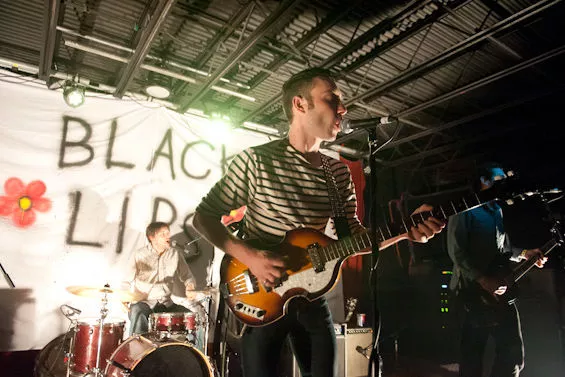 Jon Gitchoff
Black Lips at the Firebird. Check out our full slideshow here.
It was just after 10 p.m. when the fog machine began belching clouds and the house music was cut. As the members of Atlanta, Georgia's Black Lips took the stage, cheers erupted from the near-capacity crowd at the Firebird. Lead guitarist Ian Saint Pé was the first to speak.
"Remember now," he began. "If it's perfect, it's not rock & roll. Let's go!"
The statement proved prophetic and made clear where the band's priorities lie. Immediately, Black Lips launched into "Family Tree" and "Modern Art," the first two songs on 2011's Arabia Mountain. Bassist Jared Swilley bounced in time with the music like a human metronome; he and Saint Pé seemed to be bursting with energy, while rhythm guitarist Cole Alexander looked characteristically spaced out, as though he had just been beamed onto the stage from another world. After only two songs, Saint Pé asked that Alexander's guitar be cut out of his monitor altogether. Not to say Alexander was playing particularly poorly, but it did seem as though he needed a couple songs to shake off the day's cobwebs.
"Boys in the Wood," the first single from the band's latest effort, Underneath the Rainbow, was plagued with equipment difficulties. It was hard to make out from my vantage point, but there seemed to be a problem with the drums -- the band's members were all looking around at each other during the second chorus, clearly aware that something was awry, while stage techs worked to solve the problem.
The thing is, the crowd at Firebird didn't give a shit how it sounded. This was pure rock & roll, just as Saint Pé had promised. The audience whipped beer cans across the venue and sang along, oblivious -- or at the least completely unconcerned -- to technical difficulties.
"All of our stuff is broken," Swilley explained after a few tracks. "We've been on tour for three months. That's the easiest explanation."
One song later, as if on cue, Swilley held up a freshly broken cable for the crowd to see. "We lost the center monitor cable," he said. "It's not my fault! I'm not paying for it." Barely a second passed before he laughed and said, "All right, I guess I could."
In the meantime Alexander repeatedly played a sample over the PA that sounded like a puma. "That's a wildcat!" he exclaimed with glee. The crowd laughed and the band launched into "Go Out and Get It."
Continue to page two for more of our review.
A few songs later, someone in the audience got their hands on some toilet paper, which quickly joined the beer as a favored projectile. Kids were stage-diving, and one fellow crowd-surfed all around the venue with his phone held at arm's length, videotaping his own face. I bet that video is fun.
"This song is coming out on the new Bad News Bears movie, starring Tony Danza," Alexander quipped before the band launched into "Bad Kids," one of Black Lips' most popular tracks. The crowd sang along in a fervor; the airborne beer increased in quantity.
Black Lips left the stage after "Bad Kids," then returned a few minutes later for an encore. "Like clockwork!" Saint Pé laughed. "You'd think we planned it!" The band then launched into "Ain't No Deal," the first of two encore songs the band said it'd be playing.
"Sorry for all the technical difficulties," Swilley said upon that song's conclusion. "That's just how we roll. We can't have nice things." Again, the crowd didn't care about that stuff.
"This song is for our favorite St. Louisan, Chuck Berry," Alexander said before the final song. "I still have yet to do a good duck walk. Still have yet to pee in the bathroom, too." The crowd laughed, and the Black Lips played a final song for the night, a cover of Berry's "Too Much Monkey Business."
As I walked into the night at the show's conclusion, I overheard a kid talking to his friends. "Someone spilled beer on the front of me and on the back of me," he said with a grin. In most circumstances, that would be a complaint. Here, it was exclaimed with jubilation.
"Yeah, that was absurd," his female friend replied, "but really cool."
Rock & roll, is what it was. Pure, uncut rock & roll.
Continue to page three for the setlist.
Setlist:
Family Tree Modern Art Justice After All Dirty Hands Drive By Buddy New Direction Boys in the Wood Smiling Not a Problem Stranger Go Out and Get It Lock N Key Funny Make You Mine Raw Meat Time Bad Kids
Encore:
Ain't No Deal Too Much Monkey Business (Chuck Berry cover)
RFT MUSIC'S GREATEST HITS
The 15 Most Ridiculous Band Promo Photos Ever This Incredible Make-A-Wish Teenager Went to the Gathering of the Juggalos, Got a Lap Dance (NSFW) Crotching Whiskey at the Justin Bieber Concert and Getting Thrown Out: A Review The Top Ten Ways to Piss Off Your Bartender at a Music Venue
---