Mabel Suen
Stonechat is Sean Ballard, John Beabout and Charlie Nehr.
"It's funky, it's heavy, it's mathy. It's passionate. It's nitty-gritty," says Stonechat's newest member, John Beabout, when asked to describe the trio's sound. Beabout joined the band last fall on keyboards, lending a unique range of melodies to guitarist Sean Ballard and drummer Charlie Nehr's spastic rock and pop sound. Tonight, Stonechat will release its first album as a trio, titled BACCO, at Cafe Ventana (3919 West Pine Boulevard; 314-531-7500).
The early-twentysomethings sit on the patio at Ventana over various vices as they recount their origins. Ballard and Nehr are childhood friends from Collinsville, Illinois, while Beabout is a friend from Belleville they picked up on this side of the river. They've collectively spent plenty of time at the midtown cafe in the past year, both behind the barista bar and on the other side of it, hosting and performing at donation-based shows for touring bands of all kinds.
"Stonechat is a bird, and it's also an old English saying for shootin' the shit -- 'throwing around the old stonechat,'" explains Ballard. "The bird's named stonechat because it sounds like crackling pebbles. At the time when I named it, Charlie and I were doing a lot of concept sets with noise and ambience. For some reason, that seemed fitting."
The addition of Beabout, a classically trained pianist, has forced the former duo to really hone in on carefully crafting its compositions as a whole rather than working from a completely blank canvas, says Nehr, who runs his own live music recording service, HiLo Recordings. Songwriting often begins in Ballard's brain, a raw stream of consciousness that gains footing when carefully placed drumming and call-and-response keyboard riffs step in.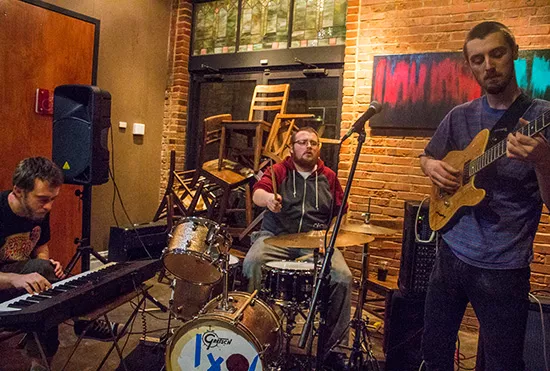 Stonechat live at Cafe Ventana.
With collective influences including everything from Deerhoof and Hi Red Center to Yowie and free jazz, Stonechat jokes that they sound like "the Doors, if they were a punk band." Riffing off cynical and religious themes, the band plays intricate, off-kilter melodies spliced with dissonant chords, impassioned singing yelled from the gut, and slippery rather than straightforward rhythms. Stonechat juxtaposes noisy pop sensibilities and funk with punk and math rock, and the sharp execution of these weirdly overlapping shades makes its songs compelling from beginning to end.
"Sean and I are both intricate and vigorous, and Charlie fills it out and makes it flow," says Beabout. "There are lot of colors in there. Stonechat is just a void, like a black hole or the sun constantly going in and out."
Stonechat releases its self-recorded debut album, BACCO, while performing with Washington, D.C.'s Les Rhinocéros at Cafe Ventana tonight. A mini-series of five comics drawn by local artist Curtis Tinsley will also accompany the release this Saturday, May 2, at Star Clipper's (6392 Delmar Boulevard; 314-725-9110) Free Comic Book Day event.
"I work with adults with mental disabilities, and one of my clients is a really cool, nice guy. He has an obsession with dead batteries. We keep the dead batteries for him.... He calls them 'baccos.' I just latched on to that," says Ballard, explaining the album's name.
Preview the track "Brand On Looks," with album art by Lindsay Weigel, below. Pick up a copy on CD or cassette tape put out by locally based label Float Away Dangling.
We invited Stonechat to fill in the blanks ahead of its album-release show tonight. See what guitarist Sean Ballard had to say after the jump.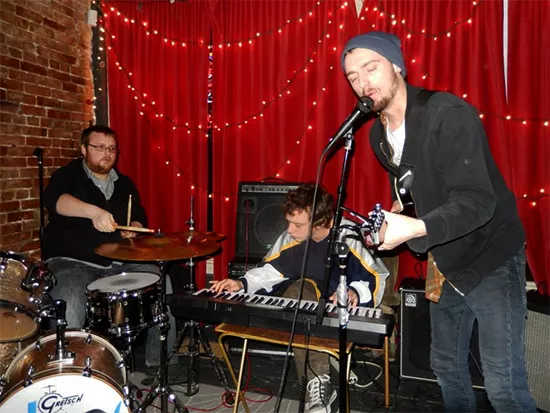 What I like most about St. Louis is... Sean Ballard: the way the city looks and feels. It is a cool old city that is big enough for me to get lost in and continuously realize I haven't seen every part of. And it's also small enough for a person's individual voice to be heard. It isn't hard to find people passionate about what they are doing here.
My favorite aspect of being in a band is... the babes. I don't know, sticking it to "the man" or whatever by getting people to see my shows and to buy "the man's" beer while they are at it. Honestly, I don't really know. I enjoy making music with my friends, and it is a way to get some things out of my head that have no place being there.
I've learned the most from... trial by error. I pretty much expect with any idea I have that it isn't going to work right away, and it isn't going to happen without help. I am learning to be patient.
The St. Louis music scene could use... more musicians/artists/bands/showgoers that care less about their specific place in the scene and more about making the whole thing thrive for everyone. It isn't that what you are doing isn't important and that I don't care about it, but it's not the most important thing happening ever. Put love and pride in everything you do, but humility and selfless work goes a lot farther and is much better for our city. Be good to touring bands, treat them 100 times better than you would want to be treated while out on the road, and then go tour and talk about St. Louis!
Video by Graham Matthews
The best post-show food is... Circle K down the road from my house.
The most memorable show I've ever played was... in Carbondale, Illinois. Charlie and I were in a different band before Stonechat and as we were setting up to play, a bar fight broke out where a man was struck with a pool cue and actually died. He hit the ground and the whole room was silent. There was a pool of blood on the floor, and the bartender motioned for us to start as they were carrying his body outside. After we played, Charlie went to get a beer and a guy sitting in the bar asked if he was in the last band. Charlie answered, "Yes," to which the man replied, "You guys sucked."
Five current artists worth listening to are... Yowie, Pat Sajak Assassins, Crucial, Trauma Harness, Britches.
Read on for upcoming show information as well as a preview of BACCO, an accompanying comic mini-series to the album drawn by local artist Curtis Tinsley.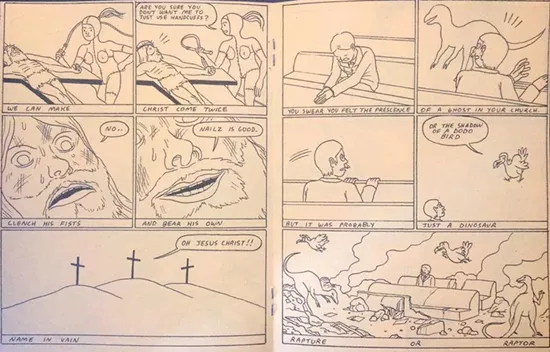 (Click image to enlarge.)
Follow Stonechat on Facebook and Bandcamp.
Stonechat Album Release Wednesday, April 30, 9 p.m. w/ Les Rhinocéros, Barely Free Partial Prisoners, Pat Sajak Assassins @ Cafe Ventana - $5
Free Comic Book Day Saturday, May 3, 12 p.m. w/ Stonechat, Vanilla Beans, Little Big Bangs, Dr. Dan the Pancake Man & the Psychedelic Psychonauts, Superfun Yeah Yeah Rocketship @ Star Clipper - free
Stonechat Friday, May 9, 9 p.m. w/ Dibiase @ Johnnies Side Bar - $5
Undercurrent No. 5 Thursday, May 22, 8 p.m. w/ Stonechat, Wild Hex, Tony Renner, Barely Free Partial Prisoners, Pat Sajak Assassins @ Schlafly Tap Room - free
Do you know a project or band that should be considered for this series? Drop a line to fillintheblank@riverfronttimes.com.
Previously from our Fill in the Blank series: - Les Gruff and the Billy Goat - Nato Caliph - Jah Orah & KD Assassin - Zagk Gibbons - Britches - The Maness Brothers - Con Trails - This City of Takers - Syna So Pro - Eric Hall - Pink Sock - Scrub - Pet Rock the Musical - The Glass Cavalry - The Blu Skies - Animal Teeth - Popular Mechanics - Brotherfather - Bad Dates - Beauty Pageant - Pillow Talk - The Tennis Lesson - The Funs - Brothers Lazaroff - Quaere Verum - MME - Sarah Bollinger - Little Big Bangs - Everything Went Black - Lions Eat Grass - Kevin Harris - Laika - Heavy Horse - Barely Free Partial Prisoners - The Defeated County - Lizzie Weber - Kenshiro's - B.E.L.L.A. - Superfun Yeah Yeah Rocketship - Humdrum - The Blind Eyes
---