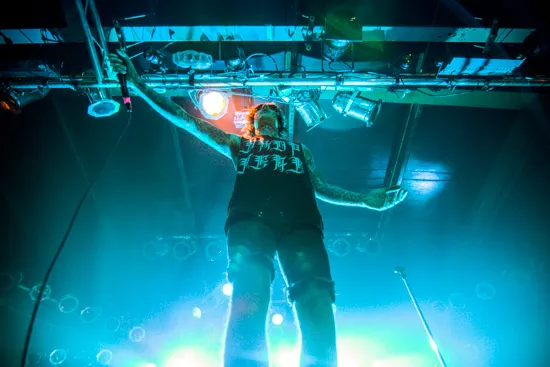 Ben Fournier
Bring Me the Horizon
Earlier, you helped us select our ten favorite concert photographers in St. Louis. We got well over 100 nominations, after which our panel of judges narrowed the field to just ten. In the coming weeks, we'll be introducing you to each of the finalists and having them share some of their favorite concert photos while answering a few questions about their process and passion.
See also: The Ten Best Music Photographers in St. Louis: 2014 Nominees
How and when did you get involved with music photography?
I was going to school for graphic design and working with a friend who was a photography major. We had the idea to go into business together to work in the music industry. Eventually my friend decided they wanted to work in a different field. I already had an interest in photography and decided to learn the craft and pursue it on my own.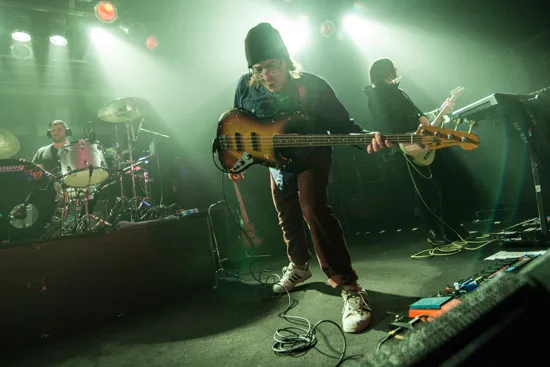 Ben Fournier
Crosses
What are some highlights of your professional photography experience?
I could go on about the major artists I have been lucky enough to shoot, but really the biggest highlight of my career is the approval I received from the amazingly talented Terry Lewis. Back before I got into shooting shows, I would always look up at the Legacy posters at Pop's and think to myself how awesome of a job that would be. At the time, I had no idea that Terry was the one who had shot those. Eventually I met him, and knowing who he was, I was honestly nervous to approach him.
I finally had the opportunity to start shooting alongside Terry at Pop's and got to know him pretty well. One day Terry came into my work with his wife, and he introduced me to her as "one of the best photographers in St. Louis." I was beyond flattered. Eventually I became the house photographer at Pop's, and one day it hit me: The thing I used to look up to and idolize had become what I was doing. That in itself is one of the most gratifying and rewarding highlights of my career.
Where can people find your work (exhibits, album covers, publications, etc.)?
Most of my work can be found on the Pop's website and Facebook page, as well as my website. Bands like Fivefold, Killer Me Killer You, Brookroyal and Make Me Break Me have some of my work on their websites and inside of a few of their albums. The rest of my notable work falls outside of the concert-photography realm.
Ben Fournier
Limp Bizkit
What is your favorite part of doing music photography?
The best part of doing music photography is the energy of a show. No matter the venue or the style of music, the energy of shooting in that environment is always fun. The feeling in the room when the house lights go down and everyone starts to cheer always gives me chills. It's a very exciting atmosphere to work in.
Continue to page two.
Ben Fournier
August Burns Red
What do's/don'ts do you have for young photographers who would like to pursue this type of work?
My first and most important piece of advice is to learn pit etiquette. If you are disrespectful in a photo pit, it could hurt your reputation, which will hurt your chances of shooting future shows. That also extends into showing respect to the venues that are giving you a chance. If you start out with a great deal of respect, you will go further in your career. Nobody likes it when another photographer jumps in front of you and steals your shot.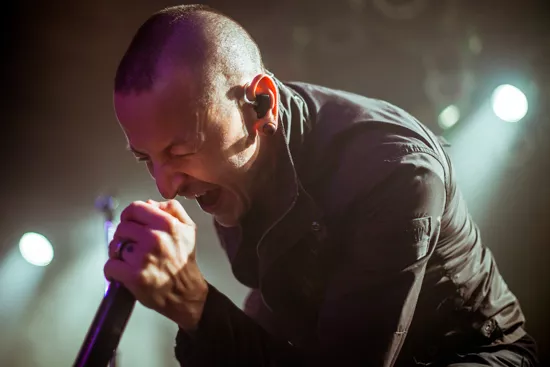 Ben Fournier
Stone Temple Pilots
Pick one of the photos you've submitted and tell us a little about it: Where was it shot, who is featured and (most importantly) how did you capture it? We'd love to hear logistical description or technical breakdowns or whatever else you want to tell us.
One of my favorite things about going through my photos after a show is when I come across a shot that I am particularly proud of. This shot of Chester Bennington singing for Stone Temple Pilots is one of my favorite shots from this year. I like the composition of the photo and the lighting. I like when photos are backlit but don't overly shadow the subject. One small detail I really love about this photo is the light reflecting off of Chester's hand back onto his face. I grew up listening to STP and never in a million years thought I would get a chance to shoot them. To be able to get that chance and walk away with a photo that lands in my favorite category is pretty satisfying.
See also: Jason Stoff: Meet the 2014 Best Music Photographers in St. Louis Steve Truesdell: Meet the 2014 Best Music Photographers in St. Louis Christian Mayberry: Meet the 2014 Best Music Photographers in St. Louis Bryan Sutter: Meet the 2014 Best Music Photographers in St. Louis Jon Gitchoff: Meet the 2014 Best Music Photographers in St. Louis Kenny Williamson: Meet the 2014 Best Music Photographers in St. Louis Todd Morgan: Meet the 2014 Best Music Photographers in St. Louis Abby Gillardi: Meet the 2014 Best Music Photographers in St. Louis
RFT MUSIC'S GREATEST HITS
The 15 Most Ridiculous Band Promo Photos Ever This Incredible Make-A-Wish Teenager Went to the Gathering of the Juggalos, Got a Lap Dance (NSFW) Crotching Whiskey at the Justin Bieber Concert and Getting Thrown Out: A Review The Top Ten Ways to Piss Off Your Bartender at a Music Venue
---