Les Gruff and the Billy Goat.
St. Louis native Billy Croghan grew up on a steady diet of singer-songwriters -- music he says his "old man listened to." Inspired by artists including Cat Stevens, James Taylor and Waylon Jennings, he set out to learn guitar, later studying classical technique in college and writing his own set of Americana songs tinged with folk, country, blues and roots. Today, he performs his songs in Les Gruff and the Billy Goat, a band that includes members of the Last Night, Aye Sir Owl, the Boxcutters and more.
"In 2009, I was doing some stuff at a construction company. Then, I lost my day job and had some personal tragedy. I was jobless and dealing with pain and writing songs kind of all at once," says Croghan, explaining how he first became motivated to act as a songwriter. Croghan's style straddles the line between strumming and Travis fingerstyle picking -- a technique he compares to stride piano, but on the guitar.
"I started to incorporate some of that stuff and I try to bring it in as much as I can, because I really like to hat tip the old blues guys," he says.
In Les Gruff and the Billy Goat, Croghan writes about subjects including family and life occurrences that he then applies to the world in general.
"I've written songs about addiction and suicide and dealing with it from a couple different points of view. That's something I work with a little bit -- writing from inside and outside of the character.... sometimes crossing the line of that point of view within one composition," he says.
Live, Croghan fully utilizes the dynamic range of his backing band, which includes drums, keyboards, mandolin, bass and fiddle.
"It's sort of a journey through the song, as opposed to all in-your-face the whole time, which can be fun. We do have a few songs that do that, but we sort of try to work an ebb and flow into the set," he says. "I've got this sort of idea that a good show should have a bit of everything in it, so we try and bring people up and down, and usually leave them on a high note if we can."
Les Gruff and the Billy Goat is currently working on a four song acoustic EP leading up to a full-length release. Check out its latest, A Cup of Coffee, an Apple and a Suicide, below.
We invited Billy Croghan of Les Gruff and the Billy Goat to fill in the blanks. See what he had to say after the jump.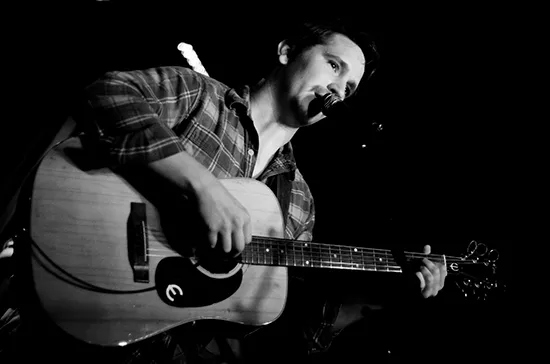 What I like most about St. Louis is... Billy Croghan: The Mississippi river and the culture it dropped here along with it. We've got a really cool heritage -- musical and otherwise -- because of where we are. Not every city has what amounts to industrial-era ruins, but I think they lend a certain grit to the general aesthetic here that's both heartbreaking and endearing.
I make music because... I have to. The impulse to make music is completely erratic and binding at the same time.
The St. Louis music scene could use... Fewer substances and more national attention. Some really cool music is going on here nightly, but St. Louis has some kind of inferiority complex, so bands from out of town get way more high-fives at the clubs. I've been out here in St. Louis and out of town and seen what some of the same bands from everywhere else are doing, and I'm not sure why we don't realize how cool the stuff going on right here is. That isn't to blow smoke because of course there is bottom-of-the-barrel stuff going on here too, but there really is topnotch and nationally viable entertainment here every night.
The best post-show food in St. Louis is... This one is tough, and it depends on what part of town you're in. I personally dig the Buttery on South Grand. They certainly earn their name -- I think the even the windows are buttered. If you're somewhere further east, Billie's Fine Foods is always a good time, and if you've been honored to get a gig at the Focal Point, you gotta stop in to Tiffany's. Really, as long as the food is greasy and the service is surly, you know you're in the right place.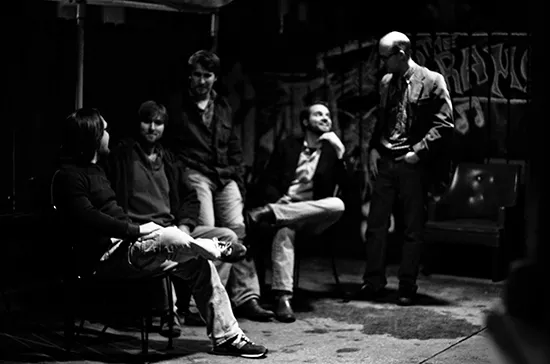 Five current artists worth listening to are... Hayes Carll, Todd Snider, Cree Rider Family Band, the Mallett Brothers, Fred Friction
The most memorable show I've ever played... Wow, this one is ancient, but in high school, we were playing this battle of the bands at Lindbergh High School. We got about halfway through our set, and I dropped an F-bomb onstage because something was "f-ing awesome" and didn't think anything of it. Then I started playing the next song. When I stepped up to the mic and started singing, it was off, and then the whole system was off. Then the principal of the school got up onstage screaming at us to get offstage. They kicked us right out of the gym that day. That was certainly the most memorable show I've ever played. I don't know what happened to half of those guys.
The most difficult lesson I've learned while playing music is... It seems a bit self-indulgent for me to say I've learned anything difficult from actually playing music, but I've certainly learned about life through music. Simple stuff, like people aren't always nice and you gotta push super hard for a long time before the ball gets rolling. I think everyone should do something entrepreneurial at some point just to get a little taste of the grind musicians experience. As long as you're in for the constant mental and sometimes physical abuse, music is darn near the most fun thing anybody can put his heart into.
Follow Les Gruff and the Billy Goat via its website and Facebook.
Do you know a project or band that should be considered for this series? Drop a line to fillintheblank@riverfronttimes.com.
Previously from our Fill in the Blank series: - Nato Caliph - Jah Orah & KD Assassin - Zagk Gibbons - Britches - The Maness Brothers - Con Trails - This City of Takers - Syna So Pro - Eric Hall - Pink Sock - Scrub - Pet Rock the Musical - The Glass Cavalry - The Blu Skies - Animal Teeth - Popular Mechanics - Brotherfather - Bad Dates - Beauty Pageant - Pillow Talk - The Tennis Lesson - The Funs - Brothers Lazaroff - Quaere Verum - MME - Sarah Bollinger - Little Big Bangs - Everything Went Black - Lions Eat Grass - Kevin Harris - Laika - Heavy Horse - Barely Free Partial Prisoners - The Defeated County - Lizzie Weber - Kenshiro's - B.E.L.L.A. - Superfun Yeah Yeah Rocketship - Humdrum - The Blind Eyes
---