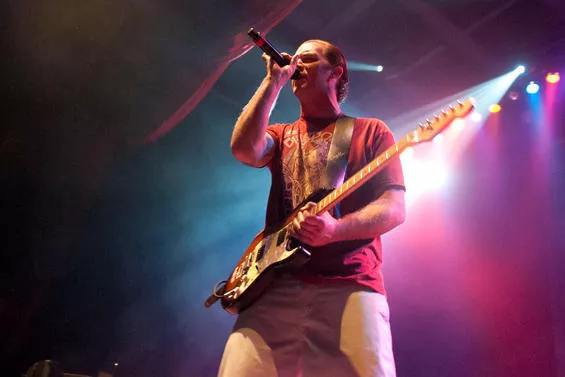 Jon Gitchoff
Slightly Stoopid at the Pageant in 2011.
San Diego's Slightly Stoopid will be performing at the Pageant this Saturday, and RFT Music has two tickets to give away!
To win, simply tell us why you deserve to go. Be creative! You may enter in the comments below -- make sure you include some way of contacting you, as well as your full name so you can pick up your tickets. We will contact the winner by 5 p.m. Saturday.
When they came to town in 2011, there was much fist-pumping, crowd-surfing, trumpet-aided rocking and even this green gorilla, which former RFT Music editor Kiernan Maletsky says was "A pretty good summary of this show, actually.":
Watch the video for "Don't Stop," off of 2012's Top of the World, below:
RFT MUSIC'S GREATEST HITS
This Incredible Make-A-Wish Teenager Went to the Gathering of the Juggalos, Got a Lap Dance (NSFW) Crotching Whiskey at the Justin Bieber Concert and Getting Thrown Out: A Review The 15 Most Ridiculous Band Promo Photos Ever The Top Ten Ways to Piss Off Your Bartender at a Music Venue