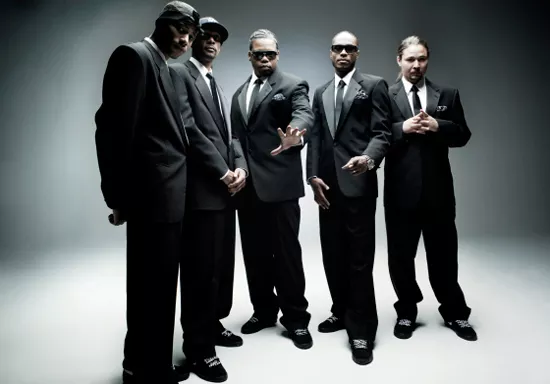 Press Photo
Bone Thugs-n-Harmony - Sunday, April 27 @ the Pageant
Hello, music fans! Here's our weekly rundown of what's happening this weekend. Some notable performances include the subject of our music feature this week, Angel Olsen, as well as the Greater St. Louis Jazz Festival and Bone Thugs-n-Harmony. For details on these shows and more, read on. As always, feel free to name-drop other happenings all over town in the comments.
Friday (April 25):
Dr. Dan the Pancake Man w/ Psychedelic Psychonauts, Hearskra-Z @ The Engine Room 9 p.m. | free Free Pancake Friday! Not only is the entertainment free of charge, but you also get pancakes, courtesy of pancake artist Dr. Dan. (DH)
Lil Boosie @ Ambassador 8 p.m. | $50-$100 He's free and he's hitting St. Louis! Better believe it! (DH)
The Hudson Branch w/ Future Monarchs, Zagk Gibbons, Hidden Lakes @ Plush 9 p.m. | $7 The Hudson Branch's resume includes a collaboration with NPR's Radiolab and sharing a stage with New Order. Also on this show are its fellow Chicagoans, Future Monarchs. Click the links to learn more about them. (MS)
The Chicago Underground Duo w/ Dave Stone @ Lemp Arts Center 8 p.m. | $7 Cornetist Rob Mazurek recently performed a great set with local experimental stalwart Darin Gray at Tavern of Fine Arts. Mazurek returns with his avant-garde duo to help celebrate Lemp Arts Center's twentieth anniversary. Experience free jazz at its best with an evening of experienced players. (MS)
Greater St. Louis Jazz Festival w/ Arturo Sandoval @ Touhill Performing Arts Center 8 p.m. | $20-$40 Jazz trumpeter Arturo Sandoval has nine Grammy awards sitting on a mantle somewhere. See why by attending day two of this annual local jazz fest. Alternatively, check out day three, featuring the Count Basie Orchestra. (MS)
Also on Friday, consider checking out Will the Circle Be Unbroken: A Tribute to the Carter Family at the Sheldon.
Saturday (April 26):
The Faint w/ The Hussy @ The Ready Room 9 p.m. | $20-$23 Synth rock! Synth rock! (MS)
Slightly Stoopid w/ Mariachi El Bronx, The Expanders @ The Pageant 8 p.m. | $22.50-$27 This photo properly encapsulates the band's last St. Louis show, if you are into that sort of thing. (DH)
Junior Reid w/ Kreative Pandemonium, E-Dee, Zion @ 2720 Cherokee 6 p.m. | $20/$30 If you've ever tuned in to KDHX on a Friday or Saturday night, no doubt you've heard DJs Ital K and Michael Kuelker spinning the best in reggae, dancehall and roots. To offer a live rendition, the two host a collaborative reggae event in the flesh. (MS)
For another Saturday night option, consider Nato Caliph's the Build at Blank Space. Click the link to learn more.
Sunday (April 27):
Angel Olsen w/ Promised Land Sound @ Off Broadway 8 p.m. | $12-$15 In case you hadn't already seen it, you really should read Mike Appelstein's outstanding article on Angel Olsen this week. Find it here. (DH)
Bone Thugs-N-Harmony w/ Yak Boy Fresh, Aye Verb @ The Pageant 8 p.m. | $25/$30 I mean, come one, of course you want to go to this show. I don't really gotta sell you on it, do I? RIP Uncle Charles. (DH)
Also on Sunday, Arcade Fire plays Chaifetz Arena.
Note: Though we wish we could, we can't feature every great show happening in town in just one measly post. Peruse the St. Louis concert calendar for more ideas any time. Let everyone know what else you're looking forward to seeing this weekend in the comments below, and submit show info online any time to be considered for inclusion on these lists.
RFT MUSIC'S GREATEST HITS
Remembering STLPunk.com -- How to View the Site Today and Find Your Old Profile Page "Where Did My Dick Go?" The Gathering of the Juggalos' Best Overheard Quotations The Ten Best Dive Bars in St. Louis The 15 Most Ridiculous Band Promo Photos Ever
---