@unity_concert | twitter
Jeff Tweedy does neat things.
Hey, did you guys know that Jeff Tweedy was on the season finale of Parks and Recreation last night? I didn't. Wait, that's not quite true -- I heard about it a million months ago but kind of forgot until 40 minutes before the episode aired, and then I got excited and forced a friend to say that I could go to their house to watch it.
But still! Jeff Tweedy! And possibly (totally) some other musicians! And a not-so-secret Michelle Obama cameo! And no Zooey Deschanel whatsoever!
See also: Prince Blesses The New Girl, Forces Us to Watch This Stupid Show
So of COURSE I had to watch, despite not having seen the show since the beginning of the season. I might not know everything Leslie Knope has been up to lately in Pawnee, Indiana, but I'm still a fan of the passionate parks supporter -- especially if she booked a concert that features one of Belleville's finest. Here's what went down during the hour-long season six finale of Parks and Recreation (SPOILERS AHEAD!):
We open with a wideshot of Alcatraz, and adorable dimwit Andy is talking about the Rock to Leslie and Ben, who is my boyfriend in my brain. I guess they're all in San Francisco for some type of official business or something. Maybe I should have watched previous episodes.
Oh, look, Leslie is saying that she's speaking at a national parks conference there. Good, that's helpful. She also says it's the craziest week of her life, with thinking about a new job and having triplets and all. TRIPLETS? Holy hell, I've missed a lot. Andy breaks up the pensive moment by wondering how to break into Alcatraz. "They give tours," Ben deadpans. "But that's what they'd be expecting," Andy asserts. Oh, Andy. I wish I liked dumb guys.
Back in Pawnee, Tom apparently plans to open a restaurant in six weeks (Side note: St. Louis got a double shot of Aziz Ansari last night, with the Parks and Rec on TV and Ansari performing standup at the Fox Theatre). His investor dude wishes Tom were ready in time for the Unity Concert between Pawnee and rival town Eagleton that happens in, like, ten days (what?), so of course Tom decides he'll switch things up and have a soft opening (heh) tomorrow and open for real during the concert. Yeah, that'll go well.
In Rice-a-Roni land, Leslie's picking up her nametag for the conference, wrongly assuming that "Lester Knopf" is hers. She runs into Grant, who accuses her of ducking his calls (based solely on his professional suit and lack of Tom-style pickup lines, who I assume is not trying to sex her up) and lures her into a lunch with law makers/lobbyists who are only famous to people who love trees as much as Leslie does. She gushes to some lady about making posters of her and beams when a guy says that he read one of her proposals.
She and Grant leave, talking about how those people could one day be Leslie's peers if she takes the job he's offering her (See? No sexing up!), and in a hallway they run into Michelle Obama, because of course they do. FLOTUS is giving the keynote speech at Leslie's conference, and Leslie geeks out even more than she did in that one episode with Joe Biden, screaming her worship to Obama. "YOU ARE FROM CHICAGO SO YOU LIKE IT." "I AGREE WITH YOU ON ALL THINGS THROUGHOUT HISTORY AND FOR ALL OF TIME." It's pretty damn adorable, and after Obama squeezes in some words about her "Let's Move" program, Leslie awkwardly high-fives the First Lady.
Ben and Andy go to one of those douchebag tech companies to try to get free wifi for Pawnee. But despite Ben sharing that Pawnee leads the nation in online pizza ordering, the tech folks say no. I'm crying for Ben, who obviously should have married me and not Leslie.
In Pawnee, Tom is begging Ron to make use his expert woodworking skills to make chairs faster for tomorrow's restaurant opening. "Who do you think I am, Thomas Husker?" jokes Ron. Neither Tom nor I get it.
COMMERCIAL!
Andy, Leslie and Dreamboat Ben are at the top of that street on the tall hill, and Andy excitedly pushes a skateboard down it. As Andy chases it, Leslie tells Ben that she's going to take the new job and, by the way, she met Michelle Obama.
Continue to page two.
In Pawnee, Tom is delegating tasks to everyone -- April gets wait service, and some new dude who's whining about all the sawdust Ron is making will team up with Donna for wine. Jerry (who now is called Larry?) rushes in with the restaurant's menus, but they're unusable because they feature photos of his dog's rectum. "I must have given the printer the wrong flash drive," says Jerry. YA THINK?
Ben and Andy are still at the tech company, trying to think of a way to get them to give free wifi to Pawnee as Ben's legacy. "Every time people go through slideshows of American Music Awards photos looking for sideboob, it will be because of me," Ben says. That's how we want to be remembered, too. Suddenly, Ben sees through the window that the tech dorks are playing the Cones of Dunshire, a D&D-type strategy game he had created. He rushes in and declares that if he plays them and wins, they'll install Pawnee's free wifi. Lead tech dude asks if Ben wants to be a corporal or a warrior. "Neither," Ben says. "I'm the maverick." I'm so in love with him and am trying hard not to lick my friend's TV screen at this point.
In a boring scene, Leslie's giving a speech to nerd-types about her proposal and is very discouraged by what audience members are saying.
In Tom's restaurant, the screechy annoying guy and Donna are arguing about wine. Jerry breaks a glass and then follows that up with breaking an epic shit-ton of glasses.
The lead tech dude and Ben are locking horns over the game, and it looks like Ben will lose. Suddenly, my crush laughs and says, "You're a smart guy, but you made one cruicial mistake -- the essense of the game. It's about the cones." Ben then tosses a gazillion twenty-sided dice to the side, makes some crazy moves and wins the whole thing. Ben shows the tech people photos on his phone of him creating the game and says there's something special about Pawnee. "Yes, there is," tech dude says. "It's the home of the architect." EVERYBODY LOVES BEN!
But nobody loves Tom. His investor is not impressed by April's attitude or that they had to get rid of the menus because of Jerry's dog's butthole. He withdraws his investment and leaves, not realizing that he has woodstain on his jacket from Ron's new chairs.
COMMERCIAL!
Leslie tells Ben she's rethinking taking the job. "I'm paralyzed by hypotheticals and will die in this minivan at the San Francisco Airport." Ben urges the driver to head to a secret location on his phone, which turns out to be a redwood forest. "I'm on Endor! These are the trees George Lucas used to create the forest on Endor!" Ben exclaims! Ben Wyatt, get into my pants now, pleasethankyou! The pair wind up looking at the Golden Gate Bridge, Ben convinces Leslie that this new job will let her oversee all of the U.S. National Parks, and Leslie calls Grant to accept the job and say "I love you." Obviously that last part was an accident.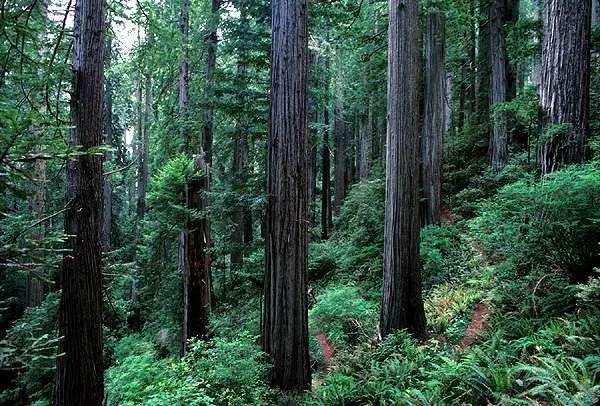 Where I will marry the dude who plays Ben Wyatt.
Tom is sad and is quitting the restaurant business until Ron gives him some inspiration and April says she's called a bunch of media people and they'll all be here the night of the concert. Also, Tom owes Ron $16,000 for wood.
COMMERCIAL!
Tom gives himself and his team (of one) a pep talk about the restaurant, saying he's called in reinforcements. Awwww, yeah, John-Ralphio and his freaky sister Mona-Lisa!
Andy tries to convince Ron to perform during the concert, but Ron claims he likes to keep his music private. Leslie calls the group together for the final planning meeting and April tells everyone they need to get people to sign up for the Merger Action Squad. And then Leslie breaks the news that she's accepted a new job and will be moving to Illinois in about a month. The gang takes Leslie outside to show her a monument erected in her honor. Awwww, guys!
But no time for sentimentality -- the unity concert must go on! Like, now!
Continue to page three.
First to the stage: the Decemberists! Colin Meloy calls Pawnee a "truly amazing town," where he ordered a small cheeseburger and both the buns were pizzas.
Grant, Ben and Leslie are talking about the great National Parks Service dental plan when Leslie's nemesis Jeremy Jamm comes over with a poster for his own "Secession Jam" in Eagleton, saying that the Unity Concert blows and a Warrant cover band will be at his event. Leslie realize she can hire two people for her new staff.
Near the stage, Tom is hanging out with Donna and her cousin Ginuwine. Obviously, Tom and G have a gazillion things in common. "We're both men about town, we're bombarded with party invitations." Donna says that if Ginuwine comes to Tom's restaurant later, she won't reveal how they took baths together. Fine, fine. Ginuwine hits the stage, singing "You're my pony!" as Li'l Sebastian banners descend. Perfect.
Meanwhile, Leslie is asking each of her current staff members if they'd take one of the two positions she'll have available in Chicago. No one's biting. Leslie is sad.
Andy performs on the kid's stage as Johnny Karate, singing about how imaginary friends take the fall for you. Ron's ex-wife Tammy (the Will & Grace one) shows up, and he calls her a "sewer-dwelling gutter witch." She retorts, "I will defeat you right into my pants" before walking away. OK.
COMMERCIAL!
Andy's former Mouse Rat drummer comes over to bury the hatchet, and Andy launches into some crazy story about how he thought the band would break up. Confused, drummer guy (who is in Letters to Cleo for real) wanders off. April says that Andy was so good, one kid peed his pants, and Andy laments being a solo artist.
But now it's time for Letters to Cleo, which is Ben's favorite band in the world! They're performing "Here and Now," and Ben is off to the side mouthing the words and screaming, "I LOVE YOU, KAY HANLEY!" She winks at him and he nearly dies.
Yo La Tengo goes on stage as Bobby Knight Ranger, a band that dresses like volatile former basketball coach Bobby Knight while playing "Sister Christian" over and over. People are booing at the concert, kind of, but it's a cute moment.
Andy is backstage, singing something that Land Ho is scheduled to play. Jeff Tweedy, frontman for the fictional band, comes over and says, "Why don't you let us play that, bud?" Andy kind of freaks out, Tweedy hits the stage, and everyone goes apeshit. The sound is kind of fuzzy, but maybe that's just the magic of TV. Tweedy rocks the hell out, and from the side, Andy tells April again that he misses being part of a band. "That's rock & roll." That's when Tweedy shouts into the mic that Andy's old band Mouse Rat will join them for the finale! Whoooooo! Andy's joy is enough to make me almost-cry, marred only by the very deep tongue scraping he gives April.
But wait, it gets better! All of the bands come out, and they do a tribute to Li'l Sebastian! THEY'RE DOING ANDY'S SONG WITH A HOLOGRAM LI'L SEBASTIAN ON STAGE! Lighters are swaying, singers are emoting... it's beautiful.
COMMERCIAL
Henry Winkler, father to John-Ralpheo and Mona-Lisa, enters Tom's empty restaurant, laughing at his failure. Suddenly, the local news folks show up, followed by Letters to Cleo and a ton of other people. Heh. Sorry, Fonzie.
Later, the whole Parks and Rec gang is in the restaurant, having awesome moments. The best oviously is when creepy Barney from the accounting firm tells Ben that he registered the Cones of Dunshire in Ben's name as a birthday present. He also offers Ben a job, but Ben can't take it because he's moving to Chicago with Leslie. Or can he?
Ben announces that they got 4,000 people to sign up for the merger team, yay.
Leslie and Ron talk about her leaving and how Pawnee has the best breakfast anywhere.
"You can't have everything you want," says Ron. Oh, but I bet Leslie can. She's got a look in her eye.
Continue to page four.
The whole gang is there when Leslie tells Grant that she should take the job but stay in Pawnee. Ben says the economics work out, Tom says Pawnee is closer to the national parks in the region, April threatens to make Grant disappear. He agrees to run it up the flag pole, which makes Andy think Grant has enough power to bring back Power Rangers. "I don't know what you do, but I think you can get it done," Andy claims.
Three years later, Leslie has new hair, she's telling someone about a media lockdown, and Jerry still is working for her. She's in Pawnee. Awwww.
Ben arrives wearing a tuxedo (swoon!), and April and Andy bring out Leslie and Ben's kids -- two boys and a girl. They'll be watching them while Leslie and Ben head out. "How many bags of marshmallows do I give them?" Andy wonders.
"One day in the distant future, things will be calm and normal, right?" Leslie asks Ben as they step into the elevator.
Not a chance, Leslie. Not a chance.
RFT MUSIC'S GREATEST HITS
This Incredible Make-A-Wish Teenager Went to the Gathering of the Juggalos, Got a Lap Dance (NSFW) Crotching Whiskey at the Justin Bieber Concert and Getting Thrown Out: A Review The 15 Most Ridiculous Band Promo Photos Ever The Top Ten Ways to Piss Off Your Bartender at a Music Venue