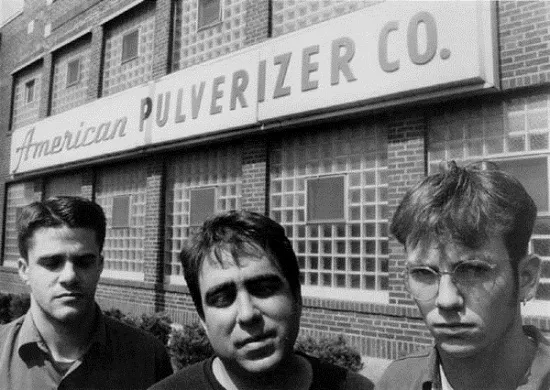 Photo by Mark Buckheit
Dazzling Killmen, referenced within.
Remember Chim Richards, that guy who has been messing with us here at RFT Music for weeks by sending phony (and hilarious) event submissions? Well he is at it again, and has stepped his game up this time.
See also: Some Joker Calling Himself "Chim Richards" Has Been Messing with Us
We recently received a curious message in an email from Chim's account. When we tried to respond, we got the following auto-reply:
He left a phone number as well, which we called, and which was a fax machine. The RFT's own fax machine, actually.
The identity of our man remains a mystery, but regardless, we'd like to share with you his latest submission. Here, unedited, is A Brief History of 20th Century Noise in St. Louis, as told by the elusive Chim Richards:
---
Scott Joplin, early adopter of proto-noise music.
1904: At the closing of the Louisiana Purchase Exposition, German immigrant Keegan "Dutchy Tater" Suibhne steals several large chunks of the Ferris wheel. He plans to break them down into smaller pieces and craft bespoke chastity belts for discerning young women. His chosen method for this reduction is by dynamite.
Alas, his TNT is not up to the task, and instead just creates a loud racket and scorch marks on the heavy steel beams. His neighbor, Scott Joplin, releases a player piano roll inspired by the events under the title "Dutchy Tater's Vexation" to a modest reception. East Side DJ Garry Shandling remixes it to include a brass section being run over by a Frisco train at the climax, and makes a small fortune with his resulting white label single, "Get Fucked St. Louis."
Dutchy eventually shoots himself with a pool cue fired from a smooth-bore musket.
1917: World War I has ended, but the nightmare continues for returning doughboy Joe Carambola. Haunted by his memories of the trenches and wracked by a profound cough wrought by a mustard gas attack, Carambola rarely sleeps. Instead he paces the streets of South City, wheezing and hacking and occasionally gasping out invective directed at the "goddamn huns and their goddamned gas."
Neighborhood boys follow him at a safe distance, imitating both the rickety gait and the sing-song, whispery screams of the person they call "Mustardman." Young Garvin Perambulatori is particularly adept at this, and one fateful day, brings a ukelele with him. Perambulatori picks out a simple melody while Carambola rails against his hated enemies -- but then Carambola spies the boy. He beats the child around the head, neck and shoulders with the ukelele while screaming "GAS ATTACK! GAS ATTACK!"
Carambola's screechy, distorted vocals and flailing percussion garner a positive review in the third issue of Juniata Vegan, a nascent music publication: "Mustardman's feral vocals and simplistic lyrics remind this writer of the early days of barrelhouse piano, when the purity of the music was of paramount importance and thoughts of fashion were left to the Savoy dandies. Two stars, or whatever."
1954: St. Louis is securely settled in a cycle of boisterous construction and expansion after WW II. The suburbs expand at a rapid clip, with an ensuing increase in teenage boredom.
The boyfriend-and-girlfriend duo of Dick Hyphy and Gladys Roche translate their feelings of lethargy and ambivalence into a spontaneous outburst of audial genius. Hyphy pours $17 in dimes into a jukebox and punches in "A-6" for the Penguins' "Hey Senorita" 170 times.
As the song blasts through the malt shop, Roche bangs her face over and over into the front of the Wurlitzer, causing the song to skip and restart at random intervals; Hyphy then strips down to reveal his mother's girdle, endlessly circles his eyes with pink lipstick and repeatedly shouts "Whatchoo want, Senor?" back at the song. After an hour, Hyphy vomits and passes out, at which point Roche sobbed and ate an Eskimo pie in a "lascivious manner," according to police records.
The two were never seen again.
1982: Hardcore punk is the new thing, but Imperial, Missouri, teenager Gus Dagliss is having none of it. In honor of his musical hero, George Jones, Dagliss drives his father's tractor to Bernard's Pub and attempts to reap every punker he can.
Sadly, he has none of Jones' tolerance for alcohol, and drunkenly drives to Collinsville, Illinois. The Kahok girls volleyball team spots him on St. Louis Road, and releases all their volleyballs out the back of the bus. The leather orbs are shredded by the reaper at such a heavy rate that they clog the works and cause a fire to break out.
The sound of the balls exploding, the reaper rumbling and straining and the girls screaming inspires the team's equipment manager, Michael Stipe, to write his first song, "1,000,000."
This is not really a great moment in noise music, but just an interesting anecdote.
1990: Dazzling Killmen forms. They were too beautiful for this world.
1999: The Conformists are founded as a Pantera cover band under the guise of winning the Althoff High battle of the bands. The millennium comes to a greasy end on this sexy high note.
RFT MUSIC'S GREATEST HITS
The 15 Most Ridiculous Band Promo Photos Ever This Incredible Make-A-Wish Teenager Went to the Gathering of the Juggalos, Got a Lap Dance (NSFW) Crotching Whiskey at the Justin Bieber Concert and Getting Thrown Out: A Review The Top Ten Ways to Piss Off Your Bartender at a Music Venue
---