Autumn Northcraft
Angel Olsen
"OK, here's the deal: I'm not prep, I'm not punk, I'm not grunge, I'm not emo. The only label I go by is my name, which happens to be Angel -- even though it doesn't make sense when you compare it to my character." --Angel Olsen's STLPunk.com profile, circa January 2003.
On April 27, Angel Olsen comes to town in support of her second and latest album, Burn Your Fire for No Witness. It's a phenomenal record: sprawling and emotional in its scope, dramatic and understated at turns, with strong melodies and nuanced vocals at its core. As it happens, Olsen is a St. Louis native. Between roughly 2003 and 2007, she quietly developed her songwriting and performing skills around town before departing for Chicago and eventually Asheville, North Carolina.
We interviewed Olsen in February, shortly after Burn Your Fire... came out. We also tracked down some friends, colleagues and collaborators from her St. Louis years, who provided further insight into her growth as a musician during that time.
Angel Olsen: I was born in the city and raised in Richmond Heights. I went to Tower Grove Christian High School. I always wrote little songs and stuff growing up. I guess the first real one was at age twelve or thirteen. I thought I would be a dancer/performer at one point. I wanted to dance, perform, act -- do all of it. But I changed quite a bit in high school. Before I even played with a band, I'd get a guitar and play outside with all the wannabe-hippie kids in front of Vintage Vinyl.
Josh Levi (former RFT contributor): I used to see her play outside of Vintage Vinyl. I always thought she was such a strong player, but her voice has really developed into a force of its own.
Olsen: In high school, I got really involved in this band called Goodfight. We played jam-rock.
Ben Majchrzak (ex-Goodfight member): Angel and I met in high school. A close friend of mine in middle school went to the same high school as her and introduced us. I was in bands and had some recording equipment, and Angel was looking to record some solo material she had written.
Olsen: We played at the Creepy Crawl, the old location downtown.
Majchrzak: We also played the Hi-Pointe and some battles of the bands at local schools and churches. Angel's lyrical style for our group was pretty dark. It was fitting for our style. Her solo stuff that we had worked on was much closer to the sound she has developed now.
Olsen: At the time, a lot of people were hearing about shows through STLPunk.com. Do you remember that website? I met a lot of people from the suburbs and all over St. Louis because of it. I would make friends that were totally different than the ones at school. It opened up my perspective of what the world was like, what it meant to interact with different kinds of musicians and people.
Majchrzak: Angel and I actually were dating for most of the time she was in the group. She broke up with me and sort of pulled herself out of the band as well. There was no bad blood.
After Goodfight, Olsen got involved in the music scene centered on the Lemp Neighborhood Arts Center. According to lemp-arts.org, she played there three times between 2004 and 2007.
Olsen: I was young, and I feel like a lot of girls weren't really playing there. At the same time, it was important to put myself out there at a young age and just get used to it. I was surrounded by friends. I knew the people from Floating City pretty well for a little while.
Gareth Schumacher (ex-Floating City member): I remember that her voice was really amazing right from the beginning, and by the time I met her she'd already written some really good songs. I don't think I ever saw her give a weak performance.
Olsen: They encouraged me to continue writing. I remember hanging out with those guys, sort of growing up with them. When we all heard of a new record that we all liked, we'd go to each other's houses, just sit down and listen to it and talk about it. We would also play each other's songs and talk about that. It was kind of a constructive-criticism circle.
Schumacher: We would joke about starting a folk collective. At least a couple of us were living together at any given time, so naturally we would find ourselves hanging out at someone's place, talking about music and trying out new songs. I'm a sucker for weird prettiness in music, so that aspect of her songwriting got me right away. All her melodies were great, very eerie and beautiful. And she was writing better lyrics than almost anyone else I knew.
Continue to page two.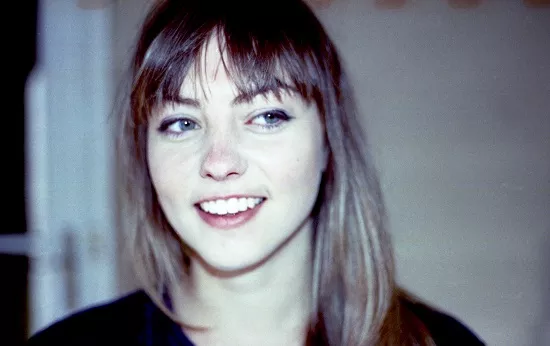 Zia Anger
Angel Olsen
Grace Woodard (ex-KDHX host): Angel and I met sometime in early 2006. We were both dating guys who were in the same band. We bonded while writing notes back and forth across a table at Joe's Cafe one night. I believe we were nineteen and twenty, respectively. The guy and I broke up later that evening, but Angel and I only grew closer from that point on. The first time I saw her play was while we were all hanging out in the living room of her Maplewood apartment. Someone handed her the guitar, she started singing and everyone fell quiet. She had some songs on MySpace, and hearing those songs was really what made me start to appreciate her songwriting.
Olsen: Grace interviewed me once on her show [Nomadic Reverie, in 2009]. It was funny being interviewed by someone who was a friend -- it was like, "Are we cheating?"
Woodard: She was actually already living in Chicago by the time she played on my show. I think she was cultivating some fans through her MySpace page while she was in St. Louis. I seem to recall a story about her corresponding with [singer-songwriter] Bill Callahan that way, but she's never been the type to actively pursue "industry contacts." Luckily, she's the type of artist who doesn't need to aggressively self-promote, because her talent speaks for itself.
Olsen: I moved to Chicago in 2007. I was at a place where I didn't know what I was going to do. I didn't want to be in St. Louis any longer. I wanted something else to happen. It just seemed like the easiest thing to do and still be away.
Woodard: I had actually considered moving to Chicago with her, but I wasn't ready to leave St. Louis. We frequently e-mailed and talked on the phone, and saw each other whenever we were in the same city at the same time. Sometimes she would send me new songs when she was experimenting with a new style and wanted feedback. I was a huge fangirl during that whole time.
Olsen: I'm really psyched that [my band and I] are allowed to do this for this period of time. You never know, when you're making art, how long it's going to last. Majchrzak: Angel was way more mature than her age at the time. She had seemingly been through more life experiences than myself and was shaped by them quite a bit. I always thought of her as an old soul.
Woodard: I've loved seeing Angel evolve over the years. I'm proud of her because she's my friend, and I want good things to happen for her, as with all my friends, but also because I've seen her grow into a confident artist and an assertive, independent gal who inspires me on the regular.
Levi: I last saw her in Washington, D.C., last fall. She blew everyone away, and it was really cute to see a teenager get really nervous about asking if she could take some pictures. She's really knocking it out of the park.
RFT MUSIC'S GREATEST HITS
The 15 Most Ridiculous Band Promo Photos Ever This Incredible Make-A-Wish Teenager Went to the Gathering of the Juggalos, Got a Lap Dance (NSFW) Crotching Whiskey at the Justin Bieber Concert and Getting Thrown Out: A Review The Top Ten Ways to Piss Off Your Bartender at a Music Venue
---