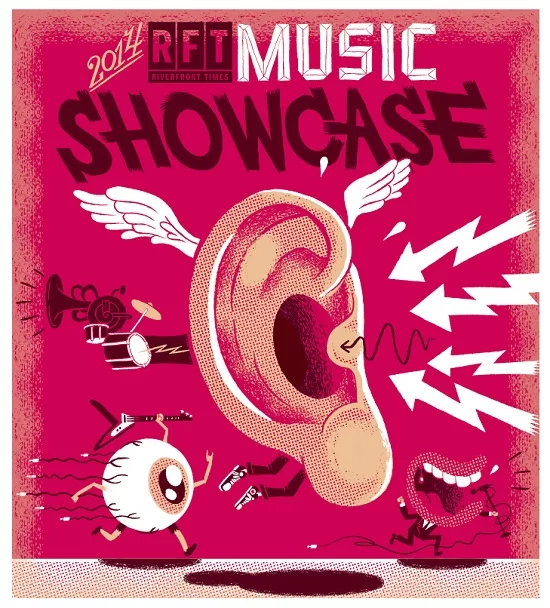 It is that time of the year again! Each year, we at RFT Music HQ present the RFT Music Awards, an annual celebration of the best and brightest musical acts St. Louis has to offer. The nominees are chosen by a panel of venue owners/employees, promoters/talent buyers, record store staff, dedicated die-hards and various other musical minds from organizations all over the city -- and then the winners are chosen by you, the readers!
Many of these musicians will appear at the RFT Music Showcase, to be held this year on June 7. Important: If you are one of this year's nominees, please fill out this form by April 30 in order to be sure you are included in our coverage.
The polls will open for voting at the beginning of May. Congratulations to all our nominees!
Americana Beth Bombara Brothers Lazaroff The Defeated County The Dive Poets Last to Show First to Go
Blues The Jeremiah Johnson Band The Loot Rock Gang The Maness Brothers Marquise Knox Soulard Blues Band
Country Cree Rider Family Band Jack Grelle Old Capital Square Dance Club Old Salt Union The Trophy Mules
Cover/Tribute Band Capone Dance Floor Riot Matt Harnish's Pink Guitar Street Fighting Band The VCR's
DJ 18andCounting Billy Brown DJ Mahf DJ MAKossa DJ Needles
Electronic (Dance) 3 of 5 Adult Fur Black James it! Wax Fruit
Electronic (Eclectic) Eric Hall Golden Curls Ou Où Parisian Raglani
Emo/Post Hardcore Alan Smithee Anodes Foxing Heavy Horse Laika
Experimental Britches Catholic Guilt The Conformists Skarekrau Radio Yowie
Folk Grace Basement Indian Blanket Letter to Memphis Ryan Spearman The Union Electric
Garage Rock The Brainstems Bruiser Queen Boreal Hills Kenshiro's Wild Hex
Hard Rock Dad Jr. Fumer Shut-In Tilts Tok
Hardcore Everything Went Black Life Like Lumpy & the Dumpers Pink Sock Shaved Women
Hip-hop (Group) Barely Free Partial Prisoners Doorway Family Affair Illphonics Mathias & the Pirates
Hip-hop (Solo) Black Spade Mastermind Nato Caliph Tef Poe Tiffany Foxx
Indie Pop Brotherfather Dots Not Feathers The Educated Guess Scarlet Tanager Stonechat
Indie Rock Aquitaine Bear Hive Humdrum Pretty Little Empire Sleepy Kitty
Jazz Dave Stone Trio Lamar Harris The People's Key Peter Martin Tommy Halloran's Guerilla Swing
Metal Black Fast Fister The Gorge The Lion's Daughter Quaere Verum
New Band Con Trails Search Parties Self Help Times Beach Willis
Noise Beauty Pageant Ghost Ice Kevin Harris The Night Grinder NNN Cook
Pop CaveofswordS Middle Class Fashion Nee Syna So Pro The Vanilla Beans
Psych Bug Chaser Kadu Flyer Pet Rock: the Musical Tone Rodent Troubadour Dali
Punk Bassamp & Dano Better Days Breakmouth Annie Maximum Effort Trauma Harness
R&B Coultrain Kenny DeShields SZA Teresa Jenee Theresa Payne
Rock Bad Dates Black Panties Kentucky Knife Fight Little Big Bangs The Pat Sajak Assassins
Singer/Songwriter Cassie Morgan Chris Ward/Acorns to Oaks Ellen the Felon Googolplexia Lizzie Weber
Soul/Funk Al Holliday and the East Side Rhythm Band Big Brother Thunder and the Master Blasters Hawthorne Headhunters Nikki Hill Ransom Note
If you have been nominated for an award, please fill out this form as soon as possible, so we can make sure to include you in our upcoming coverage, as well as the Music Showcase on June 7 in the Grove. Thanks!