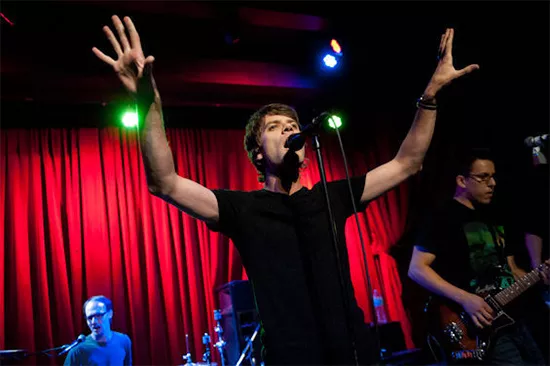 Via Dove EP Release -- Saturday, April 19 @ Off Broadway.
Whoa -- it's a busy weekend ahead, everyone. For starters, it's Record Store Day this Saturday. Get a full rundown of all the happenings in our comprehensive guide to St. Louis Record Store Day 2014, featuring free entertainment at Euclid Records, Vintage Vinyl, Apop Records and Slackers. Then, get a load of all the release-party shindigs happening: Dots Not Feathers, Via Dove, the Vanilla Beans and Rulers all throw down new indie recordings, and Tone Rodent drops a new split 7". And there's much, much more. Keep reading to see what's in store.
See also: St. Louis Record Store Day 2014: A Comprehensive Guide
Friday (April 18):
DJ Kid Capri w/ DJ Charlie Chan Soprano, The Vaporz @ Lola 9 p.m. | $25 Legendary hip-hop DJ Kid Capri makes a stop at Lola, with local support by DJ Charlie Chan Soprano and the Vaporz. (DH)
The Vanilla Beans EP Release w/ Carte de Visite, Matt Harnish's Pink Guitar, Durango @ Melt 8 p.m. | $5 Indie-electro-poppers the Vanilla Beans kick off a busy weekend of record schlepping with a new EP called FFFF out on Pancake Productions. The Vanilla Beans in a waffle shop? Sounds pretty sweet to me. (MS)
Webbie w/ Zed Zilla @ Ambassador 7 p.m. | $25-$35 What better primer for Lil Boosie's show next week than a stop from one of his closest associates, Webbie? (DH)
Dance Floor Riot's 5th Annivesary @ Alpha Brewing Company 7 p.m. | free One of the city's most solid cover bands commemorates five years with a special Alpha Brewing Company Rye IPA brew dubbed "Ryot" and the debut of its acoustic spinoff project, Dance Floor Quiet. Alpha Brewing Company just celebrated its first birthday a few weeks ago, so raise a glass for them (and eat a Steve's hot dog or two, too). (MS)
Plenty more great options on Friday include the Minus Five at Off Broadway, Dots Not Feathers' album release at Plush, Souls of Liberty at 2720 Cherokee, Microwaves at Cafe Ventana. Click the links for coverage from earlier this week.
Saturday (April 19):
The Bump & Hustle No. 22 w/ DJ Frank Raines, DJ MAKossa, Nappy DJ Needles, Hal Greens @ Blank Space 10 p.m. | $5 This monthly series has become a Cherokee Street institution, featuring resident DJs spinning funk, soul, boogie and much more to a packed dance floor. This month's featured guest is Detroit's DJ Frank Raines of Funk Night Records. And here's something fun: Master Pieza just opened directly across the street, slinging pizza by the slice during weekends till 3 a.m. The nightlife's lookin' nice. (MS)
Continued on the next page.
Nathan Brown w/ Satan's God, Terra Caput Mundi @ Lemmons 8:30 p.m. | $5 Texan Nathan Brown stopped into town last summer, performing his original '80s soundtrack music in the vein of Beverly Hills Cop and Top Gun. This time around, he brings Satan's God with him, a guy he claims "has been banned in most of the places he's played and caused lots of controversy and trouble due to his antics and props used." Legend has it that the above viral video of a house show gone awry happened somewhere in south county. (MS)
The Heavy Anchor's Three-Year Anniversary w/ The Driftaways, Tasi, Belagroove @ The Heavy Anchor 5 p.m. | free Heavy Anchor is three! Celebrate with them at this free show, full of local talent. (DH)
Native Lights w/ Tone Rodent, Bastard & the Crows @ Melt 8:30 p.m. | $5 Local psych-rock wielders Tone Rodent release a split 7" out on Boxing Clever Records with Bastard and the Crows. Tulsa's Native Lights joins the party. Check out some of its tracks on Bandcamp. (MS)
A Tribute to Prince w/ Ransom Note, Steve Ewing Band, Superhero Killer, Mo Egeston & CoCo, Theresa Payne @ The Gramophone 9:30 p.m. | $15 Few artists are so deserving of a tribute show as the Purple One. Somebody better play "Pussy Control," because he won't anymore. (DH)
Via Dove EP Release w/ Bear Hive, Last to Show First to Go @ Off Broadway 9 p.m. | $5 Pick up Via Dove's latest EP, Fugue State, as well as the band's entire back catalog -- for free -- at this show. That's right, everything the band has ever released, for free! Can't beat that. (DH)
Also on Saturday, check out Rulers' LP release at Plush, Awesome Force at Livery Company and Sidewalk Chalk at Kranzberg Arts Center.
One more for the road: Ghost gets weird at the Pageant this Sunday. Don't miss it.
Note: Though we wish we could, we can't feature every great show happening in town in just one measly post. Peruse the St. Louis concert calendar for more ideas any time. Let everyone know what else you're looking forward to seeing this weekend in the comments below, and submit show info online any time to be considered for inclusion on these lists.
RFT MUSIC'S GREATEST HITS
Remembering STLPunk.com -- How to View the Site Today and Find Your Old Profile Page "Where Did My Dick Go?" The Gathering of the Juggalos' Best Overheard Quotations The Ten Best Dive Bars in St. Louis The 15 Most Ridiculous Band Promo Photos Ever
---