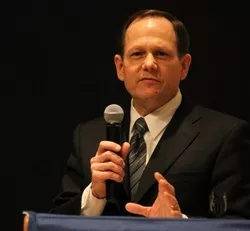 Facebook
Will Mayor Slay drop the mic?
National Karaoke Week doesn't start until Sunday, but we've been mulling over our seven-days-of-singing options for months. Should we do Joan Jett or Lita Ford? Van Halen or Van Hagar? Justin Bieber or... wait, no, never mind.
The point is, we're looking forward to next week. We're not going to keep a diary of our crazy singing shenanigans like we did last year, but we're definitely going to make the most of our mic time.
That's why we're excited that St. Louis Mayor Francis Slay is singing the same tune!
See also: - Five St. Louis Karaoke Bars in Five Days: The Diary of a Sing-Along Addict - The Five Best Places for Karaoke in St. Louis
In the prologue to this week's mini poll, which was published Thursday, Slay says that "karaoke is a popular St. Louis pastime, with dozens of bars, restaurants, clubs, and lounges offering patrons a chance to sing their hearts out on a weekly or nightly schedule." The mayor also claims that "a lively karaoke culture reflects our vibrant local music scene."
It's like our brains are in harmony, Mayor! Heck, even the more theatrical members of the St. Louis Cardinals might agree!
Slay's poll goes on to ask St. Louis residents about the world's most annoying inventions, popular karaoke songs and bars that have hosted readers' memorable versions of "Baby Got Back" and "Daydream Believer." As of Thursday evening, only ten percent of poll participants hate karaoke machines (honestly, some of us karaoke DJs do, too, but probably for different reasons). Most respondents have been to a karaoke bar, with popular locations being Tom's Bar & Grill and Mangia Italiano. They also belt out "Somewhere over the Rainbow" and "Love Shack" when they're in the mood.
And what gets everybody through the night? "Plentiful beverages," according to 54 percent. We like these people.
But how does Slay get his songbird kicks? And where might we find him crooning?
Continue for Slay's answers.
Intrigued by the mayor's sing-along enthusiasm, we emailed him a few questions about karaoke's place in St. Louis. Here's what the city's head honcho sent back:
RFT Music: How important is karaoke to St. Louis' identity compared to provel, toasted ravioli and red-brick architecture?
Slay: Karaoke is a lot younger than red brick and provel. But it fills up restaurants and bars on weeknights and shows off our beer to good advantage.
We know of your affinity for progressive rock. Where do you stand on submitting a request to sing a nine-minute song by Yes?
Nine minutes is a lot of Yes. Better to request Pink Floyd's "Atom Heart Mother" or "Echoes." [Ed. note: These are 24-minute suites that are almost entirely instrumental. Our resident karaoke DJ would nix them in a heartbeat.]
See also: - Video: Cardinals Pitchers Adam Wainwright and Trevor Rosenthal Perform Karaoke - Ask a Karaoke Host archives
What's one song you never tire of hearing someone karaoke?
I can't answer that question without offending someone.
What's one song you wish would be stricken from all karaoke songbooks within the city?
"New York, New York."
If you were to go sing karaoke somewhere in the city, what kind of atmosphere would make you most comfortable?
It would look a lot like HandleBar.
What's your best tip for enjoying karaoke, either as a performer or as a spectator?
Take Metro. Or walk. ;)
RFT MUSIC'S GREATEST HITS
The 15 Most Ridiculous Band Promo Photos Ever This Incredible Make-A-Wish Teenager Went to the Gathering of the Juggalos, Got a Lap Dance (NSFW) Crotching Whiskey at the Justin Bieber Concert and Getting Thrown Out: A Review The Top Ten Ways to Piss Off Your Bartender at a Music Venue
---