Earlier, you helped us select our ten favorite concert photographers in St. Louis. We got well over 100 nominations, after which our panel of judges narrowed the field to just ten. In the coming weeks, we'll be introducing you to each of the finalists and having them share some of their favorite concert photos while answering a few questions about their process and passion.
See also: The Ten Best Music Photographers in St. Louis: 2014 Nominees
How and when did you get involved with music photography?
I've been shooting concerts around St. Louis for six years. The first few years were the photographic equivalent of woodshedding -- shooting lots of photos, sharing a few, getting advice on how to get better. Learning the ins and outs of how light works, how certain gear works, how to frame a photo, etc., all takes a ton of time and practice.
In 2009, Michael Tomko asked me to photograph the Lot Music Festival, which used to be held outside of the Schlafly Tap Room and I met some RFT staff, who asked to see my work. Soon after, I was working as a freelancer for the RFT.
Jason Stoff
Local Natives
What are some highlights of your professional photography experience?
I was asked to photograph U2 at Busch Stadium in 2011 -- I had to skip out on the second day of Pitchfork Music Festival to make it in time. The sheer scale of that kind of show is staggering.
Truthfully, though, I get a kick out of the artists I've photographed, no matter how big or small, commenting on the work I've done. That's a great feeling.
Where can people find your work (exhibits, album covers, publications, etc.)?
I run Encor.es, a website that explores the intersection of music and visuals. That's the best place to keep tabs on my perspective on photography and writing, as well as interviews and quotes that explore the way music and visual mediums collide.
I'm also the photo editor for Eleven Magazine, so my work is often mixed into the Eleven pages alongside many other extremely talented photographers and writers. That job also entails a lot of behind-the-scenes scheduling and organization, which is less public-facing but no less important for a photographer to be versed in.
Of course, I also do photo work for the Riverfront Times almost every month, providing slideshow images for RFT Music.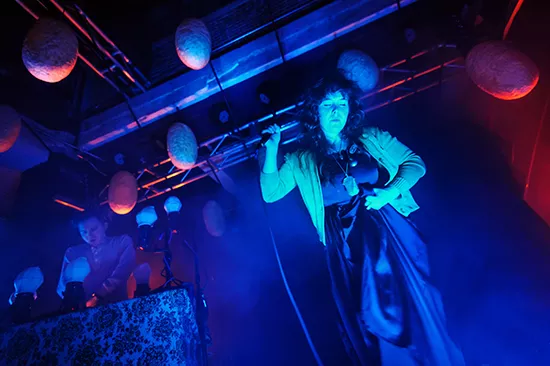 What is your favorite part of doing music photography?
I love the challenge of trying to capture the magic of a live show in small moments of frozen light. When I know I've got a shot, that really nails that feeling. There's a natural high there.
Continue to page two.
What do's/don'ts do you have for young photographers who would like to pursue this type of work?
Do it because there's something inside you that compels you. Don't do it because you think you'll get to hobnob with celebrities among piles of cash. Photography as a full-time profession is hard today. Many of the people on this list -- myself included -- do this work as a secondary source of income, if we profit at all.
Don't forget that you're a distraction for most everyone else in a given venue -- the crowd is there to see the artist, the artist is there to play to the crowd. Respect the band, understand that they aren't performing for you. Respect the audience, they likely paid more than you did to be there.
Pick one of the photos you've submitted and tell us a little about it: Where was it shot, who is featured and (most importantly) how did you capture it? We'd love to hear logistical description or technical breakdowns or whatever else you want to tell us.
Let's talk about the Yeasayer photo -- this is a shot from the Firebird, which is not usually the most photogenic venue thanks to its dim (but appropriate) lighting. Yeasayer brought their own lighting equipment onto the small stage, and with a little fog mixed in, the lighting elements were in place for some cool shots.
This one in particular is a very wide-angle shot, probably about 16mm. To get those kinds of ultra-wide shots at small venues, the photographer has to be in the front row, no question. This shot is the best of four or five shutter releases that I took of this moment, where the most elements line up in the most interesting ways. Always shoot a lot, only show the best.
See also: Steve Truesdell: Meet the 2014 Best Music Photographers in St. Louis Christian Mayberry: Meet the 2014 Best Music Photographers in St. Louis Bryan Sutter: Meet the 2014 Best Music Photographers in St. Louis Jon Gitchoff: Meet the 2014 Best Music Photographers in St. Louis Kenny Williamson: Meet the 2014 Best Music Photographers in St. Louis Todd Morgan: Meet the 2014 Best Music Photographers in St. Louis Abby Gillardi: Meet the 2014 Best Music Photographers in St. Louis
RFT MUSIC'S GREATEST HITS
The 15 Most Ridiculous Band Promo Photos Ever This Incredible Make-A-Wish Teenager Went to the Gathering of the Juggalos, Got a Lap Dance (NSFW) Crotching Whiskey at the Justin Bieber Concert and Getting Thrown Out: A Review The Top Ten Ways to Piss Off Your Bartender at a Music Venue
---