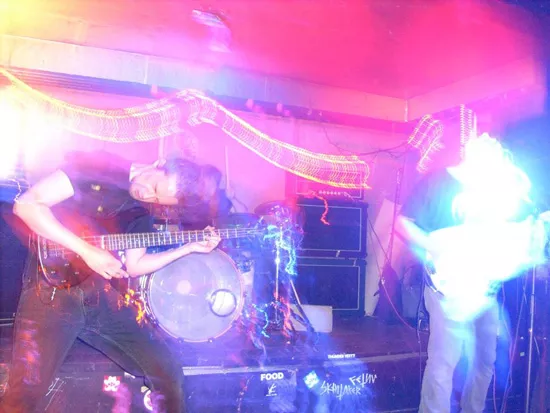 Adam MacGregor
Pittsburgh's Microwaves perform St. Louis this Friday.
In the 20th century, St. Louis was a veritable Petri dish for noise-rock artists. Once the mid-aughts hit, most of those bands drifted off, and our city's loud-music exports became punk and metal. But the dream still lives in locals like Yowie and What We Won't See, though, who will join Pittsburgh's Microwaves this Friday at Cafe Ventana.
See also: The Best St. Louis Noise/Experimental Shows: April 2014
The members of Microwaves play psuedo sci-fi squalor as a power-trio. Bassist Johnny Arlett feeds the band's thick underbelly with sharp, visceral riffs. John Roman's approach to the drum kit fills the space left by the bass, but it ultimately works as a rhythmic tool to drive aggressive songs.
Microwaves could be considered a metal band, if only for the scraping metallic sounds of David Kuzy's guitar, which leads with heavy, tonal abrasion. And while Kuzy and Roman founded Microwaves more than a decade ago, they've had a revolving door of bassists, including members from prog-rock groups Don Caballero and Zombi.
"We also operated as a duo for a while, with John doing more sample triggering and myself using an octave pedal and looper," Kuzy says. As a two-piece, Microwaves still managed to maintain a whole much louder than the sum of its parts. The band's 2012 album Psionic Impedence features this format in full effect -- songs are driven with a touch of dark electronica but still feel disjointed and shaky.
With Arlett now on bass, Microwaves is more open to sonic variation. While working as a duo, Kuzy and Roman had to deal with faulty gear and the strict rhythm of prerecorded sections in certain songs. The group has maintained a consistent sound, despite its shifts in personnel.
"I use a variety of effects, though rarely more than a couple at a time. There is at least one song, sometimes more, on every Microwaves release with a prominent ring-modulator part. I certainly didn't invent the use of the ring-mod, but it is kind of a signature for us," Kuzy says.
Continue to page two.
Microwaves' St. Louis show on Friday is one of many in a Midwest tour in the run-up to the band's new record, Regurgitant Phenomena. The album will be for sale along with a new cassette tape titled Hot System, which features unreleased tracks from past lineups.
"It is a 'rarities' collection," Kuzy says. "It contains covers of 'The Hellion' and 'Too Much Paranoias,' recorded when we were a duo. There is a song called 'The Pincher,' recorded with Steve Moore. This was supposed to be for a compilation of one-minute songs, all called 'The Pincher,' that never came out. The lyrics are based on the H.P. Lovecraft short story Pickman's Model. It also contains live tracks with Moore and unreleased studio tracks with Jason Jouver, recorded after hours in the office cubicles of Pittsburgh's first -- now gone -- ISP."
Microwaves has favored quality over quantity, releasing only five albums in more than ten years of playing. Two of those records have dropped in the last two years, marking a prominent rise in the band's output. Catch the band and pick up its latest tape and record this Friday at Cafe Ventana at 8 p.m.
Microwaves Friday, April 18, 9 p.m. w/ Yowie, What We Won't See @ Cafe Ventana - $6
Follow Microwaves over at New Atlantis Records or through the band's page on Facebook.
Microwaves Spring 2014 Tour Schedule: 4/16 Cincinnati, OH 4/17 Chicago, IL 4/18 St.Louis, MO 4/19 Louisville, KY 4/20 Columbus, OH 5/3 Pittsburgh, PA
---