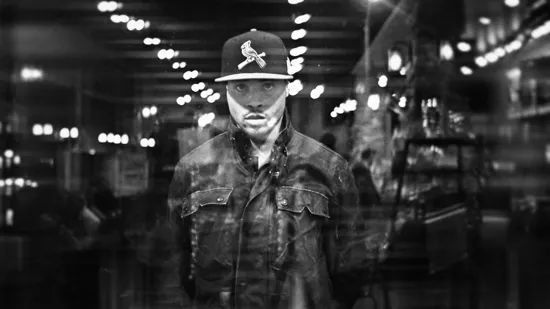 Omar O'Hara
A still From Nato Caliph's "Polarity" video shoot at Kayak Coffee.
In this weekly column, RFT Music gets to know local creatives, musicians and their missions. Get a slice of the local scene, complete with a snippet of sound and info about upcoming releases and shows. Stick around to see what St. Louis artists have to say whenever they Fill in the Blank.
"Your music is not for everybody. Artists need that wake-up call. It's hard to believe, but that's a fact," says hip-hop artist Nato Caliph. "Focus on making quality music for the people that want to hear it, and that will spread itself. That's the reality, but that's what makes it beautiful."
Whether he's writing for new tracks or booking shows, Nato stays humble, with a strong sense of community. That humility shows in the poster for his next show, on which his name sits at the very bottom, despite his role as its main promoter. Catch him, along with ten-plus additional performers, at The Build at Blank Space on Saturday, April 26.
For all his work in the local hip-hop scene, Nato might be too modest -- not that he should be. He has been writing and recording for nearly twenty years. Starting as a teenager, he took his poetry to paper and even rap battle, cutting his teeth on rhymes of raw skill.
"For me, I've always sought music that had knowledge -- that dealt with wisdom and understanding. We should know what's going on, do the right thing, and see the bigger picture," he says. Though his music reflects a mature approach, Nato has kept those values in mind from the beginning.
"I think it boils down to having knowledge of self. If you know who you are and what you want, you're not relying on people to tell you what's good. You're your own tastemaker," Nato elaborates. "What you listen to and what you create should be totally different. You can tell who's easily influenced by what's trendy by how they sound in their music."
Continue to page two.
DJ Divi
Nato at the Mobb Deep show at 2720.
Nato does everything with community in mind. Even in his rhymes, he rarely says, "I did this" or "I want that." The word "we" is much more prevalent, marking a global focus in most songs. And those aren't just words. When Nato books a tour, he often brings other artists along, and he does so without the help of an agent or publicist.
"We need to remove some of that industry around it and just get back to making music," he says of his DIY approach to music. By releasing records through his own label, Cipher Music Group, he maintains complete control and offers albums through digital sites such as iTunes and Google Play.
The latest of those records, Understanding Understood, dropped this past December. Its twelve tracks depict the rapper as an adult and father. While working on this latest album, Nato was laid off. That short-term unemployment allowed him time to meditate and dissect -- a luxury he had been without for many years.
"I was able to sit and listen and let it soak in. It all just kind of came together. Of course you don't always have time to sit around and make an album," Nato says. "My other albums were made in between phone calls, meetings and conference calls. With this one, I was at home drinking some green tea and thinking."
Although the spectacle of a release party doesn't appeal to Nato, the upcoming gig on April 26 could be considered one. The poster even features a photo of Nato holding a copy of Understanding Understood. But, true to his humble form, he prefers to keep the focus on the touring performers, like Truth Universal from New Orleans and DJ Waht from Memphis. A huge roster from the North, South and Midwest populate the bill, making for a huge show Nato likes to call "The Build."
"When you build something, the intent is to construct something that is useful, that has a purpose, that will help others," he explains. "It's all about helping the guys who helped me out at one time."
Nato's wife is his DJ. His son and daughter, ages eight and six, are his biggest fans. He counts Black Spade, Thelonius Kryptonite, Illphonics, Family Affair and more among his many contemporaries. He thinks of them as an extended family.
"Everything I do is with community involved and in mind. I don't do anything in a singular aspect. And I know that what I say will make ripples."
Read on as Nato Caliph fills in the blanks ahead of "The Build" at Blank Space.
Nato Caliph
I make music because... I want to reach people and offer new ways of looking at life and information. But also, to have a good time while doing so.
I've learned the most from... Knowledge, wisdom and understanding. Which for me is also life, applying what I've learned from life and family. With that, I've also learned that the hip-hop culture is not a social-media sport. You cannot expect to be heard and respected by just tweeting and spending all day on Facebook or Instagram. In order to reach the people you have to be among the people, otherwise you're just a mystery being, and who takes those seriously?
I'm most inspired by... Ultimately, family. Learning, understanding and family. Those are the foundation of my inspiration. But aside from that, I am also inspired by those who honor their craft and take it serious. Always pushing to better themselves, inspire others and not be gimmicky, looking for attention and a quick turnaround.
I'm most productive when... That's a good one, because I consider myself productive a great majority of the time. But I would have to say that I'm most productive when working with others that are dedicated and working towards a common goal.
The St. Louis music scene could use... Unity. Stop looking out for self only. If you're in a position to help the scene in any genre, in any way, then do it. Do it because it will make the scene better, and not because you're expecting it to yield a return.
The best post-show food in St. Louis is... Uncle Bill's, City Diner and Courtesy Diner. But if I have to pick one, I would have to say Uncle Bill's.
Good work should always... Be something that you're proud of. You should be able to look back at any point in your career and be proud of what you did.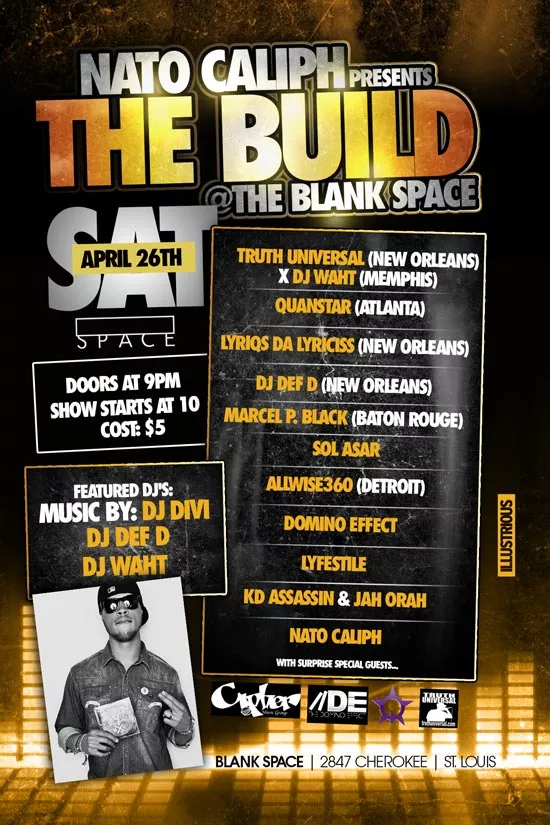 Nato Caliph Saturday, April 26, 9 p.m. w/ Truth Universal, DJ Waht, Quanstar, Lyriqs Da Lyriciss, DJ Def D, Marcel P. Black, Sol Asar, Allwise360, Domino Effect, Lyfestile, KD Assassin & Jah Orah and DJ Divi @ Blank Space - $5
Follow Nato Caliph through his official website, Twitter and Facebook.
Do you know a project or band that should be considered for this series? Drop a line to fillintheblank@riverfronttimes.com.
Previously from our Fill in the Blank series: - Jah Orah & KD Assassin - Zagk Gibbons - Britches - The Maness Brothers - Con Trails - This City of Takers - Syna So Pro - Eric Hall - Pink Sock - Scrub - Pet Rock the Musical - The Glass Cavalry - The Blu Skies - Animal Teeth - Popular Mechanics - Brotherfather - Bad Dates - Beauty Pageant - Pillow Talk - The Tennis Lesson - The Funs - Brothers Lazaroff - Quaere Verum - MME - Sarah Bollinger - Little Big Bangs - Everything Went Black - Lions Eat Grass - Kevin Harris - Laika - Heavy Horse - Barely Free Partial Prisoners - The Defeated County - Lizzie Weber - Kenshiro's - B.E.L.L.A. - Superfun Yeah Yeah Rocketship - Humdrum - The Blind Eyes
---