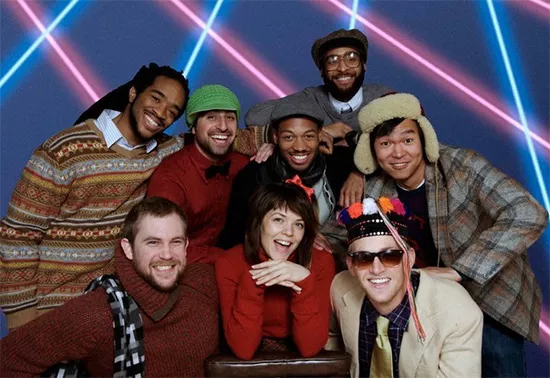 Sidewalk Chalk - Saturday, April 19 @ Kranzberg Arts Center.
This week, Miley Cyrus swoops into town on a wrecking ball (probably), Ghost haunts the Pageant, Stereo Assault hosts a hip-hop showcase at 2720 featuring Souls of Liberty, and Mates of State graces the Grove's newest venue, the Ready Room. Besides that, plenty of noise takes over local stages leading up to a busy Record Store Day -- but more on that later. For now, have a look at some other various concert recommedations.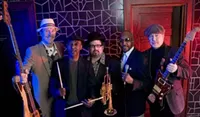 Soulard Blues Band Monday, April 14, 9 p.m. @ Broadway Oyster Bar - $6 By RFT Staff The Soulard Blues Band has gigged around town for more than twenty-five years. Most notably, its weekly residency at Broadway Oyster Bar perfectly accompanies the Southern-themed vibe complete with booze and Cajun food. Bassist and sole remaining founder Art Dwyer, a blues aficionado on local community radio station KDHX, holds down the band with his casual plucked lines. The rest of the rhythm section follows suit, allowing room for solos to float between rounds of drinks and a comfortable swing.
Safety Word Tuesday, April 15, 9 p.m. w/ Life Like, Q @ Livery Company - $7 By Jimmy Eberle From "The Best St. Louis Punk/Hardcore Shows: April 2014": Chicago's Safety Word is coming through to south city. Finally, some ass-kicking fast bands are hitting St. Louis again. Shows at the Livery have full of mutant-level braindead chaos lately, too -- come out and go nuts, but be respectful of this fine establishment for giving us a place to fall down on top of one another and make loud noise. Johnny Vegas for king of presidents 2020.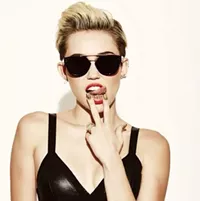 Miley Cyrus Wednesday, April 16, 7 p.m. @ Scottrade Center - $39.50-$89.50 w/ Icona Pop, Sky Ferreira By RFT Staff From Miley Cyrus Bangerz Tour Announced - St. Louis in April: Miley Cyrus has captivated fans and onlookers alike this year with her increasingly provocative behavior (the "Wrecking Ball" video, near-nude photo shoots with Terry Richardson, that whole VMAs thing) and is now ready to take the show on the road. Cyrus announced a 38-day tour in support of her latest effort, October's Bangerz.
Mates of State Thursday, April 17, 8 p.m. w/ Hidden Lakes @ The Ready Room - $20 By Christian Schaeffer The hook behind Mates of State was never hard to discern: A husband and wife sang kinetic, flurried pop songs with such urgency that their vocal unisons and discords seemed to double as some elaborate form of couple's therapy. Kori Gardner and Jason Hammel often performed like their marriage depended on it, and that little bit of theatre, coupled with buzzy organ tones, made for magnetic listening. For this tour, though, the band is putting aside its once-trademark combo organ in favor of acoustic piano, strings and horns to flesh out its little symphonies.
Ben Kweller Thursday, April 17, 8 p.m. w/ Kid Scientist @ Off Broadway - $18-$23 By Roy Kasten Of all the hopeless categories in music, the great rock & roll hope is the most doomed. As the teenage founder of '90s pop-punk band Radish, Ben Kweller wound up a savior only to a cult that never wanted him to grow up. But grow up he did, as a solo artist and as a father, and if his punk days are in the rearview mirror, you can still catch glimpses of them in the freewheeling spirit of songs like "Penny on the Train Track" and "Sundress." And above all else, in Kweller's live shows, which careen everywhere his bittersweet guitar-pop music leads him. Whether he's exploring folk, country or piano-charmed ballads, he's always irrepressibly rock & roll.
Souls of Liberty Friday, April 18, 7:30 p.m. w/ MME, J'Demul, Jockey Blaze, Subtle Aggression, Gee Watts @ 2720 Cherokee - $5-$7 By Tara Mahadevan St. Louis hip-hop group Souls of Liberty is returning to the stage at 2720 Cherokee, after the release of its third mixtape, 10,000 Hours. This show is a perfect sampler of Midwest hip-hop, as the duo is accompanied by fellow local acts MME, J'Demul, Jockey Blaze and Subtle Aggression, and Kansas City-native Gee Watts. The Souls are all about spreading that St. Louis love, so if you're not familiar with the local scene, this is the show that will rectify that. Instead of pushing materialism and sexuality -- like a lot of rap music -- the Souls use their songs to spread positive messages about St. Louis, pushing their listeners to persevere and achieve. How's that for St. Louis rap?
Microwaves Friday, April 18, 9 p.m. w/ Yowie, What We Won't See @ Cafe Ventana - $5 By Joseph Hess From "The Best St. Louis Noise/Experimental Shows: April 2014": The Microwaves tear standard rock structure apart and piece it back together with electronic glue. Samples are triggered via footswitch and the crowd is none the wiser while a wall of noise barrels through, driven by sharp percussion. With local openers What We Won't See and Yowie, showgoers are treated to an intro of experimental music from two different angles. While Yowie sounds like desperate guitars gnawing at a mountain of expert percussion, What We Won't See feels much more raw with its electronic beats and bass locked to standard rhythms.
Awesome Force Saturday, April 19, 8:30 p.m. w/ Dream Fox, Shitbird, Solid State Disaster @ Livery Company - $5 By Joseph Hess Chiptune music bears a stigma that sits somewhere between "nerd" and "hipster." The artists involved use downsampled tones to form an aesthetic -- no different, really, than punk rockers using cheap gear to achieve a desired trash-can timbre. To that end, Awesome Force, from Kansas City, is melodic metal suited for 8-bit Nintendoland. Strip away the band's retro clothes and you are left with a set of soundtrack-esque songs that vary with live mixing. Awesome Force uses a laptop and KORG synthesizer -- typical tools for modern electronica -- but unlike trap, dubstep or EDM artists, the group keeps a couple Gameboys on stage, too. Three of St. Louis' own chiptune addicts round out the gig, making for a mini-fest of sorts for fans of the genre. This show doubles as a release party for Dream Fox, while Solid State Disaster and Shitbird open the night.
Sidewalk Chalk Saturday, April 19, 8 p.m. w/ Tiffany Elle, Jbomb @ Kranzberg Arts Center - $15/$20 By Tara Mahadevan From "The Best St. Louis Hip-Hop Shows: April 2014": The eight-member, Chicago-based group Sidewalk Chalk brings many different elements together -- an emcee, a female vocalist, a tap dancer, and keys, bass, drums, trombone and trumpet -- to create the perfect amalgamation of hip-hop, soul and jazz. For its latest release, Leaves, the group takes its music in a slightly different direction, though with the same energy that it has always had. And yes, Sidewalk Chalk brings that crazy energy to the stage.
Ghost Sunday, April 20, 8 p.m. w/ King Dude @ The Pageant - $20/$25 By Mabel Suen Ghost kind of freaks us out, but in a good way. A nameless singer clad in skull make-up and Roman Catholic pope garb leads faceless axe-wielding members in black robes. The heavy metal band is a Swedish Grammis -- not Grammy, Grammis -- award-winning group in the best hard rock/metal category and plays self-proclaimed "satanic rock music with an almost unthinkable pop sensibility." Its 2013 album Infestissumam is a chart-topper, though audiences can expect to hear its latest EP, If You Have Ghost, on this particular tour, too, as Ghost spreads the unholy gospel.
Note: Though we wish we could, we can't feature every great show happening in town in just one measly post. Look for plenty more recommendations this Friday in our weekend shows post, and peruse the St. Louis concert calendar for more ideas any time. Let everyone know what else you're looking forward to seeing this week in the comments below, and submit show info online any time to be considered for inclusion on these lists.
RFT MUSIC'S GREATEST HITS
Remembering STLPunk.com -- How to View the Site Today and Find Your Old Profile Page "Where Did My Dick Go?" The Gathering of the Juggalos' Best Overheard Quotations The Ten Best Dive Bars in St. Louis The 15 Most Ridiculous Band Promo Photos Ever
---