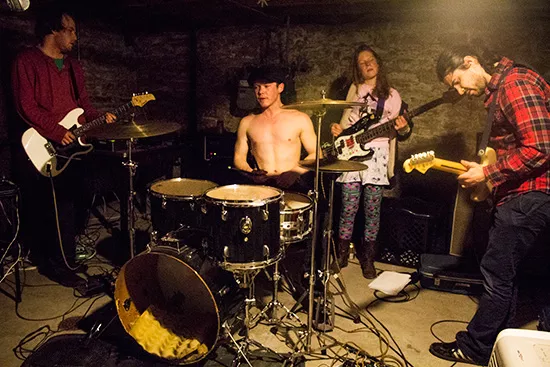 Mabel Suen
Little Big Bangs Record Release - Friday, April 11 @ Schlafly Tap Room.
Happy weekend, everyone! In this edition of our weekend best bets, we talk about an experimental pop act from Switzerland, I Went To a Show.com's latest showcase, the Little Big Bangs vinyl release show and much more. If you didn't get tickets to see Billy Joel or Ben Folds, fret not -- there are plenty of other ways to stay entertained. Read on for our recommendations, and let everyone know what else is going on in the comments.
Friday (April 11):
DJ Captain Crunch w/ T-Zank, Scalp Squad v Quasar Camp, Mathias & the Pirates, Seymour Awesome, Parlo Martin, Sir Racha @ The Demo - $12-$20 And here I thought the only game this guy had was cereal-based. Nice moves, Cap'n. (DH)
Ovlov w/ Disco Doom @ Fubar 8 p.m. | $10 Ovlov comes all the way from Connecticut and plays some of the catchiest pop-structured alt-rock your ears will ever hear. Their tourmates, Disco Doom, make their way into town from even further away -- Zürich, Switzerland, to be exact. Click on the bands names to hear some tracks, and check them out in person (cuz who knows if/when they'll ever come back). (MS)
iLLPHONiCS w/ CaveofswordS, née @ Plush 8 p.m. | $10 Local hip-hop fusion group iLLPHONiCS gears up for a tour to California. Get a taste of its tunes via Bandcamp and see 'em off with help from née's electro-pop and CaveofswordS "dubwave." (MS)
The Little Big Bangs Record Release w/ Middle Class Fashion, Bug Chaser @ Schlafly Tap Room 9 p.m. | free The Little Big Bangs finally commits its punky, raw rock'n'roll to vinyl -- an accomplishment certainly worth celebrating. Read a review of the tunes in Homespun. (MS)
ThLife @ Melt 8 p.m. | free Local hip-hop artist ThLife debuts an EP and music video with a free listening party followed by an interactive performance. Hear a preview via Soundcloud. (MS)
Also on Friday night, Billy Joel plays the Scottrade Center and Shakey Graves performs at Blueberry Hill. Click the links to read our previews from earlier this week.
Saturday (April 12):
Black James w/ Zak Marmalefsky @ The Revisionist Inn 8 p.m. | free Check out some great quirky local music, projections and 8mm video in this low-key art space on Cherokee Street to get an intimate, unique experience for your Saturday night. Not quite sure what to expect? Let Black James give you a taste in the video above... sort of. (MS)
Dubquest 6 w/ Q-BIK, DJ Solo, Chris Vice, Dub Heezy, Brothers in Arms @ Plush 8 p.m. | $12-$15 Q-BIK is travelling to St. Louis all the way from Australia for this show. The least you could do is travel to Plush all the way from your couch, eh? (DH)
Enabler w/ Cathedral Fever, Holy War, Decay Crawler, Matt Questionmark? @ The Demo 8 p.m. | $10 "The world is fucked and this is the soundtrack to its demise." -- Enabler's Bandcamp bio. (DH)
Chaos Order w/ Better Days, Perfect People, Resolute @ Cafe Ventana 9 p.m. | $5 This band reminds me of a faster Suicide File, which is probably one of the best compliments I can level at a metal-tinged hardcore band in 2014. Flashes of early '00s Lockin' Out influence too. (DH)
Syna So Pro w/ The Fog Lights, Anna Vogelzang, Jes Kramer @ Foam 8 p.m. | $5 This I Went To A Show.com shindig welcomes two out-of-towners: Anna Vogelzang from Wisconsin and Jes Kramer from Michigan. We'd tell you more about them, but IWTAS already does what they do so well that we don't have to. (MS)
Ben Folds performs at Powell Symphony Hall as well on Saturday. Check out this week's music feature, an interview with Folds, here. For another option, check out In Heat at Apop Records. And on Sunday, consider heading to Old Rock House to see Charlie Hunter.
Note: Though we wish we could, we can't feature every great show happening in town in just one measly post. Peruse the St. Louis concert calendar for more ideas any time. Let everyone know what else you're looking forward to seeing this weekend in the comments below, and submit show info online any time to be considered for inclusion on these lists.
RFT MUSIC'S GREATEST HITS
Remembering STLPunk.com -- How to View the Site Today and Find Your Old Profile Page "Where Did My Dick Go?" The Gathering of the Juggalos' Best Overheard Quotations The Ten Best Dive Bars in St. Louis The 15 Most Ridiculous Band Promo Photos Ever
---