Steve Truesdell
Skeletonwitch
Earlier, you helped us select our ten favorite concert photographers in St. Louis. We got well over 100 nominations, after which our panel of judges narrowed the field to just ten. In the coming weeks, we'll be introducing you to each of the finalists and having them share some of their favorite concert photos while answering a few questions about their process and passion.
See also: The Ten Best Music Photographers in St. Louis: 2014 Nominees
How and when did you get involved with music photography?
I was always heavily into music, so it was natural for me to take along a camera to Denver's punk clubs when I was in art school. Back then I was shooting bands like X and the Dead Kennedy's -- early '80s punk and new wave bands that came to the dive bars of Denver just for fun. After that period I moved back to St. Louis and went to Lindenwood, where I worked at the radio station spinning jazz and running their new music show "Night Wave."
That got me access to all sorts of cool jazz musicians to shoot. It also had me promoting all the shows at Mississippi Nights on the radio, which helped get me an in with the management there and allowed me pretty much free reign to come in and shoot any of the shows there through the early and mid '80s. From there things just grew. I've always had a bad habit of hanging out with musicians, no matter what town or country I live in.
What are some highlights of your professional photography experience?
There's all the fun stuff of hanging backstage, which was much more fun back then. Meeting people, and the friendships that were made. Shooting at Red Rocks was always cool, just because it's Red Rocks. Being in the studio watching, and occasionally participating, in the process. Meeting Jon Bon Jovi, whose music I seriously can't stand, and discovering that he and his entire band are the nicest, most decent people I ever met in the business. Spending an evening with members of R.E.M., circa Fables of the Reconstruction. Smoking up with the Violent Femmes backstage at Graham Chapel. And I once held "Lucille," B.B. King's guitar, in my hands. That was very cool!
Where can people find your work (exhibits, album covers, publications, etc.)?
These days they can see current work on the RFT's site. I love working with the slideshow format there because it allows for so many more images than traditional print. I've done album covers for artists ranging from punk and metal bands to rappers and pop artists to jazz and blues acts. Lots of music publications, daily papers, fanzines and band promos over the years. I do commercial and editorial work for my regular gig, so I have posted many of the music images from recent years on my Facebook page, Steve Truesdell Photography. I hope people will go take a look at those, see the recent body of work as a whole.
What is your favorite part of doing music photography?
When you get "the shot." It's that moment after you snapped the shutter and you know that you captured the energy, joy or fierceness of the artist, or the kinetic vibe of being at the show. The type of image that when others see it they feel as though they were at the show for that brief moment. Not just a split-second, frozen in time, but an image that leads the viewer into the following moments of a show. That, for me, is what I'm always trying to get. It is easier with some acts than others, to be sure. And very challenging to get on a big arena or stadium stage, which is why I prefer clubs for shooting these days.
Continue to page two.
Steve Truesdell
Pokey LaFarge
What dos/don'ts do you have for young photographers who would like to pursue this type of work?
Don't expect to get paid much. This is a labor of love for those who do it on a regular basis. Do shoot because you love it! Also remember this fact: The band you shoot on a big stage will be photographed by about 2,000 other photogs on this tour alone. 1,950 of those are going to take the exact same pictures in those first three songs you are allowed to shoot from the pit. Try hard -- and it really is not that easy -- to shoot the images that are different than what you see in print or online. Shoot what turns you on, not what you saw in a mag or online posting.
After shooting some basic images, what I call the "cover your ass images" for your editor, push yourself to have some fun with the camera and the band. Layering the members for composition, weird angles, selective focus, band interaction and whatever else you come up with.
Remember, this is a pretty fun gig, so have fun.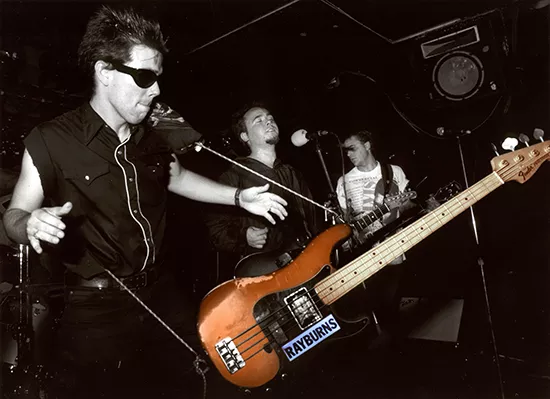 Steve Truesdell
The Rayburns
Pick one of the photos you've submitted and tell us a little about it: Where was it shot, who is featured and (most importantly) how did you capture it? We'd love to hear logistical description or technical breakdowns or whatever else you want to tell us.
This image -- I call it "The Flying Bass" -- is an old one of a great Canadian punk band called the Rayburns. What I love about this is that the bass player, Wayne Crews, used a bungy cord for his strap and sporadically he would toss the bass out and let it come flying back at him. It was a pure rock & roll move of the moment, and he never missed a note or got smacked by the bass! I'd seen him do this before, but this is the first time I captured it.
The photo was taken in a very dark dive bar called the Corktown Tavern, so I was filling in with a low-level flash exposure. It was shot on film and pushed to 800ISO in development. Then the black and white print was hand tinted with Marshall Oils, the way it was done prior to color film. That used to be a specialty of mine in the film days.
See also: Christian Mayberry: Meet the 2014 Best Music Photographers in St. Louis Bryan Sutter: Meet the 2014 Best Music Photographers in St. Louis Jon Gitchoff: Meet the 2014 Best Music Photographers in St. Louis Kenny Williamson: Meet the 2014 Best Music Photographers in St. Louis Todd Morgan: Meet the 2014 Best Music Photographers in St. Louis Abby Gillardi: Meet the 2014 Best Music Photographers in St. Louis
RFT MUSIC'S GREATEST HITS
The 15 Most Ridiculous Band Promo Photos Ever This Incredible Make-A-Wish Teenager Went to the Gathering of the Juggalos, Got a Lap Dance (NSFW) Crotching Whiskey at the Justin Bieber Concert and Getting Thrown Out: A Review The Top Ten Ways to Piss Off Your Bartender at a Music Venue
---