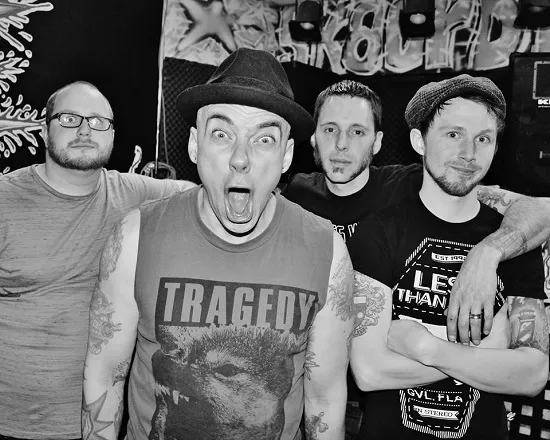 Are you sick of being responsible? Does it annoy you to have to follow rules or be pro-social? Do you like basements? Well, if you are a goofy, degenerate weirdo who doesn't quite fit in anywhere else, you might consider our city's hardcore/punk shows.Your underlying anger problems can be brought out to their fullest potential (in a positive way). These are my recommendations for great local and national bands that don't play five-minute (marathon!) songs or remind you about drink specials. General rule of thumb: If you have five bucks and can show up by 9 p.m., then it's go time in the pit. One, two, fuck you!
[Disclosure: The author of this article is in bands, some of which will be playing some the following shows. But the author of this article is in five local punk bands, so that is kind of an inevitability. It does not influence the choosing of these shows.]
Safety Word, Life Like, Q @ The Livery Co. April 15 9 p.m./$5
Chicago's Safety Word is coming through to south city. Finally, some ass-kicking fast bands are hitting St. Louis again. Shows at the Livery have full of mutant-level braindead chaos lately, too -- come out and go nuts, but be respectful of this fine establishment for giving us a place to fall down on top of one another and make loud noise. Johnny Vegas for king of presidents 2020.
Break Anchor, The Humanoids, Breakmouth Annie, Black For A Second @ Fubar April 17 8 p.m./$8-10
Break Anchor has been making spring stops in St. Louis the past couple of years. For those who are unaware, the lead singer of Break Anchor is Jay Navarro, of Suicide Machines fame. You can definitely tell it's him singing, even though the band plays a more straightforward brand of pop-punk. The walls of Fubar will barely be able to contain all of the insane catchiness.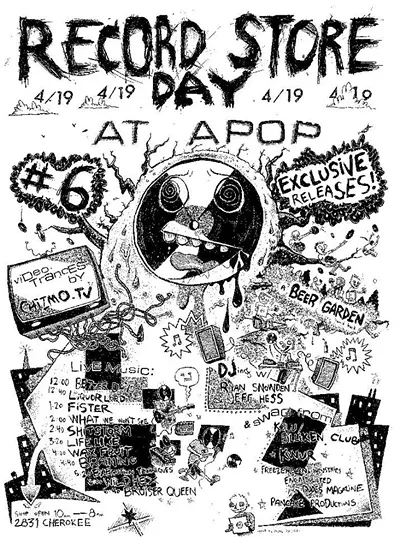 This is how all flyers should look, detail-wise.
Apop Record Store Day Party (w/ Bruiser Queen, Fister, Life Like, Liquor Lord, Better Days, WIld Hex, Braining, What We Won't See, Wax Fruit, Execution Techniques, & Shitstorm) April 19 12 p.m./Free
This is the party to attend if you are a drunk music nerd. You can buy mile-long list of rare RSD releases, tuck them away in your car and get drunk on Cherokee Street while bands play all day long. The lineup spans all the genres a subculture music dork could ask for, too.
Backslider's new LP Consequences crushes bones to bits
Backslider, Shaved Women, Life Like, the Warden @ CBGB April 24 9 p.m./$5
This show will be brimming with the meanest riffs in town. Who wants to take turns guessing which band's singer will come the closest to bleeding/sweating/dying of exhuastion? Philadelphia's Backslider is stopping off on south Grand to challenge STL DIY to good ol' fashioned anger contest. The band is top-tier fast, hardcore punk and Philadelphia is one of our best sister cities, covered in garbage, drugs and morons looking to have good times in basements/dive bars. Let's give 'em a hell of a welcome to Nellyville.
Stoic Violence, No, Cardiac Arrest, Rüz @ Ask A Punk April 28 9 p.m./$5
Hey, you guys! This is Ashley Hohman's (Self Help/Voight-Kampff/ex-Doom Town/Queen of DJs) birthday party! What better gift than a big sweaty dogpile of DIY boys and gals in an undisclosed basement? Stoic Violence is gonna spend its second stop in town putting out birthday candle fires. No came all the way form the goddamn UK to smash cupcakes/glass at this. What better way to end the month than trying to figure if that's blood or icing on your newest distro T-shirt? Also, Cardiac Arrest's new LP will be even closer to done, maybe? Possibly? Come slam to their brand new set after all these years.
RFT MUSIC'S GREATEST HITS
The 15 Most Ridiculous Band Promo Photos Ever This Incredible Make-A-Wish Teenager Went to the Gathering of the Juggalos, Got a Lap Dance (NSFW) Crotching Whiskey at the Justin Bieber Concert and Getting Thrown Out: A Review The Top Ten Ways to Piss Off Your Bartender at a Music Venue
---