Mabel Suen
Jah Orah and KD Assassin.
In this weekly column, RFT Music gets to know local creatives, musicians and their missions. Get a slice of the local scene, complete with a snippet of sound and info about upcoming releases and shows. Stick around to see what St. Louis artists have to say whenever they Fill in the Blank.
"We're basically learning from the pioneers that started this thing, and becoming engineers going through things in life," says hip-hop artist KD Assassin. "What we do can be called 'street-hop,' meaning it's good music with an edge.... It's positive music -- intelligent, intellectual conversation with a message."
Recently, KD Assassin and fellow emcee Jah Orah released a music video for "It's Not the Same," a song that their producer Stephen King, a.k.a. InStrumenTaL jokingly refers to as "some kind of unintentional manthem." Prince Ea directs the video, which also features Orah and KD's counterpart, MC923. Assembled on the spot in the studio, the song tells the story of each artist's individual relationships and frustrating realities in one seamless song.
See also: Twelve Must-See Music Videos from St. Louis Hip-Hop Artists
"I wanted my son to hear his father's story about what happened to him and his mother.... It just seemed like the best idea to get that out of our systems, period. In doing so, it ended up being something most the population can relate to. I believe that song is timeless -- never going to be whack or old," says Jah Orah, adding that their teenagers offer brutally honest opinions about their work. "If my daughter says it's not hip, then it's not hip."
KD Assassin got the primary part of his alias from his grandfather, endearingly nicknamed "KD" after a beloved Coupe de Ville. Jah Orah, on the other hand, received his prefix from joining the Rastafari movement. He'd later find that "Orah," an acronym of a name given to him in youth, means "light" or "candle."
KD and Orah grew up seeing the natural progression of music during the golden age of hip-hop -- KD, a native of St. Louis, and Orah with roots in Los Angeles, starting out as a dancer and freestyler in a long-standing open-mic workshop called Project Blowed. After moving to St. Louis in 2008, Orah met KD and they wrote their first song of many together.
The duo's songs carry a conscious undertone, even in the thick of it. Influenced by everything from dancehall and reggae to old-school soul and R&B, the group refuses to stagnate, working with multiple producers to keep a fresh canvas on which to drop knowledge.
Live, their sets often come in high-energy seven-minute spurts. The creatively-glued snippets of songs get assembled like a rapid-fire mix-tape, filled with hyped and teased hooks to always keep the audience guessing.
Look for current tracks via Digital Dynasty series mixtapes hosted by Cappadonna, and stay tuned for an appearance from the two in Cronies, a Michael Larnell/Spike Lee film to be released later this year. Jah Orah and KD Assassin will also release a collaborative album titled Used to be Darrick & Bobby on Systematic Muzick. Get a taste of what's to come by checking out the video for their single, "It's Not the Same," below.
We invited Jah Orah and KD Assassin to "fill in the blanks." See what they had to say on the next page.
Amy Harris
Jah Orah on the mic.
What I like most about St. Louis is... Jah Orah: the beautiful nostalgic clear skies and the huge parks on a sunny breezy day. It brings all of the beautiful people of the city out of their houses. I make music because... it is natural to me. I come from a musical mother and father. I grew up listening to them and music of all kinds. I am a lover of the harmony of life and nature. Everything is an instrument of sound in my opinion -- even a tree makes sounds if you listen, and as a messenger of music, it's a very helpful tool to convey a message. I've learned the most from... my parents and the many different circumstances and experiences in my life that have brought me this far. For example: the importance of family, income, community, health, faith, education, love, happiness and sometimes hate , anger and things like that as well, just to keep it real. The best post-show food in St. Louis is.. any food that I cooked and prepared personally. The most memorable show that I've ever played... would have to be the time I had the pleasure of performing at Red Rocks in Colorado and another show in Canada that I don't remember the name of. The crowds were huge and lively and sold out which is a great thing. The most difficult lesson I've learned while making music is... if you don't write down your ideas or record them before sitting down to create, you will forget your ideas. That space will be filled in with a lyrical void of silence in your thinking process, and that kind of blockage is a very hard pill to swallow when time equals money in the studio. Then later on you hear your idea on the radio but it's not you spitting those bars though? It's very nerve-racking to say the least. #For the moment....
Amy Harris
KD Assassin and Jah Orah.
What I like most about St. Louis is... KD Assassin: the Cardinals. I make music because... I love it and have something to say. I've learned the most from... my grandfather. The St. Louis music scene could use... more exposure. The best post-show food in St. Louis is... Qdoba. Five current artists worth listening to are... MC923, Kendrick Lamar, Pusha T, Kenny Knox and Nas. The most memorable show that I've ever played... was MC923 and myself opening for Cappadonna in Lexington, KY on the Black Cloud Tour. I ended up doing like four of the Midwest dates of the tour. The most difficult lesson I've learned from making music is... that 80-percent of it is hard work. The other twenty is all art from the notebooks to the booth to the stages.
Find out how to learn more about Jah Orah and KD Assassin and check out a live performance video on the next page.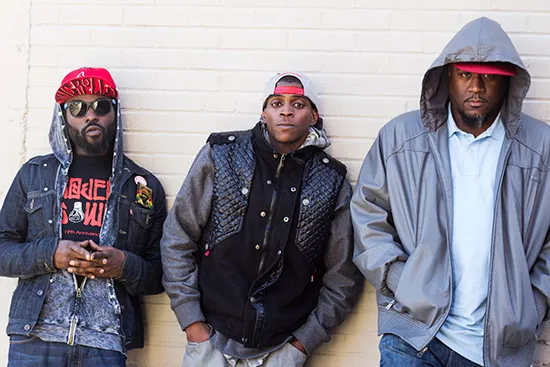 Jah Orah and KD Assassin with producer Stephen King aka InStrumentaLz.
Jah Orah and KD Assassin Saturday, April 26, 9 p.m. w/ Nato Caliph, TBA @ Blank Space - $5
Head to Reverbnation to follow Jah Orah, KD Assassin and their locally-based label Systematic Muzick.
Do you know a project or band that should be considered for this series? Drop a line to fillintheblank@riverfronttimes.com.
Previously from our Fill in the Blank series: - Zagk Gibbons - Britches - The Maness Brothers - Con Trails - This City of Takers - Syna So Pro - Eric Hall - Pink Sock - Scrub - Pet Rock the Musical - The Glass Cavalry - The Blu Skies - Animal Teeth - Popular Mechanics - Brotherfather - Bad Dates - Beauty Pageant - Pillow Talk - The Tennis Lesson - The Funs - Brothers Lazaroff - Quaere Verum - MME - Sarah Bollinger - Little Big Bangs - Everything Went Black - Lions Eat Grass - Kevin Harris - Laika - Heavy Horse - Barely Free Partial Prisoners - The Defeated County - Lizzie Weber - Kenshiro's - B.E.L.L.A. - Superfun Yeah Yeah Rocketship - Humdrum - The Blind Eyes
---