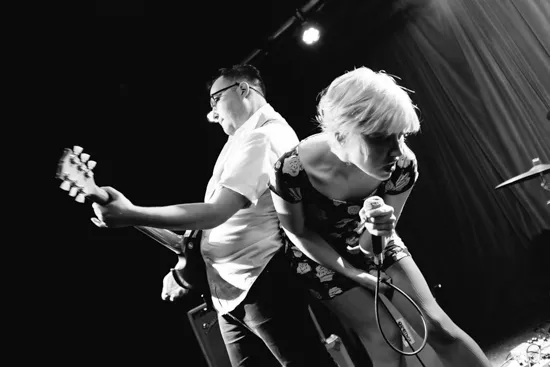 Bryan Sutter
Priests
Earlier, you helped us select our ten favorite concert photographers in St. Louis. We got well over 100 nominations, after which our panel of judges narrowed the field to just ten. In the coming weeks, we'll be introducing you to each of the finalists and having them share some of their favorite concert photos while answering a few questions about their process and passion.
See also: The Ten Best Music Photographers in St. Louis: 2014 Nominees
How and when did you get involved with music photography?
I started shooting live music back in 2009 when I was writing for Playback:STL, a local online magazine. I was looking for a way to spice up my live show reviews, and I ended up enjoying the photography more than the writing. I think the first show I shot was Themselves at the Firebird. I always had an interest in photography but something about it just clicked.
Bryan Sutter
Kool Keith
What are some highlights of your professional photography experience?
A definite highlight was my time as the house photographer at the Firebird from 2010 to 2012. It was very cool to be a part of the early days, and to see the club go on to become arguably the best small-cap room in the Midwest. I got to meet, photograph and watch many of my favorite musicians, and I learned a lot from Mike Cracchiolo and Bert McClimans, as well as the rest of the staff.
I also just finished up a three-week tour with a St. Louis-based garage-rock trio known as Roundheels, and this past weekend I was in SoCal covering Burgerama III for Eleven Magazine. Both were really interesting experiences that gave me tons of great photos and stories.
Where can people find your work (exhibits, album covers, publications, etc.)?
I've got my main site and a Tumblr page where I post some of my personal work that isn't always directly related to music. Locally, you can see my photos in just about every issue of Eleven Magazine, and I volunteer at KDHX as a photographer when I can. Some of the bands that I have worked with include Junius, Roundheels, Dots Not Feathers, Boreal Hills, Humdrum and Bruiser Queen. Along with Jason Stoff, I do the promo photos for An Undercover Weekend.
Bryan Sutter
Ex-Cult
What is your favorite part of doing music photography?
I think my favorite part of music photography, besides nailing the shot, is the people that I get to meet. These days I don't have many friends or acquaintances that I didn't initially meet through my work as a photographer. It's pretty awesome to know so many talented and interesting individuals, and having such a network is really useful when someone needs help with an idea or task, as it usually leads to more opportunities and the occasional barbecue.
Continue to page two.
Bryan Sutter
White Mystery
What dos/don'ts do you have for young photographers who would like to pursue this type of work?
Don't quit your day job. Seriously.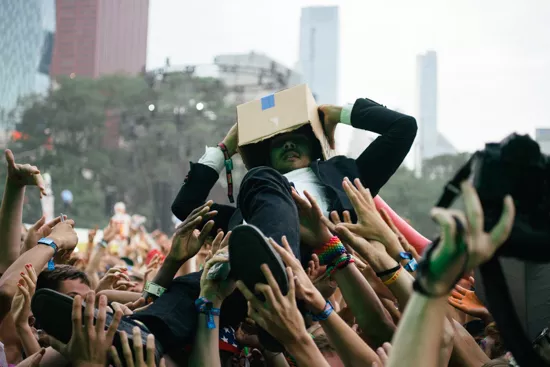 Bryan Sutter
Major Lazer
Pick one of the photos you've submitted and tell us a little about it: Where was it shot, who is featured and (most importantly) how did you capture it? We'd love to hear logistical description or technical breakdowns or whatever else you want to tell us.
I've always been partial to this photo of Major Lazer's Walshy Fire that I took at Lollapalooza in 2013. A lot of EDM acts are pretty boring to photograph, but Major Lazer stands out as one of the big exceptions. At a massive festival like Lollapalooza it was expected that the group would be a highlight of the weekend. Diplo and Walshy Fire effortlessly worked the crowd during the performance, but one of the more memorable moments came when Walshy jumped off the stage and into the crowd. As he crowdsurfed back to the front of the stage, a box was placed on his head. It was the very same box that Diplo had tossed into the crowd near the beginning of the set.
Obviously, the chances for something like that to happen in such a huge crowd were pretty slim, and even though there is something incredibly pedestrian about the occurrence, a lot of people freaked when they realized what just happened. To get this shot, I had to place myself flat against one of the large subs that lined the front of the stage. Since I was shooting with a telephoto lens I needed to put as much space between myself and the subject to get the composition that I desired. There was something a little surreal about feeling the bass go through my body as I captured the moment.
Settings: ISO 2000 1/500 F4 @ 75mm with a Sony a99 and a Minolta 70mm-210mm F4 lens.
See also: Jon Gitchoff: Meet the 2014 Best Music Photographers in St. Louis Kenny Williamson: Meet the 2014 Best Music Photographers in St. Louis Todd Morgan: Meet the 2014 Best Music Photographers in St. Louis Abby Gillardi: Meet the 2014 Best Music Photographers in St. Louis
RFT MUSIC'S GREATEST HITS
The 15 Most Ridiculous Band Promo Photos Ever This Incredible Make-A-Wish Teenager Went to the Gathering of the Juggalos, Got a Lap Dance (NSFW) Crotching Whiskey at the Justin Bieber Concert and Getting Thrown Out: A Review The Top Ten Ways to Piss Off Your Bartender at a Music Venue
---