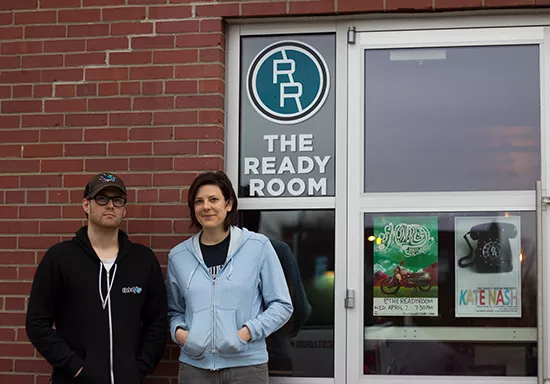 Mabel Suen
Owner/talent buyer Mike Cracchiolo and managing partner Laura Sisul.
On the morning of its inaugural show featuring indie-rockers Of Montreal, the Ready Room still wasn't quite ready to fill its 800-capacity space with its first set of guests -- yet. Staff worked diligently to install the vital finishing touches for the stage's debut show, including sets of colorful lights and the house PA, before opening the doors for Of Montreal's stop in town last night.
"We basically got the best possible sound system for this size space," says Ready Room talent buyer/owner Mike Cracchiolo. "We tested it out and it sounds great only cranked up to three."
See also: Mike Cracchiolo Discusses the Ready Room, His New 800-Capacity Venue for the Grove
And while they won't have to turn it up to eleven, the Ready Room certainly comes equipped to do so. As reported last November, the spacious set-up at the venue, decked out in a teal-and-gray color scheme, can house 800 guests -- twice the capacity of Cracchiolo's seasoned Midtown venue, the Firebird.
Mabel Suen
Putting the finishing touches on the bar.
See also: The Ready Room: A First Look at the Floor Plans by SPACE Architecture + Design
We sent photographer Jason Stoff to the Ready Room's inaugural show last night, featuring Of Montreal. Here are the photos he brought back: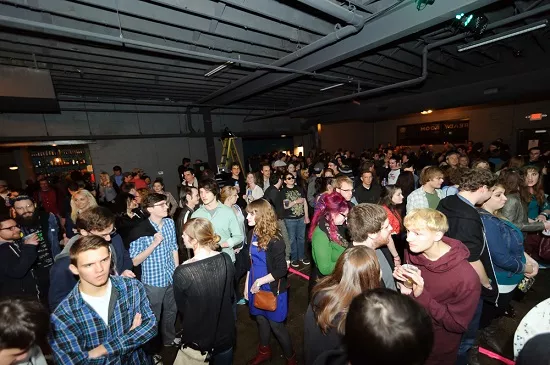 More photos of the new club, as well as the Ready Room's current concert schedule follow.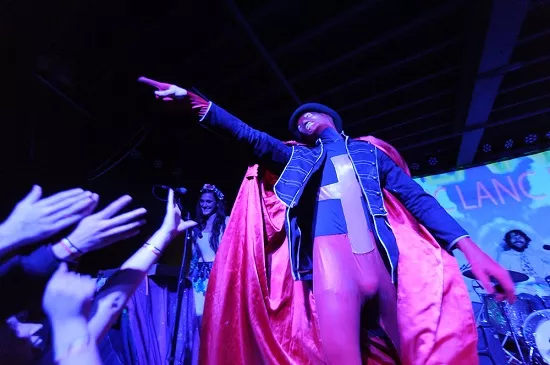 Jason Stoff
Of Montreal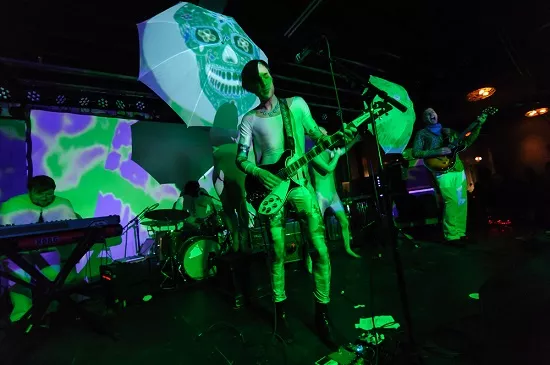 Jason Stoff
Of Montreal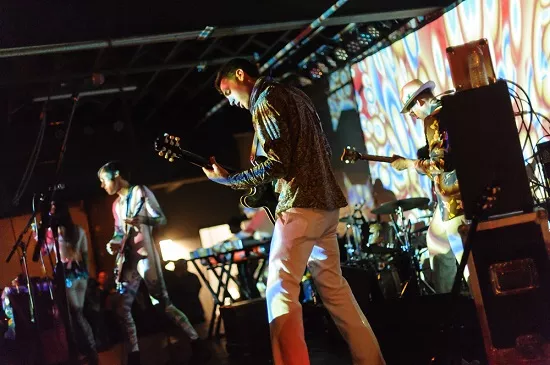 Jason Stoff
Of Montreal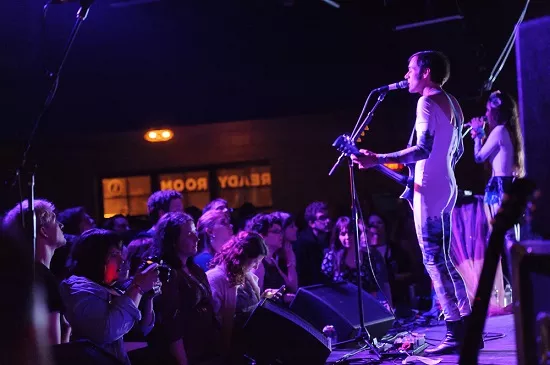 Jason Stoff
Of Montreal
Wednesday, April 2: Of Montreal, Ortolan, Middle Class Fashion Friday, April 4: Kate Nash Friday, April 11: Get Scared, Farewell My Love, The Venetia Fair, A Promise to Burn, The Broadcast Obscura Thursday, April 17: Mates of State, Hidden Lakes Friday, April 18: Blackjack Billy, Brian Bax Band Saturday, April 19: Blazing Tassels: Dirty Stores from the Wild West Saturday, April 26: The Faint Wednesday, April 30: The Devil Makes Three, Joe Fletcher and the Wrong Reasons Thursday, May 8: The Dandy Warhols, The Warlocks Saturday, May 17: Laura Jane Grace (of Against Me!) Tuesday, May 27: Kishi Bashi Thursday, June 5: Hoodie Allen Wednesday, June 18: The Old 97's Thursday, June 19: Langhorne Slim and the Law Tuesday, June 24: Swans, Xiu Xiu
For ticketing and additional information, check out the Ready Room website and follow updates via its Facebook page.
RFT MUSIC'S GREATEST HITS
Remembering STLPunk.com -- How to View the Site Today and Find Your Old Profile Page "Where Did My Dick Go?" The Gathering of the Juggalos' Best Overheard Quotations The Ten Best Dive Bars in St. Louis The 15 Most Ridiculous Band Promo Photos Ever
---