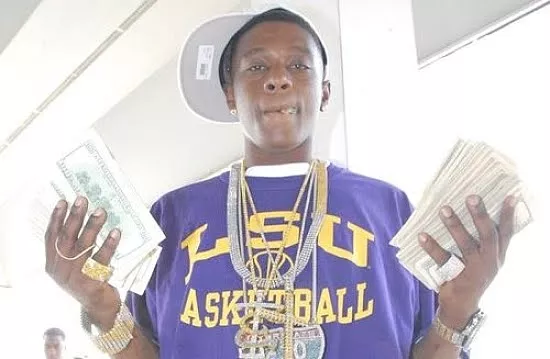 Press Photo
Lil Boosie - April 25 @ the Ambassador
St. Louis' warmer weather is bringing crazy lineups for local hip-hop heads, spanning national, local, underground and indie scenes across a wide spectrum of genres. Yep, April's got something for everyone. Actually, this month has so many shows that we didn't even have enough time to mention all of them. Check out more using our concert calendar.
The Underachievers with Denzel Curry and Dillon Cooper at Pop's Nightclub April 10 7 p.m. / $15-$22
Riding the high (pun-intended) off their two 2013 critically acclaimed mixtapes -- Indigoism and Lords of Flatbush -- the Underachievers are currently on tour to promote their 2014 debut album The Cellar Door (aptly called the Cellar Door Tour). Though the duo isn't as widely known as its Pro Era associates, the Underachievers were signed to Flying Lotus' label Brainfeeder in 2012. Like Joey Bada$$, the duo's sound resembles old school New York hip-hop, but with a psychedelic hip-hop twist.
Souls of Liberty with MME, J'Demul, Jockey Blaze, Subtle Aggression and Gee Watts at 2720 Cherokee Performing Arts Center April 18 8 p.m. / $5-$7
St. Louis group Souls of Liberty recently dropped its third album, 10,000 Hours, this past March. In celebration of the event, the group is playing a show with local acts MME, J'Demul, Jockey Blaze, Subtle Aggression and Kansas City-native Gee Watts. If you're not familiar with local hip-hop, then this show is your best bet, as it's a true showcase of the best that Missouri rap has to offer. Arrive early to catch all the acts.
Sidewalk Chalk Unplugged with Tiffany Elle and J Bomb at Kranzberg Arts Center April 19 8 p.m. / $15-$20
The eight-member, Chicago-based group Sidewalk Chalk brings many different elements together -- an emcee, a female vocalist, a tap dancer, and keys, bass, drums, trombone and trumpet -- to create the perfect amalgamation of hip-hop, soul and jazz. For its latest release, Leaves, the group takes its music in a slightly different direction, though with the same energy that it has always had. And yes, Sidewalk Chalk brings that crazy energy to the stage.
Lil Boosie at Ambassador April 25 8 p.m. / $50-$100
Lil Boosie is free, and that means he's on tour. Since he has been granted freedom, Boosie has done everything his fans could dream of and more: dropped a new single, "Show Da World"; announced a new record deal with Atlantic; kicked off his tour; (Touchdown To Cause Hell) and even released a collaborative clothing collection with LRG. While Boosie's show is a little pricey, we're sure true fans will see money as no object. Heck, the man wrote 1,018 songs while in jail -- we gotta give him props for that.
Mobb Deep at Old Rock House April 30 8 p.m. / $22-$25
Mobb Deep has been around for more than two decades, and it's one of the most renowned hardcore East Coast hip-hop groups. The duo -- Havoc and Prodigy -- went on hiatus in 2011, only to reconcile their differences in May 2013 and announce their eighth studio album, The Infamous Mobb Deep. The offering is a double album that will feature ten unreleased songs from 1995's The Infamous.
RFT MUSIC'S GREATEST HITS
The 15 Most Ridiculous Band Promo Photos Ever This Incredible Make-A-Wish Teenager Went to the Gathering of the Juggalos, Got a Lap Dance (NSFW) Crotching Whiskey at the Justin Bieber Concert and Getting Thrown Out: A Review The Top Ten Ways to Piss Off Your Bartender at a Music Venue
---